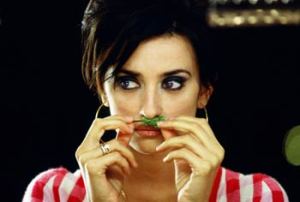 Pedro Almodóvar's Volver, from his screenplay (in Spanish, with English subtitles), turns out to be by far the most disciplined narrative film, structurally and stylistically, of the 16 or so that he's made over the past quarter of a century. Mr. Almodóvar's ingrained partiality to his women characters attains almost heroic proportions here, as he follows the adventures and misadventures of a half-dozen closely related women for whom men are, at best, a necessary evil—and, at worst, an unalloyed evil. The action gravitates between Don Quixote's La Mancha and working-class Madrid, where Raimunda (Penélope Cruz) works two jobs to support her teenage daughter, Paula (Yohana Cobo). Raimunda's irresponsible husband, Paco, is a drunkard who seems to be always between jobs. Lately, he's been looking and acting lecherously toward Paula, much to Raimunda's annoyance.
One night, Raimunda finds Paula waiting for her at her workplace in a highly emotional state. She returns home and discovers that Paula has stabbed Paco to death after he tries to rape her in the kitchen, all the time insisting that he's not her real father. Raimunda responds to this crisis without hysterics, telling Paula not to say anything to anyone and, if worse comes to worse, Raimunda will confess to the crime. Meanwhile, she and Paula dump Paco's body in a freezer. Thereafter, Raimunda's cover story for her husband's mysterious disappearance is that Paco has run off with another woman.
The semi-comic but never campy treatment of this episode is characteristic of the film as a whole, and of all the other women in the extended family. Plucky and never self-pitying, they improvise all sorts of ingenious solutions to their most outlandishly contrived problems. Raimunda's unhappily unmarried sister, Sole (Lola Dueñas), must cope with the miraculous return (volver) from the grave of their late mother, Irene (Carmen Maura), who had supposedly died in a mysterious fire with their father some years before. But there's nothing wraith-like about the mother: She is palpably and playfully present in all her fleshy glory.
Irene tells Sole that she has returned from the dead to ask forgiveness of Raimunda for some unspecified wrong that she has done her, though she dares not face her. So Sole passes Irene off as an immigrant Russian hairdresser that she has taken into her illegal business at home. Irene even hides under the bed when Raimunda and Paula pay a visit to Sole—but soon the superstitious villagers all acknowledge her as a ghost who has returned from the dead.
After a senile aunt for whom Raimunda's daughter Paula was named finally dies, Sole takes charge of all the funeral arrangements, because Raimunda is too busy taking over her employer's restaurant—somewhat underhandedly, though not exactly illegally—while he's away. Another unmarried woman, Agustina (Blanca Portillo), has become a virtual member of Raimunda's family by taking care of Tía Paula (Chus Lampreave) before the old lady's death. A more sordid connection that Agustina unknowingly has with Raimunda's family is ultimately revealed when Irene explains that Agustina's mother and Raimunda's father were illicit lovers. These and other secrets are literally unearthed in orderly narrative fashion even as Raimunda and all her friends use every womanly wile to maintain their hand-to-mouth existences with dignity and courage.
Ms. Cruz exploits her widely remarked upon and admired cleavage in the film as the ever-resourceful Raimunda, though mainly as a harmless tease to the male authority figures that she encounters. Ms. Maura and Ms. Dueñas are right up there with Ms. Cruz in projecting a remarkably virile womanliness to which the generously warm-hearted Mr. Almodóvar is marvelously sensitive. The late François Truffaut was frequently described as a filmmaker who loved women, but not even Monsieur Truffuat could come close to Señor Almodóvar in his intelligent, perceptive and creative appreciation of women in Volver.
Heir to Antonioni?
Nuri Bilge Ceylan's Climates, from his own screenplay (in Turkish with English subtitles), is his fourth feature film in less than a decade, and already this Turkish filmmaker has been likened to Antonioni, Bresson, Tarkovsky and Kiarostami, which means simply that his films tend to be slow and intense in the prescribed film-festival art-house manner. Not having seen his first three features, I am not in the position to make any comprehensive auteurist judgment on Mr. Ceylan's career. But surmising from Climates alone, I would say that, for better or worse, he lacks the formal rigor of Antonioni, in that, at least on occasion, he lapses into a casually conversational cross-cutting sequence of less intensity than is his norm.
The film begins with a series of long-held close-ups of a slightly disturbed but silent young woman who seems to be gazing intently at no place in particular. We later learn that the woman's name is Bahar (Ebru Ceylan) and that she is the younger television-producer girlfriend of Isa (the writer-director himself), a middle-aged college professor. During their vacation on the Aegean Coast, their romance will disintegrate. In real life, the players are husband and wife, he being in his late 40s and his wife just 30. It is never made quite clear what Bahar's grievances with the professor happen to be. In the early scenes particularly, however, there is a complete breakdown of communication between the two, punctuated by her frequent spasms of unexplained laughter, even when company is present. Matters come to a head, literally and figuratively, when Bahar, riding with Isa on his motorcycle along a coastal road, suddenly thrusts her hands in front of his eyes, causing them both to crash, though they land unharmed on the pavement. When Isa, recovering from the shock, asks her if she's gone crazy, Bahar simply walks away and out of his life.
Back in Istanbul, Isa resumes his academic duties and visits his mother and father, who ask him if he has finished his dissertation yet, which seems vaguely connected to some antiquities he was photographing in the Aegean vacation site while his relationship with Bahar was collapsing. He also visits an old girlfriend named Serap (Nazan Kesal) and, after she asks him some painfully leading questions, responds by playfully seducing her with her enthusiastic consent in what turns out to be the second act.
The third act shifts abruptly to a snow-tossed provincial locale somewhere in the East, either in Turkey or in Russia, where Bahar is working on a television production. Isa has flown there to see if they can be reconciled. He does most of the talking, while she just sits there, sometimes crying softly and sometimes just staring at him, as if to determine if she can believe his honeyed words of marriage and emotional reunion. In the midst of a long silence on her part, she bursts out with a question about his old flame in Istanbul—one that Isa doesn't answer.
The last moments of the film are as mysterious as the first and consist entirely of enigmatic close-ups of Bahar as she gazes at the sky and the dimly perceptible airliner flying Isa back to Istanbul. I know this may sound strange, but Bahar looked more beautiful and more enigmatic in the end than she did in the beginning, at least to me. It may have been the snow that made the difference, or it may have been the result of a magical spell cast over me by the director's obsessive visual style (or perhaps a little of both). The cinema can be like that on very rare occasions, and this is one of them—which makes Mr. Ceylan's career a subject for further serious study.
Weird Nicole
Steven Shainberg's Fur: An Imaginary Portrait of Diane Arbus, from a screenplay by Erin Cressida Wilson, inspired by the book Diane Arbus: A Biography by Patricia Bosworth, may be the strangest and most audacious movie you will see in this year full of strange and audacious movies. Forget about poetic license: It has been exceeded and superseded by Mr. Shainberg and Ms. Wilson to the point of a dreamlike reinterpret-ation of a life and a career. Their previous collaboration, on the sadomasochistic cult classic Secretary (2002), gave them enough leeway to experiment freely with Fur.
Still, with all the liberties taken with the facts of Diane Arbus' existence on this planet by the Shainberg-Wilson team, it's not as if they knew too little about the life and world of the renowned photographer. If anything, they knew and felt too much, and thereby took it upon themselves to invent an inner life for the photographer, housewife, mother and child of privilege—as if Arbus were Alice in Wonderland, looking through the lens of her camera as though through her own looking glass. What she sees is an imaginary character whose skin is covered with fur, like the Beast in Jean Cocteau's Beauty and the Beast.
The action of Fur begins with Arbus and her camera in a nudist colony. Still clothed, she is politely asked by her naked hosts to disrobe if she wishes to take pictures in the colony. Arbus asks for time to think about it, and her hosts withdraw. At the very end of the film, Arbus finally makes her entrance in the colony with her camera slung around her neck, but now she is unclothed, which is as handy a metaphor as any for the baring of the artist's soul.
By ending the film where they do, Mr. Shainberg and Ms. Wilson avoid the painful fact of Arbus' suicide in 1971, at the age of 48. There is a suicide in the film, but it is of the imaginary fur-covered character, Lionel, played with mesmerizing force by Robert Downey Jr. His character serves to pull Nicole Kidman's Arbus out of her domestic cocoon so that she can float like a butterfly into the intoxicating heights of her artistic destiny. Her loving husband Allan (Ty Burrell) tries to accommodate her artistic and bohemian aspirations, even to the point of sprouting an otherwise unexplained beard. Her crass, materialistic, fur-merchandizing parents, David and Gertrude Nemerov (Harris Yulin and Jane Alexander), do their best to keep their daughter in a safe bourgeois world, but their best isn't nearly good enough. I have been following Ms. Kidman's career since she burst upon the screen with an unbridled sensuality in Phillip Noyce's Dead Calm (1989), and lately her parts have become curiouser and curiouser. Fur reaches the zenith of strangeness, particularly when Diane and Lionel are engaged in a sweetly seductive (and erotically unearthly) relationship. Their expressive eyes tell us even more about their mutual passion than do their unleashed bodies. Fur may not be entirely convincing, but it's made with a conviction that deserves respect.