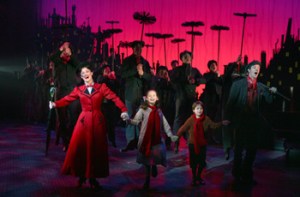 I thought it would be a good idea to take a child with me to see Mary Poppins. Fair's fair. I'm getting a bit old for Mary Poppins. And so are you.
I used to take children to the theater. But now all the ones I know are practically my age, including my own daughter. Furthermore, my adorable little nephews and nieces are at college shagging their brains out, and even my favorite goddaughter doesn't want to know.
"Angel mine," I pleaded with Pauline over the phone. "My own little pumpkin pie. Are you up for Mary Poppins, followed by a ludicrously expensive dinner at a restaurant of your choice?"
"John, you know I love you," she replied in that forbearing way that spells doom. "I'm knocking 30, and I saw the movie at least six times when I was 8."
She could still sing "Supercalifragilisticexpialidocious" (and began to until I begged her to stop). I pointed out that the stage version has some new songs with titles like "Brimstone and Treacle" and "Practically Perfect," but I still couldn't change her mind.
Where was I to find a child to accompany me to Mary Poppins? It reached the point where I considered buying one. But I didn't think it would arrive in time for critics' night. A happy solution was found, however, during a visit to my acupuncturist and herbalist, Suzanne Farkas, as she was expertly balancing my yin and yang while calming my shen. Suzanne's enchanting 6 1/2-year-old daughter, Paloma, is stage-struck. Mother and daughter thus accompanied me excitedly to the show.
The vast New Amsterdam Theatre on Broadway was packed with loving parents who had forked out a top ticket price of $110 (no reduction for children). When all's said and done, this is Disney's Broadway. "You're not listening to me, Cassandra!" an irritable mom was telling her restless child in my row before the curtain went up. "The gift shop is out of bounds!"
Mary Poppins would have approved of Cassandra's mom. When the lights went down and the orchestra struck up the first chords, my young guest—who knows the film version backwards—was grinning from ear to ear. This is the thrilling thing: There are still children who love going to the theater!
Mary Poppins ends at about 10:50—at least a half-hour too long for me, but not for Paloma and lots of other youngsters, though at the end of the show, some of the smallest were being carried out asleep, wrapped round their fathers' shoulders like sacks of potatoes.
The show's controversial new song, "Temper, Temper," was the one my young guest enjoyed the most, and she gave it an enthusiastic round of applause. It has reportedly caused some concerned American mothers to shield the eyes of their whimpering children from what's happening onstage: Because thoughtless Michael and Jane have had a temper tantrum, during which they criticized their troubled father, Mary Poppins has punished them by confining them to their room with no milk and biscuits. Whereupon a doll crawls out of their dolls' house like a creepy renegade from Shockheaded Peter, and all the toys in the room spring to menacing life and chant in song, "Children who refuse to learn will not return!" It was about as disturbing as any Halloween parade.
There are scholars of Mary Poppins who treat P.L. Travers' original text like the Dead Sea Scrolls. The 1964 Julie Andrews movie sentimentalized the novel, while the London stage version, which opened in the West End two years ago, restored some of the original rigor out of respect for the author's dying wish. In the Broadway production, the stern severity of Travers' magical nanny has inevitably given way to Disney's spoonful of sugar. The result is that almost everything is practically perfect, and everyone is trying much too hard.
The plummy vowel sounds of Ashley Brown's admirable Mary Poppins, for example, are more like Julie Andrews than Julie Andrews. And no one—I give my word as an English gentleman—has ever possessed vowel sounds like Ms. Andrews in the entire history of spoken English. (It's also true that in the same movie, Dick Van Dyke's cockney chimneysweep virtually invented a grotesque new language.) Gavin Lee's genial vaudevillian Bert could scarcely be better. Mr. Lee is the only member of the London cast in this production.
God save us from perfectly horrible stage children. They grate on our nerves with their loud, knowing cuteness and awful professionalism. One longs to kick the little darlings into the wings. A word of thanks, then, to Matthew Gumley for his terrific performance as the Banks child, Michael. He's so good, he sometimes tunes out of the show in his relaxed way, apparently uninterested in the action around him. Mostly, he's exactly, lovably right. Master Gumley is a stage rarity: a completely natural child actor.
Disney's shrewd strategy for its modern mega-musicals is to hire the best creative artists that money can buy in the hope of forging a bold partnership between commerce and art. Julie Taymor's The Lion King, pillaging the world's traditional cultures for the benefit of the masses, remains its most successful venture. Tarzan doesn't work nearly as well because its novice director, the great set designer Bob Crowley, couldn't see the flaws in the whole picture—a de-sexed Tarzan story with yet another Julie Andrews sound-alike, a blah score by Phil Collins, and lots of athletic performers pretending to be monkeys bungee-jumping all night long on jungle vines.
The artistic team in the engine room of Mary Poppins is of the highest order—Sir Richard Eyre, formerly artistic director of the Royal National Theatre (who also directed the West End production); his co-director and choreographer, Matthew Bourne (of the sensational all-male Swan Lake); the magical set designer Mr. Crowley; and Julian Fellowes, the Oscar-winning screenwriter of Gosford Park, who wrote the book. Together they achieve remarkable things, keeping a massive spectacle afloat—not least when the children's attic descends onto the set's giant Edwardian home at the stately pace of a space rocket docking with the mothership.
And yet I would swap all the multimillion-dollar hydraulics, the miraculous flying on wires and pretty video work, for a measure of unmanufactured wonder and a simple, direct connection to open hearts. Mary Poppins, after all, is about the confusion and wonderment of innocent childhood. Is it too late for us?
Mr. Eyre does best with the seamless, intimate inner story of the unhappy marriage of the Banks adults, and he's got fine performances from Daniel Jenkins as George and Rebecca Luker as Winifred. The loss is that the focus of the show has shifted away from the children and made them seem secondary.
There are serious lapses in Matthew Bourne's overrated choreography. British musicals have never really known how—or when—to burst out of their shell and dance. A big number like "Supercalifragilisticwhatsitsname" cries out for choreography. But here it takes place, for some weird reason, in what looks like a cramped tent in Trinidad, where each word of the tongue-twister is spelt out for us in mime like a frantic spelling bee.
Our irrepressibly sunny chimneysweep, Bert, defies gravity by dancing on the walls and ceiling—a magical wired moment, unless you recall Fred Astaire's legendary, gravity-defying dance sequence in Royal Wedding over half a century ago. Mr. Bourne's first-act ballet during "Jolly Holiday" resembles a pretentious Las Vegas floorshow: Near-naked mythic statues come to life, including a child statue apparently in search of its daddy. His major second-act dance sequence, "Step in Time," goes for broke with a kind of rooftop Riverdance for chimneysweeps. But in the Broadway of dance legend—the Broadway of Jerome Robbins, Gower Champion, Bob Fosse, Michael Bennett—Mr. Bourne's promised showstopper, which longs so much to please, never lifts off quite enough to have us cheering on the edge of our seats.
Most unexpectedly of all, this new psychological version of Mary Poppins preaches Dr. Phil–like wisdom about bringing up children right. (It turns out that Mr. Banks, the show's dysfunctional, miserable father, was raised by an evil nanny.) The texture of Travers' story has been reduced to a simplified Disney cartoon in a paean to sham miracles entitled "Anything Can Happen":
Anything can happen if you let it
Sometimes things are difficult
But you can bet it
Doesn't have to be so ….
Never mind what I think. I'm glad to report that the outing to Mary Poppins proved a success where it mattered most: My young guest and new friend, 6 1/2-year-old Paloma, enjoyed every minute of it.
How wonderful, I thought. How wonderful to be going to the theater as if for the first time.