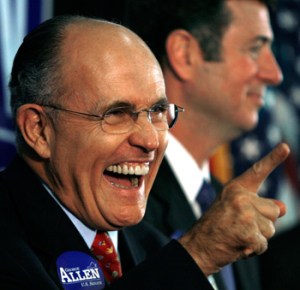 Rudy Giuliani and John McCain have a lot in common.
They both have a direct personal style. They both advocate a muscular foreign policy. And now, they're both in competition for George W. Bush's vast network of political donors.
As the midterm elections have left the field without a clear champion of the party's conservative wing, the two erstwhile allies are left in a class by themselves as they court the same small but powerful constituency of fund-raisers that fueled the last three successful Republican Presidential campaigns. The rivalry marks a new, openly hostile stage in the nascent Presidential race, with Mr. Bush's top bundlers, the "Pioneers" and "Rangers" of 2000 and 2004, picking sides and launching essentially the first attacks of the campaigns.
"Bush in 2000 created an aura of inevitability early," said Patrick Oxford, a major fund-raiser for President Bush and Mr. Giuliani's colleague at the Texas-based law firm Bracewell & Giuliani. "After all this time and effort, after this army of givers they say they have, McCain has damn sure not created that aura of inevitability."
Contrast that with the following from McCain supporter Fred Malek, who ran the elder Bush's Presidential campaign in 1992 and was a partner of the current President in owning the Texas Rangers:
"Rudy Giuliani has been a very successful mayor of our largest city. John McCain has not only served heroically in the military, but he has been a pivotal force of national security for a dozen years."
Mr. Malek, the chairman of Thayer Capital Partners in Washington, said that Mr. McCain was poised to round up the majority of the Bush fund-raising machine.
"He has a number of others who are waiting in the wings and want to come on board," he said.
One thing is certain: The fight has been joined.
This week, Mr. Giuliani, 62, took another step towards a Presidential run by filing papers to establish a Presidential exploratory committee with the Federal Election Commission, ABC News reported. That development came just days after Mr. Giuliani made a show of rolling out the support of major Bush donors T. Boone Pickens, a Texas oil baron, and Thomas Hicks, an owner of the Texas Rangers, at a donor luncheon of sea bass and hamburgers at the "21" Club. According to Barry Wynn, the former chairman of the South Carolina Republican Party and the finance chair of Mr. Bush's re-election campaign, the Giuliani team had made it clear at the luncheon that more big donors were on the way.
"Let's put it this way," Mr. Wynn said: "A lot of them had played a role in the last Bush campaign—which, as you are aware, was very successful—and 2000. I mean Pioneers and Buccaneers and Rangers and all that stuff."
For all the boasting about bringing on board the Texas oilmen, big-city financiers and Midwestern C.E.O.'s who comprised Mr. Bush's fund-raising juggernaut, neither Mr. McCain nor Mr. Giuliani can expect to inherit the Bush network intact. Instead, it will require extensive lobbying by each of them on a person-to-person basis until a critical mass of bundlers, donors and sought-after operatives has been reached.
"It was very different with Bush, and they are making a real mistake if they think that this support is all going to come in a wave," said Georgette Mosbacher, a longtime contributor to Republican candidates who knows many of the major Bush donors. "I don't think either have them yet. They are going to need some stroking."
While Mr. McCain and Mr. Giuliani are by no means the only candidates in the Republican field, they have certainly become reference points for the other aspiring nominees.
Massachusetts Governor Mitt Romney has made an effort to distinguish himself from Mr. McCain and Mr. Giuliani by presenting himself as the only true conservative in the race, stressing issues like gay rights, immigration and the interrogation of detainees arrested on suspicion of terrorism. "I'm a conservative Republican, there's no question about that," Mr. Romney told the Washington Examiner this week. "I'm at a different place than the other two."
Mr. Romney, who has enlisted several major Bush donors of his own, added that only he and Mr. McCain "have spent some time building a fund-raising network and a ground team, if you will, to run a national campaign … over the last year or two.
"Mayor Giuliani has not done that yet," he added. "But his celebrity status would presumably allow him to do that on a fast track."
(Mr. Giuliani's previously established political-action committee, Solutions America, brought in more than $2 million in the last year.)
Arkansas' Mike Huckabee and former House Speaker Newt Gingrich are also looking to enter the race, and will surely make a bid for the same Bush donors.
But for now, Mr. McCain and Mr. Giuliani are the ones who have filed papers to create Presidential exploratory committees. And they are the ones who have done the most extensive auditioning around the country before Mr. Bush's top fund-raisers.
In May, Jim Nicholson—a Bush Ranger in 2004—met with Mr. Giuliani before a paid speaking engagement in Des Moines, Iowa. Then, about three months ago, Mr. Nicholson arranged for Mr. McCain to meet with "the forum," a group of roughly 20 other veteran fund-raisers, in Meadow Brook Hall, a historic house-museum near Detroit. He went with Mr. McCain.
"Politics is the art of the possible," said Mr. Nicholson, the chief executive of PVS Chemicals Inc. and now Mr. McCain's finance chair in Michigan. "He is the only Republican who can win in 2008." (His fellow "forum" member, Dave Brandon, the chief executive of Domino's Pizza, apparently disagreed and is supporting Mr. Romney.)
John Weaver, a senior political strategist for Mr. McCain, suggested that Mr. Giuliani's recent rollout of supporters was still no match for the organization that his boss had assembled over a longer period of time. Mr. McCain, after all, has been unambiguously laying the groundwork for a possible run since well before the midterm elections—more like 18 months, by the estimate of his aides—and has raised more than $7 million for his political-action committee, Straight Talk America, since its inception in August 2005.
"We wouldn't trade places with anybody; I think that everybody would trade places with us," said Mr. Weaver, adding, for good measure, that "the Republican Party is going to be looking for somebody who can win and somebody who has consistently supported the core principles of the party. And that fits a McCain profile."
Mr. McCain himself prodded Mr. Giuliani on Sunday, when he was asked to distinguish himself from Mr. Giuliani on the ABC news program This Week. He said that he was a "conservative Republican" with "knowledge on national-security and defense issues."
But between the candidates, things are still mostly circumspect. Neither has formally declared his candidacy for President. And neither, understandably, wishes to be the first to be seen directly attacking a colleague who happens to be a national icon of patriotism.
For now, the frankest comparisons about the candidates' feasibility are being made by the donors. Mr. Giuliani's contributors, in particular, seem eager to dispense with the niceties.
Mel M. Immergut, chairman of the New York law firm Milbank, Tweed, Hadley & McCloy, who attended Wednesday's luncheon, took a swipe at Mr. McCain's age. (He is 70.)
"I'm sort of myself stopped by the concern I have over someone in today's day and age taking this job on at age 72," he said. "I'm not in favor of a one-term President."
And Mr. Oxford, who was also at the meeting, painted Mr. McCain as a Washington insider desperate to disassociate himself from the Beltway corruption that Mr. Giuliani argues is the most important campaign issue. Responding to a McCain staffer's suggestion that the Arizona Senator enjoys the support of 60 or 70 percent of Mr. Bush's top fund-raisers, Mr. Oxford added: "If McCain had all the top fund-raisers in the United States, we would see lists of them right now."
William Simon Jr., a California millionaire who unsuccessfully ran for governor and was also among the 30 Giuliani supporters at Wednesday's meeting, also called Mr. McCain's claims to have a broad network of Bush fund-raisers an exaggeration.
Mr. Simon said that he has already made calls on behalf of Mr. Giuliani in California, and that "very few people have said, 'I'm supporting McCain.'"
Mark Corallo, a Republican political consultant and former spokesman for Karl Rove, said the bickering between the donors was a natural progression in a high-stakes race.
"This is about grasping the brass ring," said Mr. Corallo, who added that the increasing hostility between the donors of Mr. McCain and Mr. Giuliani was "about the battle for the nomination, and anything goes. It's business, it's not personal: 'We still love ya, but I've got to whack ya. So don't take it personal.' It's Mafia-esque."
On Nov. 15 at 11:30 a.m., Mr. Giuliani's donors and staffers sat around a rectangle table at the "21" Club and faced a speakerphone that twanged with the voice of Mr. Pickens, who supplied $3 million to the Swift Boat Veterans for Truth campaign against John Kerry. The participation of Mr. Pickens and Mr. Hicks clearly excited many at the meeting.
"If they didn't think Rudy could win, they wouldn't be messing with him," said Mr. Oxford. "They have a highly pragmatic approach to contributing their time and their money."