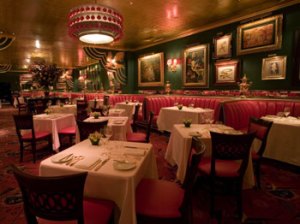 When I learned that the Russian Tea Room was about to reopen earlier this month after four years as a darkened stage, I hoped for the best and expected the worst.
The six-story former brownstone on West 57th Street, wedged between Carnegie Tower and Metropolitan Tower, was purchased in 2004 for a reported $19 million by the RTR Funding Group, headed by Manhattan realtor Gerald Lieblich—the fourth owner in just over a decade. While the new proprietors declared they hoped to revive the storied icon as a serious restaurant and celebrity roost, I had my doubts.
My long and patchy courtship with the R.T.R. dates to the mid-1980's, the twilight of its so-called golden era, when the glimmering main dining room served as a canteen for marquee names in the entertainment business—agents, playwrights, actors, musicians, producers. It was one of my first, albeit involuntary, outings when I moved to town.
"You have never been to the Russian Tea Room?" my new boss, Arthur Gelb, an assistant managing editor of The New York Times, asked with incredulity.
"No," I confessed, confirming my status as a rube—especially so considering that I had recently been hired as a lifestyle and food reporter.
The following day, we were seated in the R.T.R.'s ground-floor dining room, second banquette on the right—Mr. Gelb's table. Before I had a chance to crack a breadstick, he was in badinage mode with a couple on our left, who turned out to be the actress Ruth Gordon and her droll husband, the writer and director Garson Kanin. A moment later, another thespian couple stopped by: the seemingly ageless Jessica Tandy and her husband, Hume Cronyn. They lingered for some time, no doubt obscuring my view of other luminary traffic—although I did spot, sitting alone and looking rather dyspeptic, super-agent Sam Cohn.
It wasn't until that evening, while recounting the experience to my wife, that I gave much thought to the restaurant's food.
"How was the lunch?" she inquired.
"The blinis and caviar were great," I said. "The rest pretty much sucked."
My ensuing visits, some two years hence, were in the capacity as The Times' restaurant critic. This meant I had to try everything on the menu, some of it twice. In the end, I awarded the Russian Tea Room one star.
That first review earned me a phone call from the owner, one Faith Stewart-Gordon, who graciously conceded some of the kitchen's inadequacies, then added: "But, Mr. Miller, the Russian Tea Room nourishes more than just the body!"
Ms. Stewart-Gordon took possession of the restaurant in 1967 after the passing of her husband, Sidney Kaye, an outgoing man of Russian descent who presided over its halcyon days in the 1950's and 1960's. (It was opened in 1927 as a chocolate shop and tea emporium by former dancers from the Imperial Russian Ballet.)
During much of her tenure, it continued to attract notables from Broadway, Carnegie Hall and, later, Hollywood. In those dark years of the Cold War, when so much of actual Russian life was marked by mirthless uniformity, the Russian Tea Room celebrated its culture in a setting of anarchic abandon: music and Champagne, red leather banquettes and pine green walls adorned with a riotous collection of art, tinsel-lined chandeliers, glittering Christmas-tree ornaments, burnished brass samovars, and tunic-clad "Russian" waiters donning nametags like "Salvador" and "Raoul."
Ms. Stewart-Gordon, who for decades had snubbed lucrative offers from developers who wanted to bulldoze the joint and put up a high-rise, sold the property in 1995, for $6.5 million, to Warner LeRoy, the puckish, bigger-than-life impresario behind Tavern on the Green and, in the 1960's and 1970's, the country's seminal (no pun intended) singles' bar, Maxwell's Plum. Mr. LeRoy passed away in 2001, and a little over a year later, so did the Russian Tea Room, which wound up in bankruptcy proceedings.
The building was picked up for $16 million by a most unlikely patron, the United States Golf Association, but the expensive project never got off the first tee and the association passed it on to the unromantic-sounding RTR Funding Group.
This means that, for the first time, the valuable air rights on both 56th and 57th streets are held by a builder.
When I arrived at the restaurant last week for dinner, the place looked familiar, if somewhat subdued. The new leather banquettes were a less garish red, and the walls appeared darker green. Gone was the holiday tinsel, and there didn't seem to be as many Christmas-tree balls hanging about. The Doctor Zhivago–esque background music was reassuring.
The new chef, Gary Robins, has been around the city's gastronomic billiard table, and has been widely lauded as a deft fusion-style cook at a place called Aja and, most recently, at the Biltmore Room, north of Chelsea (now closed). He might seem like an improbable choice for a Russian restaurant, but judging from the dishes I had a chance to sample, he could well succeed where others have failed: crafting a contemporary, challenging and lighter R.T.R. menu while paying obeisance to the bone-warming classics.
One stellar example is his foie-gras-stuffed pelmeni (like ravioli) in an intense, limpid broth holding root vegetables, chanterelles and truffles. Another is the cider-glazed quail offset by salty duck prosciutto and spiced Champagne grapes.
"We haven't yet put on the menu some of the classics, like chicken à la Kiev and stroganoff," explained Mr. Robins, a lanky, soft-spoken fellow who clearly has high aspirations for the place. "We want to see how things go in the early days and get a feel for what customers want." He plans to go after the power-breakfast crowd as well—blinis with caviar and orange juice?
The airy double-height second-floor dining room—the original restaurant Siberia—will hold à la carte customers, while the third and fourth are for private functions.
The past two weeks have been somewhat of a nostalgia-fest for certain curious ghosts of parties past, like 83-year-old Mary Elizabeth Culhane, of Stamford, Conn., whom I encountered outside of the restaurant on the rainy evening that I stopped in to make a reservation. She was reading the posted menu, quizzically.
"Are you coming inside?" I asked.
"I don't know if I should," she replied. "My husband and I came here for lunch every Friday for nearly 20 years. Mr. Kaye was wonderful. We met Burt Lancaster here, and Mary Martin, too, who was very nice."
"Really? How was the food?"
"We always told friends, 'Do the triple C's and you can't go wrong—Champagne, caviar and chicken Kiev.' The stroganoff was not very tasty."