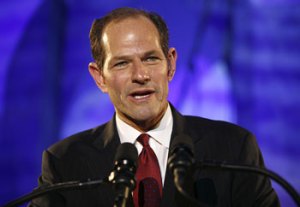 Eliot Spitzer swept into power as the next Governor of New York last night with a landslide victory, heading up a Democratic romp in New York in which Senator Hillary Clinton, Andrew Cuomo and embattled Comptroller Alan Hevesi all triumphed over their Republican opponents.
With 18 precincts reporting, Mr. Spitzer was up by 72-27 over John Faso. Mrs. Clinton led John Spencer ; Mr. Cuomo was beating Jeanine Pirro; and Mr. Hevesi was holding onto a lead over Mr. Callaghan.
For Mr. Spitzer, winning the election was the easy part.
After cruising to inexorable victories over Nassau County Executive Tom Suozzi in the primary and John Faso in Tuesday's general election, Mr. Spitzer now has to face two significantly tougher and more entrenched foes: Assembly Speaker Sheldon Silver and Senate Majority Leader Joseph Bruno.
The two men—one a liberal Democrat from the Lower East Side, the other a conservative Republican from upstate horse country—have controlled state government, along with Governor George Pataki, for more than a decade. They are, essentially, super-empowered bureaucrats. Nothing gets done without their consent, and their casual hostility toward the introduction of well-intentioned "reforms" to Albany has been particularly deadly.
Mr. Spitzer, who has made the reform of state government a pillar of his campaign, is clearly of the belief that a voter mandate will allow him to dictate an aggressive agenda of change in Albany and circumvent years of the tortuous deal-making process known simply as "three men in a room."
"We can say that the public has spoken and the public cares about this," Mr. Spitzer told The Observer in Washington Heights on Sunday afternoon before the election. "We will be in a position to change the dynamic, speak with a unified voice—and trust me, it's going to be a very different decision process."
"Boy," said Spitzer running mate David Paterson, "are they in for a surprise."
But are they?
A look at the recent track record of introducing reform says otherwise. Calls to amend the state's hyper-partisan process of drawing legislative districts, for example, have gone unrealized, since neither Mr. Silver nor Mr. Bruno have any intention of voluntarily giving up control over a process that has afforded them the unimpeachable protection of their majorities. Efforts to place meaningful restrictions on the personal use of campaign contributions have been stymied. And the two leaders have ignored calls from good-government groups to enact legislative-rules changes, such as letting committee chairs hire a staff to run their own committees, devolving more power to rank-and-file members, and opening up legislative conferences to public scrutiny.
"He is going to have to go into the room," Tom Duane, a liberal State Senator from Manhattan, said of Eliot Spitzer. "And I am sure it will be an eye-opening experience for him."
In a brief interview on election night, Mr. Silver took issue with the characterization of his work as negative. "Stopping the far-right proposals of George Pataki and putting them dead in their tracks aren't dysfunction," he said.
As for his working relationship with Mr. Spitzer: "I'm delighted to be his partner, to bring about changes that are necessary."
Mr. Bruno, who was angered by Mr. Spitzer campaigning against Republican Senators, declined to comment until after the election.
In Albany, even enacting small procedural changes, like requiring transparency on member items and requiring open hearings on bills up for approval, can prove arduous.
Mr. Faso, who witnessed a thousand legislative deaths in Albany as leader of the powerless Republican minority in the Assembly, said shortly before Election Day that he thought it was "possible" to achieve substantive change, but that he doubted his opponent's electoral victory would allow him to dislodge the powers that be.
"It's absolutely going to be tough, and it is a mistake to discount the intractable nature of the special interests that want to do business as usual," he said.
Serphin Maltese, a Queens Republican in the Senate—the body that needs to approve Mr. Spitzer's key appointments—was likewise doubtful about the durability of Mr. Spitzer's momentum.
"At some point, he's either going to concede power to them, or he's going to have to make an agreement with them," Mr. Maltese said. "I don't think somebody can come in with both guns blazing and say, 'It's my way or the highway.'"
Mr. Silver and Mr. Bruno basically have veto power over all of Albany's legislation. The only mitigating factor is that the two men have kept their power for more than a decade each by staying keenly aware of which way the political winds are blowing—and right now, they're gusting in Mr. Spitzer's favor.
Still, Assemblyman Michael Gianaris, a Queens Democrat who has proposed redistricting reform and who once worked as an associate counsel under Mr. Silver for the Assembly Democrats, thinks that Mr. Spitzer's grace period will be a limited one.
"Don't confuse soft-spokenness with weakness," said Mr. Gianaris. "In fact, I would say there is no more effective negotiator that I have seen in my life than Shelly Silver."
Other Albany insiders, legislators and good-government groups say that in the short run, at least, Mr. Spitzer's momentum and muscle should help his case in pushing for ambitious projects like the restructuring of the health-care system, freeing up billions of dollars for New York City's schools, and even redrawing the district lines that secure Assembly members and Senators their safe seats.
"Everybody is talking about change," said Suzanne Novak, deputy director of the Democracy Program at the N.Y.U. School of Law's Brennan Center for Justice. "It will be a real disappointment to the people of New York if nothing changes and things don't get through, and if things aren't opened up."
Certainly, Mr. Spitzer's team hasn't lacked for confidence about their ability to ram through such changes.
"This Governor says, 'If you create a gerrymandered plan, I'm not going to sign it,'" said Mr. Paterson on Sunday. "So it will stop reapportionment as we know it right now. Sometimes all you really need to start change is for one person with backbone to stand up. Albany hasn't had it in the time I've been there, which is over 20 years."
Mr. Spitzer continued the tough talk right up to the start of voting. On Election Day, after jogging and then voting on Madison Avenue, he campaigned outside a subway station at 72nd Street and Broadway, where he shook hands and held babies.
"We've laid out a significant agenda," said Mr. Spitzer, naming a cut in property taxes, redistricting, changing the judicial-selection process and increasing transparency in Albany as some of his priorities. He added that none of his goals could be achieved without first changing the process by which Albany operates: "Decisions should be made in the open. There should not be a tight-knit group of individuals who make all the decisions."
Some Democrats believe that the months after the election are Mr. Spitzer's only window for pushing his agenda.
There's at least one person who feels that he has some idea of what the Governor-elect will face: Mr. Suozzi, who lost to Mr. Spitzer in the Democratic primary on a platform of fixing Albany's broken government.
Mr. Suozzi predicted that Mr. Spitzer, like Mr. Pataki and Mario Cuomo before him, would enjoy a honeymoon period with the legislators following the elections. Those warm relations will ultimately break down into partisan bickering, with Mr. Bruno, the Republican, playing the foil. Ultimately, the relationship will devolve further, with a collapse between the legislative and executive branches, as seen in the often-strained relationship between Mr. Bruno and Mr. Pataki, both Republicans.
"If he just tries to rely on the deal-making of the three men in a room, he will ultimately fall into the trap of the three phases," said Mr. Suozzi, who added that the best path for Mr. Spitzer is to make it abundantly and immediately clear to Mr. Bruno and Mr. Shelly that he is boss, and that "he has the political will and political backing of the people to make systemic change."
Mr. Suozzi, a constant critic of Mr. Spitzer during the primary, said that he had become increasingly "encouraged" by Mr. Spitzer's intentions of taking on Albany.
"There is an indication that he may try and do that, only because of the indication of the Hevesi thing."
The "Hevesi thing," of course, is Mr. Spitzer's withdrawal of his endorsement from Alan Hevesi, the State Comptroller who was caught using a public employee to chauffeur his wife. His willingness to sacrifice a political ally in order to come to Albany uncompromised has been applauded by advocates of government reform.
Still, Mr. Spitzer will have plenty on his hands even after they are rinsed of Mr. Hevesi and his scandal. There is the battle over the budget, the selection of commissioners who must be approved by the Senate, the making of allies out of ambitious Assemblymen looking for government posts, and then the actual business of delivering services to the people of New York, also known as governing.
Blair Horner, a lobbyist for the New York Public Interest Research Group, said that Mr. Spitzer's task amounted to "15-dimensional chess."
"A lot of what the new Governor has to do is really, in a sense, tactical—he has to use his immense powers unilaterally," said Mr. Horner, adding of Mr. Silver and Mr. Bruno that "asking them to give up powers is to ask them to unilaterally disarm."
On Sunday afternoon, on the cusp of his tremendous victory, such concerns seemed far from Mr. Spitzer's mind. He had a permanent smile stamped on his face as he led a boisterous rally of Democrats up St. Nicholas Avenue in Washington Heights.
"It's him! It's him!" the parade of supporters chanted in Spanish as Mr. Spitzer and his allied swarmed onto the groceries, discount markets and shoe stores.
"You think we're terrifying these folks?" Mr. Spitzer asked a fellow marcher in front of a fruit stand. Assemblyman Adriano Espaillat picked up a green plantain like a telephone receiver. "It's time for you to go, Pataki!" he said into the fruit. "Eliot Spitzer's here!"
Yes, Mr. Pataki will now leave office, and Mr. Spitzer will take his place. But Mr. Silver and Mr. Bruno will stay put.
"The majority leader and the Speaker have not great power—they have absolute power," said Seymour P. Lachman, a former Democratic State Senator and the author of Three Men in a Room: The Inside Story of Power and Betrayal in an American Statehouse. "Shelly and Joe Bruno will not give up their absolute power."
—additional reporting by Azi Paybarah