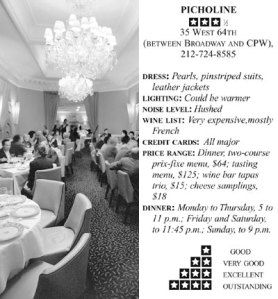 Last summer, Terrance Brennan, the chef and proprietor of Picholine, closed and revamped his restaurant near Lincoln Center. He reopened this fall hoping that new décor, a new menu and a wine bar would attract younger customers. Now, in addition to the prix-fixe menus, it's possible to have a light meal at Picholine for between $15 and $21—be it a selection of tapas, tasting plates, or cheese and charcuterie.
Unfortunately, I'm the sort of person who goes into a store at sale time and walks out with one of the few things that haven't been marked down. When a friend and I went to Picholine on a recent evening, I couldn't resist when he suggested the game tasting menu. "I like plates of small things," he said, as if that were reason enough to spend $125 a head on a late dinner.
There are indeed many small things on the game menu, most of them birds. It's against the law to sell American wild game in restaurants, so normally when you see quail and pigeon on a menu, it's farmed. Imported wild game from Scotland, however, is allowed, and the taste is far superior (just watch out for birdshot).
If you can afford only one blowout meal in this season of excess, I urge you to try Picholine's wild-game menu, which includes, of course, a tasting of the restaurant's famous artisanal cheeses. The meal we had was sensational; each dish seemed more exciting than the last (and to my companion's delight, none required picking over "damned bones" or the extraction of birdshot). It kicked off with a "trifle," a smooth purée of Jerusalem artichokes concealing a chunky game pâté, topped with a jellied game consommé. Roast red-legged partridge cut in silken slices with turnips and a rich foie gras sabayon followed, then a pot au feu made with meaty slices of wood-pigeon breast in a clear game stock and a tortellini stuffed with truffled foie gras and leg meat. The roast loin of wild Scottish hare, served rare with fresh huckleberries and fried "pain perdu" made with parsnip, was stunning.
Picholine's revised menu, under chef de cuisine Craig Hopson, is modern Mediterranean with an emphasis on Spain, Italy and France. On the two-course prix fixe, there's a fine venison from Millbrook—inch-thick red slices of meat seasoned with a mix of pounded Pondicherry pepper, a touch of cocoa and dried black trumpet mushrooms. A de Kooning–style smear of red huckleberry sauce garnished the plate, which comes with orange-peel-flavored parsnip purée.
I was delighted to see that one of Mr. Brennan's signature dishes, sea urchin panna cotta, is still being served—a sublime, delicate custard, topped with caviar and set in a chilled ocean consommé.
Among the newcomers, there's "bacon and eggs," a slow-poached egg in a bowl of polenta seasoned with parmesan and truffle butter, topped with shavings of smoked tuna-belly "bacon." It's fun, if a bit rich as a first course. On the lighter side, there's a lovely crab salad with grapefruit and avocado, enlivened with a dash of mint chutney and a grapefruit-and-Campari granite. Chicken "Kiev" is cooked sous-vide, then fried in a cornflake crust and served on a bed of braised lobster mushrooms and Swiss chard. The waiter digs in a silver skewer so you don't spurt yourself with the liquid foie gras inside. Skate is done choucroute style with rutabaga (the fish stuffed with pork belly, adding a smoky flavor) and served with mustard sauce and beurre rouge.
You can't come to Picholine and not try the cheese board served by Max McCalman, a Southerner with infectious enthusiasm and encyclopedic knowledge. He does a star turn. We tried eight selections, starting with a strong, soft Aracena, a goat cheese from Andalucia, and winding up with a pungent La Peral, a rare semi-blue cheese from Northern Spain.
Pastry chef Zachary Miller's desserts are also terrific. What better way to finish a game tasting than with a pear rolled in brioche crumbs, afloat in a chocolate soup, with confiture de lait ice cream and chocolate tuiles?
Picholine's wine list, strong on French, is one of those that I read from the right, searching for a choice in the two digits that isn't a half-bottle. The 1998 Clos des Jacobins, a St. Emilion, went very well with our game menu—though we couldn't fail to note the irony of an $85 wine bearing the name of the left-wing revolutionaries who began the Reign of Terror.
The restaurant's new décor, with its color scheme of various shades of gray, mauve and purple, is handsome in a way, but still a bit stiff and hardly hip. There are enormous crystal chandeliers, mirrors, swathed curtains and purple carpeting, as well as a purple wall sculpture that looks as though it's made of plastic cutouts. The lighting has been warmed up since my first visit, but it's still too bright and flat. You could be in a fancy Soviet hotel in the provinces; all that's missing is a harp soloist.
But although white and grizzled heads, pearls and pinstripes abound, Picholine's clientele does seem more youthful than before. At a table near us, a docile Indian bride tried to look nonchalant as her young husband, head slumped on chest, appeared to have fallen asleep. The room was that hushed.
After the new Picholine was unveiled, the Metropolitan Opera decided that it too was ready for younger audiences. On weeknights, you can now buy orchestra seats for $20. A night at the opera and a light meal at Picholine: affordable at last. Unless, of course, your companion thinks it might be nice to try wild Scottish hare with huckleberries—just a small plate. Go for it.