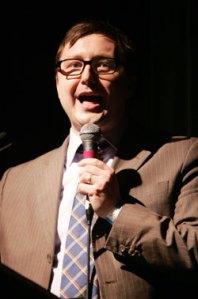 John Hodgman was drinking a smoothie inside the cavernous Galapagos Art Space in Williamsburg, Brooklyn. Soon the 32-year-old would switch to rye whiskey. It was 7:30 p.m., and the place was filling up with the 100 or so people Mr. Hodgman has met during his 10 years in New York City. In 2001, he began M.C.'ing these "Little Gray Book Lectures," which were inspired by the instructional pamphlets that were popular during the 1920's ("How to Seek Your Fortune," "How to Speak with Strangers," "What Will Happen in the Future?", "Europe vs. America") and which, on paper, sound exactly like the sort of self-consciously twee literary crap that Dave Eggers and McSweeney's have unintentionally spawned. The only thing is, the "Little Gray Book Lectures" are actually funny, and the vibe is surprisingly cozy. Mr. Hodgman's deadpan-but-warm manner–think Conan O'Brien in a camel-hair jacket–runs the show.
This night, he took the microphone and led the way through the night's acts: A GQ writer talked about foie gras and served some on paper plates. Jon Langford from the punk band the Mekons strapped on an electric guitar, reminisced about his art-school days in the 70's, and sang "Never Been in a Riot" and "I Love a Millionaire." Next up: an auction benefiting City Harvest–items included a mysterious typewriter, a headhunter statue and a case of whiskey. A video was played of bidders from past auctions giving wry I Love the 80's–style commentary about the items they'd bid on: recipes, a frying pan, a piano.
Mr. Hodgman's self-deprecating schtick brought the room into a warm, not-unpleasant haze of mutual admiration.
"He speaks in perfect sentences, and he had the dry, mature, man-in-a-smoking-jacket wit of an 80-year-old Oxford don when he was 25," said novelist Elizabeth Gilbert. "John pretends sometimes to be a cranky and grumpy person when he is actually compassionate and optimistic."
"John's events feature many of the same performers as from the hipster literary scene, but there's a much homier, warmer, more communal vibe," said writer Neal Pollack. "John is the real draw: He's a perfect host and a perfect gentleman."
"I was born at the age of about 45," Mr. Hodgman said. The only child of a businessman and a nurse in Brookline, Mass., young John had asthma and liked to watch Mary Tyler Moore and read Tintin books. "I was ruthlessly responsible and well-liked by all adults, which allowed me opportunity for subversion," he said. At Brookline High, he carried around a briefcase and co-edited a humor magazine that featured short stories about self-mutilation and X-rated comics.
At Yale, he took a class with literary critic Harold Bloom.
"As we all know, the man is a maniac," he said. "He has perhaps the largest brain on the planet …. It was really Bloom who taught me to be a comedian."
In the mid-1990's, Mr. Hodgman worked his way up to becoming a literary agent at Writers House. In 1997, George Plimpton edited a story of his for The Paris Review ("one of those life-altering moments"). In 2000, he turned most of his attention to writing, including a 13-part advice column on the McSweeney's Web site called "Ask the Former Professional Literary Agent."
Now he writes regularly for Men's Journal about booze and food, and occasionally for The New York Times Magazine. He recently sold a book, The Areas of My Expertise, which will be filled with "amazing historical true facts" (e.g., U.S. Presidents who had hooks for hands). "I would say the amount of true material is roughly zero," he added.
Of course, like Mr. Eggers, Mr. Hodgman is slowly acquiring fans–and literary fans, particularly those who flock to literary parties, rarely give their heroes a good name. Mr. Eggers wrote one terrific book and was so avidly embraced by horrid young hopefuls that one could make the case that we haven't caught a real glimpse of the writer since.
Fortunately, Mr. Hodgman lives on the Upper West Side with his wife of four years, Katherine Fletcher, who teaches English at Stuyvesant High School, and their daughter, whom he refers to as Hodgmina. "Since becoming a parent, I don't go out very much," he said.
Though, of course, there are exceptions.
Mr. Pollack recalled an evening when he and Mr. Hodgman gave a reading together. "It ended with us getting mauled by a woman in a bear costume," he said. "She couldn't see very well, so we had to keep throwing ourselves into her to allow the mauling to occur. Then we went out and got drunk, as is our wont–cocktail hour always starts early, and the cocktails are usually good. So his presence is warm and merry, but the next morning you curse him."
Mr. Hodgman wants to bring his "Little Gray Book Lectures" to radio.
"It needs to become something else," he said. "I think it's reached a very pleasant level of demi-quasi-notoriety within a small circle of people, but in order for it to be worth doing and creatively interesting, it has to grow and evolve."
Are his fans cult-like?
"Well, I hope that they would kill themselves if I asked them to," he said. "It's not a cult technically, but if I asked them to dress alike, I hope that they would. You know, I'm not doing this for nothing."