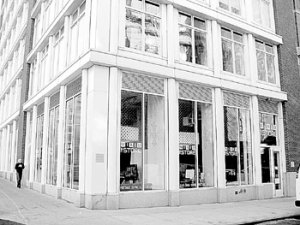 A seasonal smorgasbord of the latest in high-tech gadgetry, the short-lived Wired Store in Soho, open through Dec. 31, actually showcases more than mere electronics.
Think of it also as a flashy yet thinly veiled open house. As careful readers of the pop-up store's handy shopping guide might note: "EVEN THIS SPECTACULAR RETAIL SPACE IS AVAILABLE!"
Indeed, for two consecutive holiday shopping seasons now, Wired magazine's temporary occupancy at 160 Wooster Street has served two purposes for the landlord, TriBeach Holdings: first, as an honest-to-goodness rent-paying tenant (albeit just in the short term); and second, as a splashy demonstration of what that corner store could become—if only someone would lease it for more than just a few weeks.
"It's a gorgeous space," said retail broker Nathan Stange, describing the 2,932-square-foot unit, with its 16-foot-tall ceiling and "amazing frontage" spanning 106 feet of window-lined sidewalk at the corner of Wooster and Houston streets.
Exactly how attractive remains in question, however, as no permanent tenant has yet signed on to assume the space when Wired's lease runs out at the end of December.
Its looming emptiness is all the more glaring considering that the building's other retail space, located next-door, was leased to the Aroma espresso bar more than a year ago.
"It's not like we haven't gotten offers," said Mr. Stange, of Susan Penzner Real Estate, which is now marketing the soon-to-be-vacant (again) unit. "It's more like, 'Do you want another food place next-door? Do you want to divide the space? Do you want to lease the space for three-quarters of what it's worth?' No!"
The recent participation of Ms. Penzner's people and the landlord's newly reduced asking price of $155 per square foot annually—which Mr. Stange called "basically the bottom line" and which other brokers described as rather low for Soho—suggest that ownership is desperate to not have to host the Wired Store for yet a third time in 2007.
Not that the broker, Mr. Stange, would describe it that way: "They're content to wait for the right tenant," he said.
Clearly, however, the landlord's earlier reliance on in-house marketers and the visibility of temporary tenants to sell the space just wasn't working. (The number for TriBeach Holding's prior leasing contact has since been disconnected.) That strategy has merely resulted in a series of short-term flings—of the contractual variety, that is.
When the Wired Store first occupied the newly constructed eight-story condo building's northwest corner space in November 2005, the walls of the shop were painted hot pink.
Six weeks later, the pop-up shop packed up its flickering displays and moved out. Yet for nearly a year, the space remained in a constant rosy state.
"The landlord liked it pink," explained Mr. Stange. "They thought it really showcased the space."
The vibrant-yet-empty shell did attract some interest, albeit more of the noncommittal type.
This past spring, for instance, the Italian Trade Commission rented the place for an exhibit titled Opere di Luce, a weeklong retrospective on 50 years of Italian-style lighting.
Once all the lamps were removed, though, the place collected cobwebs for a whole summer.
In the fall, Sony ponied up for a mere one-day event on Nov. 3, whitewashing the pink walls for the company's unveiling of its latest PlayStation 3.
Then came Wired Store Version 2.0, which opened with much fanfare—and repainted hot pink walls—six days later.
Unless the brokerage can summon some sort of holiday miracle over the next two weeks, the space will begin the new year pink and bare yet again.
Mr. Stange suggested a number of factors might have contributed to the site's long-term leasing struggle, starting with Con Edison's noisy, seemingly never-ending construction in the area. A lack of venting, meanwhile, pretty much rules out restaurants, he said.
And its corner location—though situated smack in the middle of shopping mecca Soho—isn't quite as heavy on foot traffic as a similar storefront on, say, Prince or Spring streets.
"Major retailers have been afraid of Houston, because you only get traffic on one side of the block because it's so wide," he said.
Despite these disadvantages, Mr. Stange is confident that a more permanent retailer will sign on eventually, eliminating the need for future temps. (His boss, Ms. Penzner, mentioned an unnamed furniture store and clothier as possible contenders.)
Not that the pop-up shops haven't served some purpose: "It has brought attention to the space, especially this time," he said of the Wired Store. However, he added, "the main benefit to the landlord is making a couple bucks on it."