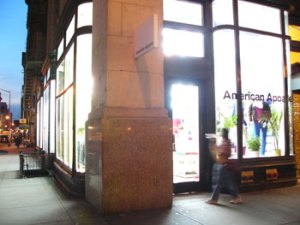 Building contractor Tommy Amato and a buddy were hanging out along Smith Street in Brooklyn, joking about "getting a suntan."
The sun had set, yet the two men were bathed in bright rays emanating from the neighborhood's luminous American Apparel store—whose ghostly glow that dark autumn evening was clearly visible to Counter Espionage from as far as four blocks away.
"Whoever moves in across the street is gonna need some really dark blinds," said Mr. Amato, pointing to a construction site directly opposite to the effulgent storefront.
Avoiding the glare of American Apparel isn't easy these days, as the ever-expanding L.A.-based clothing chain continues to flip on more fluorescent lights across New York City.
On Nov. 15, the international retailer opened its newest well-lit casual-wear emporium at the corner of Fifth Avenue and 19th Street—its 15th such location in Manhattan and Brooklyn in just three years. That's almost double the presence, in two fewer years, of growing local clothier Brooklyn Industries.
The California company that prides itself on providing "proper lighting" for its factory workers seems determined to do the same for gloomy Gotham streetscapes.
"It's more related to attracting attention and having a general aesthetic that's recognizable," said Miguel McKelvey of Jordan Parnass Digital Architecture in Brooklyn. "Depending on where you live, maybe that's a positive or maybe it's a negative."
Mr. McKelvey has played an integral role in American Apparel's aggressive rollout, serving as a store designer and location scout for the company since it first kicked off its New York operations with the 2003 creation of a flagship store inside a historic warehouse building at 712 Broadway.
"In cities where it's brighter, the contrast doesn't seem to be quite so great," he said. "But when you have block upon block of big, heavy buildings, [American Apparel] certainly stands out more than it would when you a have a lot of sunny white buildings and palm trees."
Indeed, the company's vibrant West Coast design style initially clashed with the old New York infrastructure. The installation of American Apparel's trademark illuminated light-box sign at the protected Broadway site, for instance, resulted in a stern warning letter from the Landmarks Preservation Commission. According to a commission spokesperson, the store's violation remains unresolved.
In its dozen-plus projects since, American Apparel has done little to tone down its characteristic luminescence.
In fact, when searching for new spaces, Mr. McKelvey considers, among several criteria, a site's conduciveness to bright light.
A dingy old auto-parts store on North Sixth Street in Williamsburg might seem an odd place for a clothing retailer. But the store scout found abundant reflection in its "really tall glass garage doors," he said.
Same goes for the old Jennifer Convertibles space on Eighth Avenue in Chelsea. "Almost the entire store is storefront," said Mr. McKelvey. "That's a store you can really see from a ways away."
The company's Carroll Gardens location came sort of tailor-made for its purposes. "When we came into that project, we had the option of sort of configuring the storefront. And we said, 'Let's take it up as high as we can.'" The result is a 14-foot-tall beacon of white light along dim Smith Street.
Broken down by bulb, the wattage of American Apparel's standard fluorescents is surprisingly moderate. "Our stores use Metalux medium-intensity fluorescent lights that require a mere 37 watts per bulb," said Max Sugiura, the company's local operations manager.
En masse, however, the output is significant, "roughly 100 foot-candles of light," Mr. Sugiura said, citing the traditional measure of luminescence, which means staring at an American Apparel window is like standing a foot from 100 candles. That's far above the 30 to 50 foot-candles recommended for mass-merchandise retailers by the Illuminating Engineering Society of North America.
The "daylight" tint of the bulbs is another factor upping the intensity, added Mr. McKelvey: "The color that you get from those lamps is very white and very bright. So it's different than a lower-color-spectrum fluorescent, for example, which would seem a little bit warmer and not as quite really, really bright white."
Unlike many retailers, American Apparel doesn't put up a lot of window displays that might otherwise block out the intense radiation.
"There's some merchandise in the window bays, and there's some signage," said Mr. McKelvey, pointing to the newest Fifth Avenue store. "But for the most part, the windows are completely open, so the store is really bright, and it kind of glows on the corner there."
As a marketing strategy, the incandescence works, according to one expert.
"There has been a trend in retail, especially mass-merchandising retail, to raise light levels," said Dan Frering, education manager for the Lighting Research Center at Rensselaer Polytechnic Institute. "People are clearly drawn to brighter spaces. So, if you're looking at five stores in a row and one is brighter than the rest, you're like a moth: You're gonna be drawn to the brighter store."
To Mr. Frering, American Apparel's illumination recalls that of other ever-expansive retailers. "Lighting to one very bright light level, that's how McDonald's lights," he said. "It sends a message that it's clean and that it's a place where people know they're gonna get quick service and reasonably priced merchandise. That's why Wal-Mart is lit that way; that's why Kmart is lit that way."
Where will the next beaming American Apparel pop up?
While Mr. Sugiura suggested to Counter Espionage that the company's local growth would cease "for a while" following its latest opening on Fifth Avenue, Mr. McKelvey hasn't stopped looking for new spaces to light up. "We have a few other neighborhoods that we're on the lookout for," he said, noting a noticeable gap in store coverage between Columbus Circle and Columbia University.
Shade your eyes, Upper West Siders.