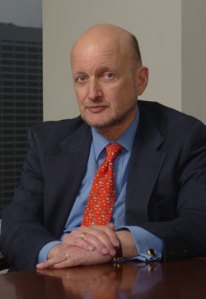 They tried to put the best face on it.
"When we started out, there were many skeptics who believed we had taken on an impossible task," said Stephen Berger, the stern-faced chairman of the Commission on Health Care Facilities in the 21st Century, as he stood under a dripping-glass chandelier in one of the New York Marriott East Side's banquet rooms. "Some dubbed us—in fact, some in this room—as the Hospital Closing Commission. But that nickname has never been accurate. It fails to recognize the scope and breadth of the commission's charge."
In the end, however, what they delivered was an uneasy compromise that brought temporary relief for the hospitals that were spared, but little obvious prospect of a long-term solution.
At 11:01 on Tuesday morning, Mr. Berger's commission, which was formed by Governor George Pataki in early 2005, released its long-awaited recommendations for fixing the state's health-care industry—a mammoth undertaking that has struck fear into the hearts of doctors, nurses, hospital C.E.O.'s and patients across the state.
The recommendations—which the commission described as "sweeping"—target 57 of New York's hospitals, or roughly one-quarter of all hospitals in the state. The majority of these have been slated for mergers and reorganizations, but nine hospitals—a number lower than many opponents of the downsizing had feared—were put on the "Do Not Resuscitate" list, including five in New York City: St. Vincent's Midtown Hospital and Cabrini Medical Center in Manhattan, Victory Memorial Hospital in Brooklyn, New York Westchester Square Medical Center in the Bronx and Parkway Hospital in Queens.
The reaction from the institutions targeted for closure was immediate and visceral, chalking up their fate to the notion that, unlike the wealthier hospitals, they were insufficiently plugged-in with the political insiders on the commission.
"This is a major giveaway, in my mind, to the major health-care players at the expense of the local community hospitals," said Jim Foy, president and C.E.O. of Riverside Health Care System, the parent company of the Community Hospital at Dobbs Ferry, which was on the list.
A sixth city hospital, the swanky Manhattan Eye, Ear and Throat Hospital on East 64th Street, will be merged into Lenox Hill Hospital and forced to eliminate its 150 inpatient beds, effectively closing it down.
But while the many mergers and closings certainly promise to send a massive electric jolt through New York's health-care industry, what exactly do they signify? And what will they really change?
The commission's report has been billed as the biggest medical-system shakeup in recent state history. (Mr. Berger predicted that the recommendations will save the state $1.5 billion a year and, though not prone to rousing statements, touted them as "a first step in reshaping the system for the 21st century.")
The closings—which followed months of furious lobbying by the affected institutions and the elected officials who represent them—will dramatically alter the scenery in New York, with a number of venerable old institutions disappearing within months and dozens of others shifting shapes to accommodate the commission's merger plans.
But the problem, some health experts suggest, is that the gravest threat to hospital health is not excess bed capacity but the costs of treating rising numbers of uninsured patients and unreliable reimbursement schemes. The commission's recommendations, these experts suggest, will do nothing to change that.
"Will this be a panacea for the health system? I think not at all," said Howard Berliner, professor of health-services management and policy at Milano the New School for Management and Urban Policy. "There is this vague sense that if you close hospitals, then you're going to save money for the health-care system. But there is no empirical evidence that this is the case."
"It will not save money, but it will hurt people," said Judy Wessler, a longtime advocate for improved health care in poor communities, in the moments after the report was released.
The five city hospitals tagged for closing represent a relatively small—if notable—fraction of the city's 59 hospitals. The commission also recommended merging at least three pairs of city hospitals: North General Hospital and Mount Sinai Hospital in Manhattan; the Peninsula Hospital Center and St. John's Episcopal Hospital South Shore in Far Rockaway, Queens; and New York Methodist Hospital in Park Slope and New York Community Hospital in Midwood, Brooklyn.
Unless the Governor or the State Legislature vote to reject the full package of commission recommendations—something they must do by the end of the year, at the latest—the hospitals will be slowly dismantled, emergency room by emergency room, over the next 19 months.
The Best of Intentions
The Commission on Health Care Facilities in the 21st Century, often referred to as the Berger Commission, came into being last year with the humble mission of creating a "more coherent, streamlined health care system in the state of New York," according to its founding legislation. The original proposal came down from Governor Pataki and was then ratified by the State Legislature in a rare (if not completely un-coerced) moment of agreement that something needed to be done about the state's ballooning Medicaid bills—currently hovering around $45 billion a year—and its deficit-plagued hospitals. Since 1983, 70 hospitals throughout the state have had to close.
There are all kinds of theories as to why the state's health system is foundering—the skyrocketing numbers of uninsured New Yorkers and low reimbursements rates among them—but the commission's focus has primarily been on excess bed capacity. Its theory: Recent changes in health-care delivery—technology, population shifts—have taken a large bite out of in-patient numbers, which have led to an excess of beds at certain hospitals, which has put a strain on their resources and ultimately forced them to declare bankruptcy or even to close.
So the solution seemed logical enough: By closing, or reconfiguring, underperforming hospitals, it would be possible not only to save Medicaid dollars but to ease these hospitals toward a planned, constructive demise rather than just letting them go out of business in sad, willy-nilly fashion.
"Unless we act, further facility closures and bankruptcies are almost certain to occur," said David Sandman, the commission's executive director.
And yet for all its emphasis on order and deliberation, the commission has been a political lightning rod almost from the beginning, triggering a spasm of intense lobbying throughout the medical system and setting off panic among advocates for the poor that hospitals in needy areas would be unfairly targeted. "Everybody knows somebody that's either on the commission or has influence enough in Albany," said the president and C.E.O. of one Brooklyn hospital. "Everybody has their own lobbyist and people that they know that they can utilize to pressure people."
Some hospitals sought to avoid getting on the list by hiring lobbyists to seek funding from state lawmakers. One hospital, Victory Memorial Hospital in Brooklyn, paid around $100,000 to the lobbying firm of former Staten Island Borough President Guy Molinari use his influence among state officials to avert closure. Another hospital's parent company, Episcopal Health Services, hired Brown, McMahon & Weinraub L.L.C. to lobby the Berger Commission directly about "healthcare/hospital closure."
Some officials from the hospitals on the list fretted that there was nothing they could do at all.
"The board of trustees at [New York–Presbyterian Hospital] bumps into Stephen Berger in a lot of different places," said Mr. Foy, the chief executive of Community Hospital at Dobbs Ferry. "He's a private-equity guy. Did they work their deal out behind close doors? My board members don't run in those same circles." He added, "I would love to have investment bankers who are on my board. I don't have them."
Neither, apparently, did the Cabrini Medical Center, the century-old, 399-bed facility set on the edge of Gramercy Park. Cabrini's management submitted a proposal to the commission to push ahead with a restructuring plan to shed nearly 300 beds, but it didn't manage to persuade the commission to keep its doors open. Same with St. Vincent's Midtown, the 250-bed Hell's Kitchen hospital once known as St. Clare's.
As for Westchester Square Medical Center, its spokesman, Alan Kopman, said that he'd pleaded the hospital's case at a public hearing, but that the hospital had not engaged in serious lobbying because they never imagined they would be closed.
"It's not something I would have expected to occur," he said, still sounding dazed from the news. "We had nearly 24,000 emergency-room visits. That's what we're projected to have in 2006. Where are these people going to go? What's going to happen?"
Some community hospitals benefited from some timely last-minute campaigning. Ms. Wessler, co-chair of an activist organization called Save Our Safety Net Campaign, was quick to claim partial success for her group's efforts, particularly in staving off the closing of Metropolitan Hospital, a storied (if struggling) hospital in Harlem.
The truth will play out over the next few weeks and months, as the Legislature decides whether to approve or reject the commission's proposals; as the money to effect the closings (never a cheap or simple process) either does or doesn't come through; and as the hospitals decide whether to accept or try to fight the changes.
As for Mr. Berger, he acknowledged at the press conference that with the matter of reimbursement rates still unaddressed, the closings may be the easy part. "This is going to be a tough one," he said, "and I look forward to seeing who gets to carry that bag."