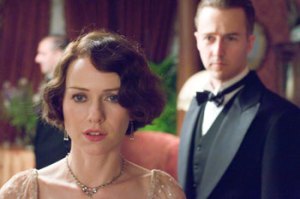 Let the countdown begin. In addition to the rest of the holiday-season avalanche of awards announcements, 10-Best and 10-Worst lists, and last-minute openings to lure Christmas shoppers, moviegoers are now scratching their heads over two movies with titles similar enough to result in shopping-mall panic. Behold: in this corner, The Good German. In that corner, The Good Shepherd. They should show them on a double bill, call it The Good German Shepherd, and we can all go home for eggnog.
Meanwhile, there is plenty to talk about. Do not even think of missing three of the best films of the year: the electrifying British drama Notes on a Scandal, with a duet of powerful performances by Judi Dench and Cate Blanchett that will leave you shaking; the shimmering and brilliantly conceived remake of the 1934 Greta Garbo vehicle The Painted Veil, based on the great novel of the same name by W. Somerset Maugham; and the lavish and glittering celluloid reincarnation of the Broadway musical Dreamgirls.
This is actually the third version of The Painted Veil, first with Garbo and later, in 1957, as The Seventh Sin, starring Eleanor Parker and Bill Travers. It is far and away the richest and most satisfying of the three. With echoes of Maugham's The Letter and The Razor's Edge, the story is about twisted romantic desperation, jealousy, adultery, tragedy and spiritual transformation in the Orient, thoughtfully brought to the screen on actual locations in China with a beauty that is breathtaking to watch. Previous versions were filmed on the MGM back lot in Culver City with so many changes to the plot that they barely resembled the Maugham novel. Thanks to three-dimensional performances by an exceptional cast and an intelligent script by Ron Nyswaner (Philadelphia), this new, refurbished version not only restores the original setting to China in 1925, but grounds the dramatic narrative in both the spirituality and forceful realism for which Maugham's books were famous. I was thoroughly hypnotized by the entire experience.
In case dust has settled on the Somerset Maugham literature on your library shelves, the stirring, timeless plot of The Painted Veil centers on Kitty (Naomi Watts), a beautiful but bored and shallow London socialite who impulsively marries Walter Fane (Edward Norton), a decent but dull and anally retentive bacteriologist, just to get away from her domineering parents. The doctor manages a research laboratory in Shanghai, so the girl senses exotic excitement, but when her new husband transports her to the rain, heat and mud of China, the adventure quickly turns sour. Restless and miserable in the British colony of petty government officials and their wives, left alone for days on end with too much time on her hands, Kitty wastes no time falling into the bed of dashing Charlie Townsend (Liev Schreiber), a married diplomatic attaché. Not from fear, but from a reluctance to hurt her noble but wimpy husband's feelings, Kitty hides her transfer of affections. When Walter finds out about her sexual indiscretions, she angrily leaves home, expecting her lover to divorce his wife and marry her, but he's too ambitious to risk his career with a scandal. Devastated, she returns to the doctor, who drags her into the intensity and frying humidity of the disease-plagued interior in the middle of a cholera epidemic. Hell-bent on revenge, Walter demands that she go with him, convinced that she will never survive. Selfish and spoiled, she hates him, but has no other options. The once-idealistic Walter, who has lost all interest in life, even recklessly refuses cholera vaccinations. The film details the arduous journey, the adjustment to life in a ravaged section of the world deprived of the most basic forms of art, entertainment or escapism, the co-existence of two cold, lonely people whose once-promising relationship has been replaced by a silent, resentful rage, and the ways in which they finally find redemption. Here, in this sewer of despair, Kitty's plight is somewhat eased by two new friends, played by two of the film's most distinguished actors: the wise mother superior of a local convent where the plague victims are treated (Diana Rigg), and the colorful Waddington, a vulgar, drunken, unshaved and womanizing British expatriate who deals in whatever cargo the traffic will bear (another astounding performance by Toby Jones, eons removed from his fabulous portrayal of Truman Capote in Infamous). Fighting not only the demons of pestilence but also the superstitions and prejudices of the natives, the estranged Walter and Kitty discover old values and human qualities they thought they had lost, and come together at last. But at the point when real love resurfaces, tragedy strikes—and Kitty must face the ultimate tests of strength, duty and devotion that will change her life forever.
Watching Naomi Watts pacing the bamboo porch of her cage in the jungle with only a tinny phonograph and her conscience to keep her company, or her terror at the dinner table, not knowing if Walter suspects her infidelity, or stalking about with shoulders hunched from guilt, pregnant and waiting to see if Walter will live or die—well, it's a thrilling performance. With his pride and manhood slipping down the sinkhole, but always putting dignity before self-destruction, Edward Norton gives one of his finest performances. Toby Jones' Waddington is a study in agreeable depravity. Nobody can understand why Warner Independent Pictures is keeping this movie such a secret; it is filled with Oscar possibilities that should be shouted from the rooftops. Superbly directed by John Curran and impeccably acted, with gorgeous music and unforgettable cinematography, The Painted Veil tells a mesmerizing story while honoring all of the classic traditions of superior filmmaking—a magnificent accomplishment that will haunt you long after it ends.
Motown Marvel
Dreamgirls is a lavish celebration of the 1982 Broadway musical about the rise and fall of Diana Ross, the Supremes and the Motown sound that kept discos rocking and Fire Island flipping for one decadent decade from 1961 to 1971. It's almost impossible to watch it without drugs. As a major ingredient in the Motown metamorphosis, drugs were as important as Stevie Wonder, Marvin Gaye, the Temptations, the Pips, the Four Tops and the Jackson Five. Sober as district attorneys in 2006, today's audiences now watch a whole lotta shakin' goin' on with looks of mild curiosity and occasional ennui. But that subtracts nothing from the great cast of professionals in Dreamgirls, especially the dynamic Jennifer Hudson, a robust girl with a voice of stainless steel and a lot to give, giving it all she's got. The other girls are also the kind that dreams are made on. You won't nap for five seconds in this one.
Jamie Foxx grabs and holds attention as Curtis Taylor Jr., the character based on Berry Gordy Jr.—the boxer and Korean War veteran who created Motown Records with an $800 loan, hired three working-class girls from the Detroit projects named Cindy Birdsong, Diana Ross and Mary Wilson as backup singers, and turned them into a triumphant act called the Supremes. Eddie Murphy is a major surprise as the recording star James "Thunder" Early, an oily, drug-abusing soul king who is like Jackie Wilson cross-pollinated with James Brown. The rest is Tin Pan Alley history, and they're all still fighting, to this day, over the profits. The girl with the most colossal voice and the biggest bounce to the ounce was Florence Ballard, and what little dramatic conflict and musical passion there is in Dreamgirls focuses on her, and how the others used, abused, confused and done her wrong. Luscious Beyoncé Knowles is Deena, the gorgeous centerpiece of the group (think Diana Ross)—but as camera-ready as she is, even without makeup, it's the spectacular Jennifer Hudson as Effie, the Florence Ballard counterpart, who brings the audience to its feet screaming the show-stopping R&B anthem "I Am Telling You I'm Not Going." In the original Broadway production created by Michael Bennett, this song came out of Jennifer Holliday's lungs like fire from a blast furnace. History repeats itself here. Different Jennifer, same show-business earthquake tremors.
The lightly camouflaged fictionalization of the Supremes' soap opera is carefully detailed for maximum impact by the mega-talented Bill Condon, who wrote and directed two of my favorite films of all time, Gods and Monsters and Kinsey, and wrote the phenomenal screenplay for Chicago. In Dreamgirls, he covers every angle, from the barrier-breaking charts that joined the black artists who created the songs and the pasty white teens who turned them into sanitized hits on Dick Clark's American Bandstand, to the internecine jealous rivalry that turned the Supremes against each other. As the wigs grew fancier and the bank accounts grew fatter, the more the resentment and hurt feelings polarized the trio and wedged them apart. Ms. Hudson, as Effie, begins her career in love with Curtis, who switches allegiance to Deena, demoting Effie in favor of the least-talented member of the trio. Beyoncé, as Deena, starts out pretty raw material, but by the time her superstar glamour and glory morph into a new definition of sophistication and polish, Effie's life heads downhill. Lorrell (Anika Noni Rose), the third member of the trio, wastes eight years of her life on the cowardly Jimmy, who turns to smack instead of leaving his wife, while the discarded Effie drinks her way through half a million dollars in a bottle, desperate for a comeback, and Curtis remains the manager-heel who lays the golden egg and then fries it to a burned crisp. It ends badly, as it did in life, but with another spectacular finale, "Hard to Say Goodbye." Throughout the movie, another 11 o'clock number always lurks just around the corner, waiting to pounce.
There was never anything original about Dreamgirls except the concept, but the sheer emotional impact of the music and the sequins and the eye-popping Vegas floor-show excitement kept it on its toes. The movie is more of the same. Flashy, flamboyant and ferocious, Dreamgirls is just plain socko!
Soderbergh Sags
The Good German pretends to be Steven Soderbergh's homage to those glorious old black-and-white Warner Brothers melodramas that toasted spies, private eyes, pilots, crooks, cops and Nazis as passionate equals, all played by Humphrey Bogart, Errol Flynn, John Garfield or Dane Clark, supported by a studio stock company that consisted of Peter Lorre, Sydney Greenstreet, Helmut Dantine, Victor Francen, Claude Rains and Paul Henreid, and usually directed by the legendary Michael Curtiz. Whenever I see these classics, I think of the test cards handed out at studio previews that came back marked "Great stuff!" and "Give us more like this!" But here's the rub: Mr. Soderbergh is not now, never has been and never will be another Michael Curtiz. I doubt if he is capable of making a coherent movie about anything. And The Good German is as slow as a 90-year-old with gout who has misplaced his walking stick.
George Clooney plays Jake Geismer, an American journalist who returns to postwar Berlin during the Truman-Churchill-Stalin peace talks in Potsdam. In the first real acting job of his odd career, Tobey Maguire plays Patrick Tully, a young driver with the U.S. Army motor pool who is assigned to escort Jake around while he searches for stories. Cate Blanchett plays Lena Brandt, a Jew married to a big-shot Nazi in the S.S. and a prostitute-survivor of the Third Reich who will sleep with anybody to get out of Germany. She used to be Jake's lover during the war and now lives with Tully, who is mixed up with the black market and ends up with a bullet in his chest, facedown in a river near the Russian zone.
Ms. Blanchett is no Dietrich. Mr. Maguire no longer reminds me of Henry Aldrich playing Batman. And Mr. Clooney is no Bogart, no matter how many rumpled trench coats he borrows from studio wardrobe. Too pretty to get slashed, shot, pistol-whipped, beaten and hacked into raw hamburger every time he enters a room, he learns nothing but just keeps coming back for more. What a meathead. What's the big secret that Lena's husband knows, that the U.S. Army is willing to disfigure George Clooney's billion-dollar face to hide? There's a preposterous plot twist every five minutes, a muddled point (even a good German hasn't got a chance against the evil villains in the American government), and the ending—replete with a propeller, a rainy airport runway and Mr. Clooney in another trench coat—is stolen right out of the final four minutes of Michael Curtiz's Casablanca. None of it makes any sense, and even the black-and-white newsreel footage of ravaged war zones and the faces of the decimated German people is boring. You lose sleep thinking of all the ways The Good German goes wrong. Where is Hitler? Where are the tanks? Where is the famous overhead Warner Brothers lighting and Max Steiner music? And where is Major Clark Gable now that we need him?