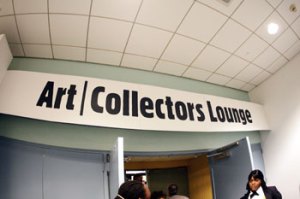 Few people play the zipper quite like Ken Butler. Tucking a microphone down his pants, the Brooklyn-based musician counter- rhythmically zips and unzips his fly to a soundtrack of pre-recorded beats. He plays other instruments: His head doubles as a bongo drum, and he "scratches" a toothbrush across his teeth as adeptly as a D.J. working the turntables.
Mr. Butler also cobbles together instruments from anything he can get his hands on. Among the most elaborate is a stringed contraption fashioned from a tennis racket, a hockey stick, a metal comb and God knows what else. Listed on the credits of his "Greatest Hits" CD are the Push Broom Cello, the Brush-Axe, the Cane Racket and the ominous-sounding Octavator.
The resulting avant-noise doesn't lend itself to quiet meditation, yet its ingenuity and gusto are self-evident. Mr. Butler's performance at Aqua Art Miami, one of the many art fairs that recently descended upon that sunny locale, was diverting, funny and, in the end, irresistible. His neo-Dadaist gizmos and unprepossessing charm put to shame the juvenilia being peddled at the "new alternative art fair." Do young artists look to inspiration outside of tattoo parlors, slacker quilting bees and the pages of Barely Legal? Apparently not.
The art featured at Aqua couldn't compete with the faded environs of the hotel that housed it. How can umpteenth-generation punks hope to compete with the honest kitsch of 1960's décor, artfully arranged surfboards and a decorative hammerhead shark? That didn't stop collectors, artists, students and curiosity-seekers from filing through, just as they would through Pulse, Scope, Bridge, Flow, Ink, the New Art Dealers Alliance (NADA) and grassroots affairs like Grendel and Fountain.
The Mother of All Art Fairs, the source from which all these other, smaller events spring, is Art Basel Miami Beach, which has transformed this city into a major player of the international art scene. Blue-chip art dealers began selling their wares in the city five years ago, partaking of the temperate weather, party-hearty atmosphere and access to capital. Since then, Miami Basel has blossomed into a veritable Roman orgy of discretionary spending. Are there really that many people with that much money who can keep such a staggering enterprise afloat?
And is the current and seemingly inexhaustible fascination with art a signal of our culture's sophistication or its insecurities? Certainly, big money is a draw, as is the scene's increasing rapport with the worlds of celebrity, real estate and fashion. Keanu Reeves was spotted eyeing objets d'art. The Sun Post, a local alternative paper, featured a not-so-alternative 60-page pullout titled "The Art of Real Estate." The clientele at Miami Basel sported extreme nips-and-tucks and alarmingly abbreviated mini-skirts. Future sociologists will have their work cut out for them when studying the art subculture; Miami is sure to constitute a significant chapter.
As a media event, Miami Basel is an undisputed success. A friend likened the crowds rushing the gates of the Miami Beach Convention Center to the masses stampeding through the doors of Wal-Mart on Black Friday. The comparison only goes so far: Art Basel shoppers command big bankrolls. Critics rue the Machiavellian nature of it all—one wag suggested that if a governmental agency dared to investigate the art world's privileged quarters and shady dealings, an Enron-style scandal would ensue. Still, art lovers could take solace in the quality of the work on view.
Dreck may have prevailed at Miami Basel, but the good stuff was good indeed: works by Giacometti, Morandi, Klee, Soutine, Lyonel Feininger, Helen Frankenthaler, Joan Mitchell, Lee Krasner, H.C. Westermann, a lone painting by Neo Rauch and two canvases by Gerhard Richter that gave this detractor pause. Marketplace scorekeepers will note that a lot of work by Hans Hofmann, Donald Judd and Alice Neel was up for sale. Ultimately, though, the amount of stuff on display was more than the eye and the psyche could withstand. When a litany of names turns into a blur of experience, it's hard to keep focus on aesthetics.
Young artists were the chief focus of the attendant art fairs around town, and the energy level among them was palpable, even if most of the art could barely muster a head of steam. The Container Show—two dozen or so galleries exhibiting their wares in shipping containers—had the benefit of a picturesque South Beach setting.
The same can't be said of Pulse, Scope and Nada, each of which was located in Wynwood, a neighborhood with some shockingly poverty-stricken corners. Locals shouted out bemused greetings to the artsy, well-heeled hordes straggling wide-eyed through their community. It didn't take a diehard Marxist to detect culture clash.
A glut of art lends itself less to specifics than to generalizations. Was there any contemporary work that rose above the haze? At Miami Basel, the young Dutch artist Jacco Oliver's Community (2006), a video narrative created by filming consecutive states of an image painted in oils, possessed a winningly poetic élan.
Dam, Stuhltrager, a gallery located in Williamsburg, stole the show at Scope with a kinetic sculpture by Ryan Wolfe and drawings by Michael Schall. Constructed from circuitry, small plexiglass boxes filled with gravel and blades of long grass, Mr. Wolfe's installation twitched, flicked and flowed with a mesmerizing lyricism—like three-dimensional calligraphy. Mr. Schall's intensely realized works in graphite depict hushed post-industrial dreamscapes somewhere between Caspar David Friedrich, Giorgio de Chirico and Dr. Seuss.
At Pulse, the Polish artist Piotr Nathan resourcefully contrived a neo-Constructivist sculpture from a fragmented, graffiti-strewn door. How much is gained by learning that this musical array of arcing geometry was once the door of a public restroom known for hosting fleeting homosexual encounters is, I guess, worth considering. Still, Mr. Nathan's unerring eye for rhythm, space and interval is self-sustaining and trumps any political subtext.
There were additional attention-worthy artists—the names Piero Dorazio, Hester Simpson, Julie Evans, Lindsay Walt, Mark Wagner and John Duff are scrawled across my notepad—providing welcome breaks from the sideshow atmosphere. The most telling image was at Scope: A pair of devil's horns mounted on a hefty dollar sign. Money is the root of all evil—didn't you just know it? The painting was, of course, for sale. Therein lies the hypocrisy, if not the isolated glories, of Miami's art-fair madness.