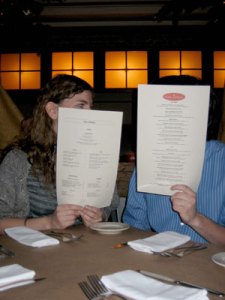 Peter Meehan and Hannah Clark
Met: 1987
Engaged: June 14, 2006
Projected Wedding Date: May 2007
Peter Meehan, the newish "$25 & Under" columnist for The New York Times' Dining In, Dining Out section—and by the way, isn't it time they adjusted that figure upward?—wasn't the most obvious heir to Eric Asimov's gastro-throne. "Growing up, I didn't eat mushrooms or any cheese that wasn't super-processed," admitted Mr. Meehan, 29, who looks like a slightly shaggier version of a young, thin Elvis Costello. He owes his refined palate to his fiancée, Hannah Clark, a golden-haired jewelry designer one year his senior, who owns a stylish, eponymous shop on East Fourth Street.
The couple first met as representatives of their respective elementary schools at an artists' conference held at the local community college in Deer Park, Ill. (Deer Park, that's good water!) Ms. Clark had designed a couture outfit for her pet rock, while Mr. Meehan drew cartoons. "Which I thought was the coolest thing I ever heard," she said. "He looked smart because he wore glasses, and he was funny. Really, really funny."
Eight years later, they happened to be enrolled in the same A.P. European history class. "She had a car and driver's license, and she was more worldly than I was," Mr. Meehan recalled. When he asked Ms. Clark out, she suggested they go out for Indian in the Belmont area of Chicago. He was an Indian-food virgin. "I ordered chicken tikka masala," Mr. Meehan told the Love Beat with a grimace, "which is a dish I make fun of people for ordering in my column." Worse, at the end of the meal, he realized that he'd forgotten his wallet.
On Date No. 2, she introduced him to an Indonesian restaurant, possibly the only one in existence in the Midwest. "She was trying to shake me at that point and realized food was a weakness," Mr. Meehan said. But he refused to be shaken, and before long, the two were an item, throwing huge, raucous parties at an apartment where Mr. Meehan was cat-sitting (our sympathies to Fluffy)—until Ms. Clark went off to Smith College, that is. "Every three weeks, we'd get into fights and think we were breaking up," he said.
"That's because you wanted to take Cynthia Yinks to the senior prom!" Ms. Clark said indignantly.
They made up over the summer. "We drank cheap beer, ate football-shaped pizzas and watched the Chicago Bulls dominate," Mr. Meehan said. When Ms. Clark went back to school, she decided that "the world was bigger than Smith" and applied to study design at Parsons.
Mr. Meehan, meanwhile, was living at home, playing guitar in his rock band and writing business briefs for United Press International. When he could, he'd fly into New York.
One afternoon, they were engaged in a game of Scrabble at the Pink Pony on the Lower East Side, a few blocks from the crowded three-bedroom that Ms. Clark was sharing at the time. "Wouldn't it be great if you lived here?" she suddenly asked. "What if this was our real life?"
The following week, Mr. Meehan quit his band and packed up a Jetta she'd left in Chi-town.
The couple proceeded to live, and cook, in a succession of tiny apartments. "Food was our thing," Mr. Meehan said. "We would literally go to sleep, each of us with a cookbook in our hands." He got an internship at Food and Wine, which led to a gig working with Times columnist Mark Bittman on the latter's PBS television show, How to Cook Everything. Then Mr. Meehan was finally awarded the Holy Foodie Grail: a Times column of his own. "We were always really supportive of each other," he said. "There was no question that she was going to be a jeweler, and she wasn't going to start wondering when I was going to make legitimate money …. Do you ever make legitimate money as a writer?"
Mr. Meehan proposed marriage to Ms. Clark on her birthday, standing by the water on Catherine Street, after giving her a digital camera to replace the one she'd dropped in a river on vacation in Kauai. Somewhat perplexed, Ms. Clark point-and-shot Mr. Meehan before realizing that he was holding out a funky 22-carat gold ring by Mickey Tanaka, molded in the shape of a diamond—way to be conflict-free!
They celebrated with dinner at Prune (burp).
Though Mr. Meehan's mom was hoping for a church wedding, the couple has opted for a ceremony at Frankie's 457 Spuntino in Carroll Gardens. "When your parents wait 10 years, you could have a Satanist ceremony and they'd be like, 'Oh, great—can we invite your aunt?'" said the groom-to-be.
Meryl Scheinman and Rick Van Meter
Met: June 29, 2001
Engaged: Aug. 29, 2006
Projected Wedding Date: Aug. 25, 2007
Rick Van Meter, 31, a film producer, is planning to marry Meryl Scheinman, 26, senior account executive at KB Network News and member of Pressing Charges, a sketch-comedy group, at Sonoma Coast Villa, a Spanish-style villa in Sonoma County, where he has family.
The couple met the weekend of her cousin's wedding in Livermore, Calif. The sexily olive-skinned, curly-haired Ms. Scheinman had just graduated from Marymount College, had a junior four-bedroom apartment on the Upper East Side with friends (thanks, Mom!) and was ready to hit the standup scene. "I was having the best summer," she said. "I was sooo reluctant to go to this wedding."
Then she caught sight of the best man: the goofy, handsome, blue-eyed Mr. Van Meter. "You're in Hollywood," someone said to him. "What's your favorite movie?"
"Best in Show," blurted a distracted Mr. Van Meter, though he'd never seen it.
"That's my favorite, too!" crowed Ms. Scheinman. The couple ended up talking most of the night. At the wedding, they danced to "Baby Got Back" and Morrissey's "I Like You" ("I like Jew … ," sang Ms. Scheinman, though Mr. Van Meter is not Jewish). The D.J. handed out maracas and she tossed one over her shoulder, causing a waiter holding a pyramid of Champagne glasses to totter slightly. "She has this amazing ability to be a little clumsy every once in a while," Mr. Van Meter said.
After the celebration ended, he pulled her rental car into the handicapped-parking spot of the Holiday Inn and kissed her. "You happily kissed back," he recalled recently via conference call, from the set of Off the Record, a new HBO reality series he is producing. Then she scribbled her number on a piece of cardboard. They began talking on the phone every night. "I need a job for three weeks," Ms. Scheinman said during one of these conversations.
"That's so funny—I need a P.A. for three weeks," said Mr. Van Meter, and quickly arranged for a plane ticket to L.A.
Naturally, her mother was skeptical. "This would be really good for my résumé," Ms. Scheinman assured her, neglecting to tell her that he was working for the Playboy Channel at the time.
"I was probably the worst P.A. Rick ever had," Ms. Scheinman said. Once, she backed his car into a brick wall.
"The worst," Mr. Van Meter confirmed. "I gave her the runs that didn't really mean anything, like 'Go pick up food for me.' If it was late, which I knew it was going to be, I wouldn't be that upset."
He squired Ms. Scheinman to Joan's on Third, Asia de Cuba and Rodeo Drive. "Little Miss Thing likes her shopping," he told the Love Beat.
After she went home, they spent a year taking Jet Blue between the coasts, until Mr. Van Meter decided to join her in New York, where they found a teeny studio in Tribeca. "My family said if we could make it through that apartment, it would be like we've already been married 10 years," Ms. Scheinman said.
To make rent, she worked in sales at Club Monaco, while he filled cones at Cremalita. He later founded his own production firm, NoEgo Productions, and they moved into a one-bedroom in the East Village. They were even able to afford a one-week vacation in Poitier, France.
After an excursion to Sephora (ah, the Gallic sights!), the couple stepped inside a little café. "Look in the bag—I think the sales lady put some samples in it," Mr. Van Meter said.
Ms. Scheinman pulled out a velvet container. "What kind of shithole perfume company puts samples in a box like this?" she said obliviously. Then she opened it to find a 1.5-carat radiant-cut diamond, set in a white-gold pavé band and surrounded in a pavé halo, from David Masri Jewelers in New York's diamond district.
"Will you?" Mr. Van Meter asked.