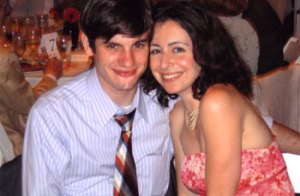 Una LaMarche and Jeff Zorabedian
Met: 2000
Engaged: Oct. 13, 2006
Projected Wedding Date: Oct. 19, 2007
Una LaMarche and Jeff Zorabedian, both 26, knew each other vaguely as undergraduates at Wesleyan University, the thinking person's Brown, where she majored in film and he in theater. Ms. LaMarche cut a formidable figure around the Connecticut campus, a svelte New York City native with a shock of black curls, smoking cigarettes in a puffy jean jacket and starlet sunglasses. The handsome, brown-bearded Mr. Zorabedian, meanwhile, was given to sweater vests and self-deprecation. "I'm from suburban Massachusetts," he said. "I can't have pretensions of being cool."
After graduation, they both moved to New York, where Ms. LaMarche manned the phones for Rockrose, a real-estate developer, and Mr. Zorabedian worked as a photographer and sometime actor. They both enrolled in an Argentine tango class above a natural-foods store on the Lower East Side. One day, they were the only students to show up—a happy circumstance that they celebrated with post-dancing drinks at McSorley's.
A few days later, Mr. Zorabedian attended Ms. LaMarche's birthday party at the Lakeside Lounge in the East Village, after which, properly sloshed, they rode the F train back to her parents' apartment in Park Slope and he fell asleep on the couch. The following night, they headed to an anonymous Houston Street bar for yet another birthday party. This time, he convinced her to walk home. On the Manhattan Bridge, they started to tango.
"What are some of your best birthday memories?" he asked her.
"This one," she said.
Mr. Zorabedian picked a daffodil from Brooklyn Bridge Park and returned chastely to his share, in Inwood. "We had an awkward hug goodbye," Ms. LaMarche said.
A week later, Mr. Zorabedian invited her to see a play at the Ohio Theater in Soho, where he was working as a stagehand. She primped at Sephora in preparation, then joined him and his brother at Peculiar Pub on Bleecker Street for a game of pool after the curtain. "I have to go," Mr. Zorabedian's brother suddenly announced. On the street en route to Doc Holiday's (hic!), Ms. LaMarche took out a stick of gum. "It's my last piece," she said.
"We could share," Mr. Zorabedian offered.
"Um … O.K."
He held it between his teeth Lady and the Tramp–style and they slipped into a kiss. Midway through, he tossed out the gum and pulled her into a phone box. "It was very romantic," Ms. LaMarche said—and apparently uncharacteristic. "I'm very expressive, and Jeff is more the strong, silent type."
After three months of dating, suffering the slings and arrows of freelance fortune, Mr. Zorabedian returned to his hometown in Massachusetts. This lasted until New Year's Day. "I'm coming to New York," he told her.
"Where are you staying?"
"Um, your house?"
For three months, he shared her room, adding his collection of historic novels to her stack of women's magazines. "My nightstand soared in IQ points," Ms. LaMarche said. Later, she became distribution coordinator for Black Book, Mr. Zorabedian got a job as a salesman at the tourist-filled B&H Photo on Ninth Avenue, and the couple moved on up to a spacious two-bedroom in Prospect Heights.
One night, a bit squiffy on wine after a party at her parents' place, Mr. Zorabedian fell to one knee.
"Marry me," he declared.
"Yeah, sure, whatever," Ms. LaMarche said, trying to dislodge herself from her coat.
"Marry me."
"I'm a bit tipsy, so I'm going to give you an out on this one. Are you sure you want to be asking me? Are you sure?"
"Marry me."
And so she will, at the Brooklyn Botanic Gardens. Though she doesn't yet have a ring, Ms. LaMarche has rented seasons one and two of the WE show Bridezillas. "As sort of primer of what not to do," she said.
Joe Cacciola and Jennie Price
Met: Dec. 6, 2004
Engaged: Feb. 28, 2006
Projected Wedding Date: May 5, 2007
Joe Cacciola, 39, a dark-haired electric bassist with an old-school Brooklyn accent and a pierced left ear, plans to marry the busty, brunette and bubbly Jennie Price, 34, an office manager for Broad Street, a corporate-events firm, at the Prospect Park Boathouse. The event will be catered by Moveable Feast, whose clients have included Conan O'Brien and Paul Auster. The groom-to-be proposed at Tavern on Dean (ah, Brooklyn wit!) with a European-cut diamond in an Art Deco–style octagonal platinum setting that belonged to Ms. Price's late mother.
They met after Mr. Cacciola auditioned for the rock band Cosmic Jug, whose lead singer, Ms. Price's soon-to-be brother-in-law, immediately thought: He's perfect for Jennie.
The sister concurred, and a setup was arranged at the Lemon, a now-defunct Chelsea club where the band had a gig. Ms. Price wore a new pair of skinny black jeans and a pink sash for the occasion. After the show, she noticed a handsome guy looking her up and down. "I was like, 'Who the hell is this guy, and what is he doing?'" she said in her cute little-girl voice.
It was Mr. Cacciola, who by the end of the night was feeding her fried calamari at the table with a bandmate, who took a while to get the hint that they wanted to be left alone. When he finally vamoosed, they broke into laughter. "It was pretty instant," Ms. Price said. "I could tell he liked me, and it was really nice."
The two of them headed to Tracey J's Watering Hole, where she made him do a shot of Jaeger and asked: "You want to kiss me, don't you?"
"Yeah," Mr. Cacciola admitted.
For their second date, he lured her to his Sunset Heights lair for a dinner of baby lamb chops, cannellini beans and avocado salad. "Italian boys cook," Mr. Cacciola informed the Love Beat.
"I remember thinking, Oh my God, he's going to marry me!" Ms. Price said. "I knew this was that guy that was going to be nice to me."
Before she left for a long-scheduled trip to Taiwan, she invited him over to her two-bedroom apartment in Prospect Heights. "I was getting the perfect vibe," she said. "He was totally in love with me and I was totally in love with him, but he wasn't saying it. I was like, 'Oh my God, he's driving me crazy.'"
"You know you feel it," she told him. "I'm not going to be the first to say it."
"Yeah," he admitted. "I feel it. I love you."
Three months after she got back, he moved in, merging his Eames-inspired furniture with her collection of salt and pepper shakers.
A week earlier, Ms. Price had met his mother for the first time. "I don't want to tell you what to do," Mama Cacciola said. "Living together's O.K., but … maybe you should think about marrying her."