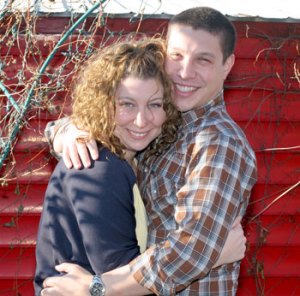 Sarah Kay and Matthew Lacks
Met: May 19, 2004
Engaged: Oct. 14, 2006
Projected Wedding Date: Nov. 17, 2007
The week Sarah Kay began work as the director of community programs at the Upper West Side's Jewish Community Center, she had just extricated herself from a relationship with a lawyer. "Three years is as long as it takes to realize the first level of craziness," she told the Love Beat.
"Are you two thinking of getting engaged?" asked a nosy co-worker during lunch at Niko's Mediterranean Grill.
"Actually, we just broke up," said the blond, blue-eyed, bubbly Ms. Kay.
"If you want me to set you up with any of my friends, let me know," piped up Matthew Lacks, the director of tween programming, from across the table.
"It was literally like a synapse explosion in my brain," recalled the fast-talking, vibrant Ms. Kay, 28. "All of a sudden I was like: Matt, dating, Matt, dating. I realized those words went together, and I was a smitten kitten from that moment on."
The two colleagues quickly became close, taking frequent joint coffee breaks, sending e-mails chronicling things that made them happy (hooded sweatshirts, pumpkin muffins), and riding the subway home together (though he lived in Murray Hill and she in Astoria). One day, during an excursion to the Salvation Army, the clean-cut Mr. Lacks mentioned his recent night with a lady friend, the latest in a series of dancers he'd been romancing. Ms. Kay became immediately withdrawn.
"Are you O.K.?" he asked.
"I don't want to talk about it."
"What's the matter?"
"I don't want to hear about your sleepover!" Ms. Kay finally blurted. And then, more subdued: "I have feelings for you."
Mr. Lacks had barely opened his mouth to respond when her ex-boyfriend the attorney bore down upon them (only in New York, kids). "I was so nervous that I kept trying to put my arm through Matt's for comfort," Ms. Kay said.
On the same walk, they ran into Will Ferrell, in full Ron Burgundy regalia, and RuPaul. "We were like pinball-style, freaking out through the crowd," she said.
For a month, tension ran high between them at the office. "It smells like sex in here," remarked one prescient co-worker. "I would come home exhausted," Ms. Kay said. "I felt like my job was to be adorable for 10 hours a day."
Finally, Mr. Lacks kissed her on the platform of Penn Station, moments before she boarded a train to her family's house in Westhampton.
Two weeks later, they agreed to meet at a Lower East Side lounge for a friend's birthday party. As Ms. Kay exited the subway, she found both a text message and a voice mail from Mr. Lacks. "Typical boy, right?" she said. "They're like, I'm ready now, I'm going to continue to psychotically try and get in touch with you."
The following Tuesday, he told her he loved her, and the week after that he brought her to Philadelphia to meet his parents. A year later, he moved into her apartment, though he was forced to discard his life-sized Michael Jordan poster.
Mr. Lacks, 25, now a marketing manager at Leverage Sports Agency, proposed on a Saturday night when Ms. Kay was working at the Community Center, with a huge video montage of their relationship set to Jefferson Airplane's "Embryonic Journey." "I love you most ardently," he told her, quoting Jane Austen as he sank to one knee and revealed a five-carat yellow sapphire with a pavé halo with 1.5 carats of diamonds, set in two thin pavé-decorated white-gold bands. (It wasn't exactly a surprise: Ms. Kay had designed the ring herself at Andrew Meyer Inc. during one of their sojourns to Philly.) Afterward, when they headed to the West Side Brewery across the street, 80 of their friends and family members were waiting—a foreshadowing of the wedding that's being planned at Terrace on the Park in Queens. "It's a big, traumatized blur," said the bride-to-be.
Nancy Beard and Nathaniel Fisher
Met: January 1999
Engaged: Dec. 23, 2005
Projected Wedding Date: Aug. 11, 2007
Nancy Beard, a relaxed, redheaded thespian enrolled at the Actors Studio, plans to wed Nathaniel Fisher, a dark, handsome law student at New York University, at the groom's parents' house in the Santa Lucia nature preserve in Carmel, Calif., with a cake by Park Slope baker Michele Dahl. Mr. Fisher proposed in front of the Rockefeller Center Christmas tree with a round-cut, platinum-set diamond flanked by emeralds, after which the couple, both 28, went to see a performance of Sweeney Todd.
The couple met at Dartmouth while auditioning for All in the Timing, a series of one-act plays by David Ives. They became close friends, spending nights playing beer pong and listening to 80's music. During a Cinco de Mayo party on a spring ski trip, a blindfolded Ms. Beard, having failed to hit a mermaid-shaped piñata with a stick, finally tore it down and ripped it apart with her hands to get to the candy inside. Only Mr. Fisher was amused.
After the piñata incident, the partygoers played a drinking game called Combat Kissing (yep, this was Dartmouth all right): a variation of Spin the Bottle, with randomly assigned numbers instead of a bottle. "I noticed that my number was being called more than just coincidence when Nathaniel was in the middle," Ms. Beard said. "I wondered what was going on. I thought maybe he felt comfortable because we were best friends."
They spent the night giggling in neighboring sleeping bags.
"What's wrong?" her roommate asked when Ms. Beard returned to her dorm room the next day. "Why do you look funny?"
"Would it be weird if I started dating Nathaniel?" she asked dreamily.
The romance lasted two weeks, and then Mr. Fisher uttered the dreaded, age-old words: "I just want to be friends …. I don't want anything too serious."
They resumed their romance senior year, but then he broke up with her a week before Thanksgiving, when they'd planned for him to come visit her parents. "He completely broke my heart," Ms. Beard said. "I had to leave school early."
"I've tried to block it out," Mr. Fisher said, wincing at the memory.
After graduation, he got a job as an account manager at Gotham Incorporated, an advertising firm, while Ms. Beard worked as a grade-school teacher in New Canaan. "We would try to not talk to each other or see each other," she said.
"But we were sort of drawn to each other," Mr. Fisher said. "Eventually we would just get in contact, and next thing you know we'd be having lunch, then dinner, then … whatever."
One day, he mentioned an interest in a female co-worker. "If you're dying and you have no one else to talk to, you can call me," Ms. Beard said. "Otherwise, leave me alone." You go, sister girlfriend!
Predictably, Mr. Fisher soon began calling her on a daily basis and telling her that he wanted to spend the rest of his life with her.
Like a proper schoolmarm, she gave him a summer-long project called A Brain Grows in Nathaniel that required him to send her books and CD's representing his feelings for her. Mr. Fisher chose Ian McEwan's Atonement. Mollified, Ms. Beard agreed to stay in his Prospect Heights two-bedroom apartment while looking for her own place in Manhattan. She has yet to move out, and believes her tenacity is justified. "Everyone I know who is single in New York is miserable," she said.