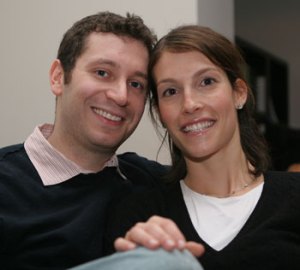 David Cohen and Jessica Sheena
Met: December 2005
Engaged: Oct. 12, 2006
Projected Wedding Date: Nov. 24, 2007
David Cohen, 28, a product specialist at Black Rock, an investment firm, plans to marry Jessica Sheena, 25, the slender, brunette senior communications specialist for the clothing chain New York & Company, at the Puck Building, in a celebration planned by Always a Bridesmaid. The sunny, open-faced Mr. Cohen, who has the neatly cut coif of a man in finance, proposed on one knee at a resort restaurant during an impromptu vacation in Puerto Rico, proclaiming, among other things: "You've changed my life."
But in fact, the couple has long had a lot in common. They both grew up in Long Island, both attended Cornell, and both lived for a while in neighboring apartments in Murray Hell—sorry, Hill. Yet it wasn't till a colleague of Ms. Sheena's married one of Mr. Cohen's college buddies that the two were finally introduced, via Friendster. They exchanged sarcastic e-mails and discovered a common love of cynical TV shows like Arrested Development and Curb Your Enthusiasm. Mr. Cohen was worried about picking up the phone, though. "The last woman my friend set me up with wasn't a good match at all, so I was skeptical," he said.
Yet the friend insisted, and Mr. Cohen and Ms. Sheena—constrained by a transit strike—made plans to meet at a fondue restaurant in their neighborhood, where a waiter sat them near the door. "Do you want to switch seats?" Mr. Cohen asked. "No," Ms. Sheena said gamely, teeth chattering.
Their first kiss occurred a few days later, following drinks at Julian's, a Lower East Side bar. "That second date stepped it up times 10 for me," Mr. Cohen told the Love Beat.
He was impressed even more on date No. 3, at Boca Chica, where Ms. Sheena—doing her best to be witty and impressive amid a gaggle of his guy friends—was hit squarely in the forehead by a paper airplane sent across the room by a bunch of drunkards. But she just laughed and carried on.
Soon afterward, Ms. Sheena went to Aruba with her family. "I have a boyfriend," she jubilantly told her mother.
"Does he know that?" Mama Sheena asked.
Ms. Sheena sent Mr. Cohen a warm e-mail—a reminder, you might say. "It relieved the anxiety," he said. "I was like, 'Phew, I don't have to worry about that anymore.'"
Six months after she returned, Mr. Cohen moved into Ms. Sheena's apartment. On the rare occasion that they have been apart—say, the Super Bowl—"I would just get this feeling of missing him," she said. "I realized I really loved him. I was like, 'Oh, this is what I've been looking for my whole life!'"
Matthew Goldfarb and Amanda Mittman
Met: October 2003
Engaged: April 16, 2006
Projected Wedding Date: June 23, 2007
Amanda Mittman, a thin brunette with large Japanimation-style eyes, had recently signed on as the P.R. and marketing director for her family's furniture company, Edward Ferrell + Lewis Mittman. "I work in an industry where there are no straight men," griped Ms. Mittman, 26. "What's a Jewish girl to do but go on J-Date?"
It was there that she met Matthew Goldfarb, a muscular and funny writer for RGA, a digital-advertising agency. Over the soft blippety-blops of I.M., they discovered that she was from Scarsdale, he from Mamaroneck—and that he already knew her brother. "You're the 1-800-Collect guy!" Ms. Mittman excitedly typed. Mr. Goldfarb had gained something of a reputation in their suburban set for writing a telephone-service commercial featuring Mr. T.
But she turned him down when he asked her out.
"I was moving," said Ms. Mittman, who, after living with her parents on Sutton Place for a while, was headed to a new place in the same neighborhood, "and there was just too much going on."
Encouraged by a mutual friend, Mr. Goldfarb persisted, and Ms. Mittman agreed to meet him at Milon, one of those Indian restaurants along the Sixth Street strip with chili-pepper lights and aggressive waiters. "Interesting choice," she remarked dryly. "Usually they take you to a fancy restaurant and spend a gazillion dollars on you."
Mr. Goldfarb, however, didn't feel like getting taken, thank you very much. "I'd had experience with women who would go out with you for your money," he said. "I was in a place where I was going to be who I was and go to the places I enjoyed."
On their second date, Ms. Mittman suggested they go see Kill Bill, and there was some smooching during the previews. A few weeks later, at a friend's engagement party upstate, she overheard him describe her as his girlfriend.
"I think I love you," she told him, a bit sloshed, at a bar one evening.
"What?"
"Oh, nothing," said Ms. Mittman, running off.
"It was cute," said Mr. Goldfarb, 29, smiling at the memory.
Soon, they were exchanging the L-word freely. Mr. Goldfarb, who'd been sharing an apartment with two roommates, was suddenly eager to cohabit. "It was your typical New York reason," Ms. Mittman said. "Rent, and my lease was up and his lease was up, and I think we were ready. And if we weren't ready, we got ready." They moved into a one-bedroom in midtown, Mr. Goldfarb happily jettisoning his 1980's bachelor furniture.
One day, Ms. Mittman spotted two long-stemmed red roses taped to the front door. Inside, there was a trail of notes on her letterhead, describing her life with Mr. Goldfarb so far. On each card, her surname was crossed out; the last read (feminists, cover your eyes!): Amanda Mittman, expires 2007.
Her beau was sitting in their bedroom, wearing a tuxedo, an orange ruffled shirt and holding a 1920's Art Deco–style ring with a miner's cut diamond.
The couple plans to marry at Gedny Farm, near the bride's family's second home in the Berkshires.