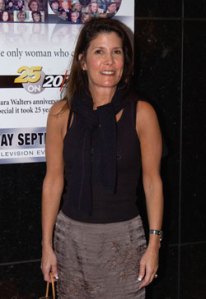 On the desk in Shelley Ross's soon-to-be former office—room 911, not incidentally, at ABC headquarters on 66th Street—is a photograph in a black leather Gucci frame of Ms. Ross, Charles Manson and future Fox News Channel chairman and C.E.O. Roger Ailes.
Ms. Ross was 28 at the time the picture was taken, in June 1981, at the Vacaville State Medical Facility in California. She was preparing Mr. Manson for his first TV interview, for the Tomorrow show with Tom Snyder—executive producer, Mr. Ailes. In the picture, Mr. Manson has Ms. Ross in a headlock. He is pressing his thumb against her throat, pretending that it's a knife, and all three are laughing uproariously.
"Oh, Charles," Ms. Ross had said right before the photographer snapped the scene, "you're such a kidder!"
"This ushered in the current era of controversy," Ms. Ross said on the afternoon of Dec. 4. The veteran ABC producer, who is 53, was packing up. It was one of her last days at the Disney (DIS)-owned network, where she has worked for 17 years.
Ms. Ross helped invent the form of journalism that is popularly called tabloid TV news—born of that first interview with Mr. Manson and honed to a fine point with Judith Regan's recent abortive efforts with O.J. Simpson—and revived Good Morning America from the brink of death. Her contract is up on Dec. 31, and the network is not renewing it. ABC had no comment. Ms. Ross declined to say what she plans to do next, although she is taking meetings.
She does have regrets. "I just hope one thing you can convey is I don't like where my innovations have wound up any more than you do," she said. (That was on a voicemail message, left the next day.)
"Even though I believe I pioneered this kind of news, there was always a reason, a uniqueness, a philosophy, a storytelling/human-behavior core to it. Now I really feel like I watch the murder of the month, the murder of the week, the murder of the day. I just see garden-variety murders without anything interesting," she said. "The balance is off."
Ms. Ross has been a polarizing figure at ABC throughout her long and lucrative career there, butting heads often with News president David Westin and former anchor Peter Jennings, whom she eulogizes now as a "keeper of the flame."
She reflected on what it's like to be a high-powered woman in the entertainment industry—"You get caricatured as a bitch," she said, "which everyone already knows."
Ms. Ross began her career as a cub reporter in Florida in the mid-1970's. In 1976, she became an editor at the National Enquirer, where she worked with Judith Regan, the publisher of the O.J. Simpson faux-confessional If I Did It, and Pablo Fenjves, the book's ghostwriter. Ms. Ross is widely considered to be the premiere living "O.J.-ologist," in her words. She signed a confidentiality agreement regarding If I Did It and its associated television special and declined to comment on the topic for this story.
"I don't know that people would've bought the book," she said. "But I think they would've tuned in" for the TV special.
Ms. Ross, who earned a reputation in the press for being an occasionally tyrannical boss, had prepared a green file folder with copies of 69 admiring e-mails from former employees and colleagues, most sent in the spring of 2004, when she was unceremoniously dumped as the executive producer of Good Morning America. The authors lean heavily on the language of battle to express their sympathies.
"You bled for ABC News," wrote one former senior-level producer, "and I have marvelled at all you have done to keep this place in business."
"[A]s you soldiered on," wrote another, "you made me … all of us … leaner fighting machines in this early morning war."
The circumstances of Ms. Ross' departure from Good Morning America have never been clear. After seven years as the executive producer of the show—during which she rose at 2:45 every morning and often worked past midnight, and slowly but surely increased the viewership of the morning show by more than a million viewers—Ms. Ross was removed from the job and sent whence she came, the newsmagazines.
There had been concerns in the executive offices about her relationship with Charlie Gibson. There were doubts about whether she still had Diane Sawyer's support. There were fears in the upper echelons of Disney management that Ms. Ross was too rough with her staff.
"I was reassigned," Ms. Ross said.
Ms. Ross—always taut and intense—took it very personally. "All of this was playing out in the paper," Ms. Ross said. "I was calling up Lloyd Grove"—then a gossip columnist for the New York Daily News—"every day and saying 'Why don't you get a new job? You're a junk-food journalist.' But he was right. Eventually David Westin asked me to his office, and he said, 'Something's come up and I need to reassign you.' I was, you know, not happy about it. I can't hide any of that."
She has spent the last two years riding out her contract with the network. She changed the subject. Look: a small stuffed peacock, over by the window.
"I got this when NBC copied us and did their own job-switch day," she said, recalling a 2003 gimmick when Katie Couric and Jay Leno swapped hosting duties for a day. Ms. Ross lifted the bird to reveal two pins protruding, voodoo-like, from its flank. She removed one and jabbed it several times into the stuffed animal's beak, a reference to Mr. Leno's ample jaw. "I call it the chin-pin," she said.
There are three David Blaine "Drowned Alive" posters in the office, from the last major prime-time special Ms. Ross produced for the network. On a small glass-top table nearby, there is a bronze statuette of Mickey Mouse, doffing his hat in a theatrical bow. The inscription reads: "15 magical years."
"Can you believe this?" she asked, pointing at the Disney gift.
She pointed to a series of stills from Murder in Beverly Hills, a prime-time special she produced on the Menendez brothers' trial and her first foray into popular journalism for ABC. "Two young men may have killed their parents in Beverly Hills," she said in a monotone. "See? I didn't put one adjective in that. I didn't pump it up at all."
"Within the network, there was some embarrassment by some people," Ms. Ross said. "Culturally."
In 1994, in one of her most notorious coups, Ms. Ross booked the first network interview with Paula Corbin Jones. She arranged the interview for Sam Donaldson, whom she considers a close friend. To secure the interview, she said, she met with Ms. Jones and urged her, woman to woman, that there was only one way to tell the story of what led to her lawsuit against Bill Clinton and be taken seriously.
"I said, 'If you want people to believe you, don't tell it to Diane, Barbara, Katie, Connie or Leslie,'" Ms. Ross said.
She remembered most fondly a story she did for Primetime about AIDS mom Elizabeth Glaser and her two best friends, the three of whom would take a shot of tequila at the end of every day.
Ms. Ross and Ms. Sawyer brought the tradition to Good Morning America. At the end of every week, whatever staff members wanted to would gather for a shot of tequila before going home for the weekend.
"It was a really big bonding thing," Ms. Ross said. It got so that producers would donate bottles of tequila for Christmas and bring back decorative shot glasses from their holiday vacations.
"I knew the people in A.A.," she said. "They would get Snapple or Coke." The same went for the pregnant women and the underage interns. The tradition continued until the day that an executive whom Ms. Ross declined to name found out.
"They said, 'You can't do this on the premises,'" she said. "So. It's a shame."
The indignities of corporate life. Ms. Ross looked almost on the verge of genuine emotion. "I still get tequila memorabilia," she said and changed the subject.
Over the course of three hours, Ms. Ross polished off most of the smaller half of a turkey wrap purchased for her ("You're buying") at the Café Europa opposite Lincoln Square. She planned to bring the rest home to her husband, David Simone, a successful record-industry executive who has just purchased the complete catalog of Hall and Oates.
Mr. Simone and Ms. Ross share an apartment in the Bloomberg Building and a manse in Connecticut. Among his most successful career acquisitions is the catalog of a little-known Trinidadian songwriter. Hidden in the catalog was one particular gem, Ms. Ross explained. She pointed to her left ring finger, atop which sat a brilliant-cut yellow diamond about the size of a quarter. "This is courtesy of 'Who Let the Dogs Out?'" she said, meaning the 2000 mega-hit by the Baha Men. Ms. Ross declined to provide the diamond's carat weight for the record, although she did describe the day she passed the ring around the predominantly female Good Morning America staff, to a chorus of admiring oohs and ahhs.
"There weren't many women in the business who showed you can have it all," she said.