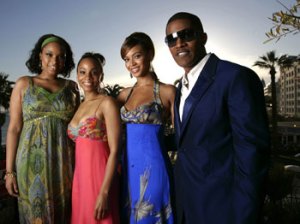 "She killed it!" excitedly exclaimed a male audience member, filing out of the Loews theater on 34th Street on Nov. 21, after an early screening of Dreamgirls, the $70 million–plus joint release from Paramount/DreamWorks.
He was referring to Jennifer Hudson's rendition of the iconic Broadway torch song "And I Am Telling You I'm Not Going," five mellifluous, molto vibrato minutes that have suddenly catapulted Ms. Hudson, 25, an erstwhile failed American Idol contestant and Disney cruise-ship entertainer, into the position of front-runner for the Best Supporting Actress Oscar. And that's just the appetizer.
"It's theirs to lose," declared a veteran industry insider, of a Best Picture contest that is fast shaping up to be yet another battle between the elites of Los Angeles and New York (like Crash versus Brokeback Mountain last year): big fistfuls of Dreamgirls stardust flung against the gangster grit of Martin Scorsese's The Departed. But even jaded New Yorkers, judging from the unabashed applause that followed The Song last week, seem to be in a receptive mood for a little old-school, feel-good Hollywood bada-bing. It is wartime, after all.
With that applause came a palpable exhalation of relief: This was not going to be another Rent or Phantom of the Opera train wreck. Dreamgirls, the movie, a quarter of a century in the making, the gay man's Lord of the Rings, just might … yes! … live up to the hype.
Written by Henry Krieger (music) and Tom Eyen (lyrics), Dreamgirls opened on Broadway in 1981. The story of a Motown-like label trying to repackage itself to a mainstream audience—by taking away a big black voice coming from a big black woman and replacing it with a honey-hued beauty with a weaker voice—Dreamgirls won six Tony Awards and played for 1,500-plus performances. The play was directed and choreographed by the late Michael Bennett and produced by a young man named David Geffen, who retained control of the film rights.
Throughout the years, numerous attempts have been made to bring Dreamgirls to the big screen. Whitney Houston was reportedly attached at one time, as was Lauryn Hill and—yeowch—Joel Schumacher. But nothing ever came of it, until 2002, when the razzle-dazzle film adaptation of Chicago, after its own torturous adaptation process, struck gold. Written by Gods and Monsters' Bill Condon and directed by Rob Marshall, it grossed $306 million nationwide and took home six Academy Awards, including Best Picture. And lo—musicals, which had gone the way of Starlight Express, were suddenly hot properties again in Hollywood.
Dreamgirls' producer, Laurence Mark, who has worked on such films as Working Girl and As Good As It Gets, is a longtime friend of Mr. Condon. "At some point during the whole Chicago thing, Bill joked that he was being offered to write every unfilmed stage musical from Pippin to Got Tu Go Disco," said Mr. Mark. "I said, 'Bill, is there any anything in that Broadway trunk you'd want to do?' He said there was one thing he'd love to do, but that the rights were impossible to get, and I said, 'Oh, you must mean Dreamgirls.'"
Luckily, Mr. Mark was also a friend of David Geffen and was able to directly plead Mr. Condon's case. "Once in a while, a Rolodex is helpful," Mr. Mark remarked dryly.
Mr. Geffen's reluctance to have the film made, Mr. Mark said, had to do with the fear of damaging the reputation of the show or Mr. Bennett, who died of AIDS in 1987. "So often, the movie version of a stage musical gets screwed up, and that somehow tarnishes both the reputation of the musical itself and the creator. David didn't want to run that risk."
Lunch was arranged at Mr. Geffen's house. "I met Bill at the Beverly Hills Hotel a half-hour before the lunch to make sure we had our act together," Mr. Mark said. "Somewhere between the entrée and the dessert, Bill got to give his six-minute here's-my-approach. At the end of it, David said, 'Well, let's give this a shot.'"
The first star to sign up was Beyoncé, in the role of the Diana Ross–like Deena Jones, who replaces the more talented but less physically appealing Effie White (Ms. Hudson) in a Supremes-like group, the Dreams. Jamie Foxx, fresh off his Oscar win for Ray, was cast as Curtis Taylor Jr. Tony Award–winning Anika Nomi Rose became the third Dream, Lorrell Robinson. Eddie Murphy was convinced to play James "Thunder" Early (a hybrid of James Brown and Little Richard). Even Danny ("I'm too old for this shit") Glover was brought on in a supporting role as world-weary talent manager Marty Madison. "The stars, in more ways than one, seemed to be in alignment," Mr. Mark said.
But it was the role of Effie, whose heartache and betrayal is the emotional core of the production, that was always going to be the key bit of casting. It is Effie, after all, who belts out the reach-deep-into-the-spleen anthem made famous by Broadway's Jennifer Holliday. Cue Cinderella subplot! Freshly dissed by Simon Cowell, Ms. Hudson, who had only known "And I Am Telling You I'm Not Going" from an episode on the Fresh Prince of Bel-Air where Will Smith lip-syncs the words, beat 782 other girls for the part.
On the Nov. 20 Oprah, Mr. Cowell ate what he called "humble pie" before a visibly overwhelmed Ms. Hudson in a surprise taped message arranged by the show's producers, asking if she would thank him when she won her Oscar. The audience at the telecast had seen a preview of the film the night before; they predictably went wild for the sex-kittenish Beyoncé and smooth-talking Mr. Foxx. But when Ms. Winfrey introduced Ms. Hudson, adding that hearing her sing was like "a religious experience"—oh boy, they went bananas.
"Let me tell you about this movie," intoned Ms. Winfrey—who also, let's not forget, anointed last year's Best Picture winner, Crash—in her best Ten Commandments voice. "It has kept me up for days thinking about it …. It defines sensational." She also called it an "extrava-gahn-za."
"I had to remember to breathe before I walked out on the stage," Ms. Rose told The Observer. "I mean, Oprah is the most powerful woman … and to be on her show is one hell of a milestone. I thought I needed one of those paddle things to re-shock my heart into beating. I grew up watching this woman and this show, and now she has you on there for a good thing … not, like, because you have a shopping addiction or something."
The Oprah appearance was but the latest in a marketing campaign that has been executed, with military precision, by the aptly named Terry Press, head of worldwide marketing for DreamWorks Animation, who has guided movies like Gladiator and American Beauty to statuette success. "She's brilliant," said a former colleague. "I'd sit in meetings with her, and I swear, after everything she said, all I could say was 'Brilliant, brilliant, brilliant!"
On March 1, over 200 journalists were bussed to Los Angeles' Orpheum Theater for a set visit that turned (seemingly) into an impromptu cocktail party. Also in March, Ms. Hudson was fêted at ShoWest, the Las Vegas industry convention, as the Female Star of Tomorrow. In May at Cannes, a 20-minute sneak peek of Dreamgirls footage had the surly frogs on their feet. "We knew the French could be critical, and that they'd hiss if they didn't like it," Ms. Rose said. "But then they were standing up and were yelling. They were screaming, 'More, more, more!'"
Dreamgirls seems destined to tippety-tap down the same yellow brick road as Chicago, both at the box office and at the Shrine Auditorium come February; it not only has that production's star power, but more radio-friendly tracks (one of the new ones, "Listen," was included on Beyoncé's last album). But within studio walls, echoing Dreamgirls' own themes, there were concerns about how to sell an all-black cast.
Indeed, the Cannes trip, Mr. Mark said, was "all about the fact that a period African-American musical, at face value, doesn't sound like it has enormous foreign potential. We were just attempting to speak to that concern. I know we got lovely buzz, and much more than we ever anticipated, but the point of it at the time was to see if we could get some foreign groundwork laid."
The emergence of the fleshy Ms. Hudson, in A Star Is Born mode, over the glitzier and in-real-life-better-packaged Beyoncé is something many seem to be cheering for. In September, she was again trotted out to sing a few numbers, this time in front of intimate groups of entertainment editors in New York and L.A.
Ten days before the movie officially opens on Christmas, audiences willing to fork over 25 bucks will be able to see the movie at L.A.'s Cinerama Dome, San Francisco's Metreon and New York's Ziegfeld theaters, along with a corny-sounding "road show" of behind-the-scenes displays and, of course, "exclusive" merchandise.
"It's a doff of the hat to the wonderful old era of movie musicals," said Mr. Mark, who, befitting the customs of his trade, demurred any award speculation. "Who knows?" he said. "I've been around the block enough times to know that at some point, there will be a nice bucket of cold water that will come down."