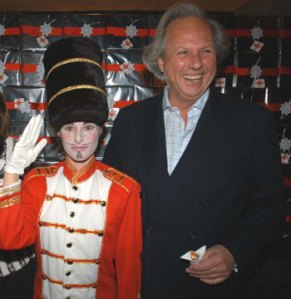 Syndicate Public Relations, Dec. 20, La Esquina, 203 Lafayette Street
The boutique public-relations firm that has snatched up clients from all over the city celebrates in style with dinner at last year's party spot (and client) La Esquina, followed by drinks at the Rose Bar at (client) Gramercy Park Hotel. "It's a well-worn path for numerous employees," said one party veteran. Co-founder Nathan Ellis said, "To sum up our holiday office-party attitude, I'd say we take our work very seriously, but not ourselves." Case in point: last year's shenanigans in the red room of (client) Marquee, where drunken nicknames were bestowed—Mr. Ellis was dubbed "ODB." Expect clients to be in attendance, including Ian Schrager, Mark Seliger, Fabiola Beracasa and Stellan Holm.
State Democrat Party, Dec. 14, Sheraton Hotel, 811 Seventh Avenue
The mood around the ballroom should be nothing short of jubilant while revelers try to wrap their heads around that unfamiliar feeling of winning. Chatter among insiders will no doubt be about the still-undecided fate of State Comptroller Alan Hevesi and whether Assembly Speaker Sheldon Silver will try to screw things up for his fellow Democrat, Governor Eliot Spitzer.
Proskauer Rose, Dec. 13 , Marriott Marquis, 1535 Broadway
One of the largest law firms in the city with some of the biggest clients, Proskauer Rose also has a rep for partying! The entire office—600 with alumni—tend to show up for an annual holiday party that is big on themes. This year's theme is "Castaway Island Adventure," a variation on a popular theme from earlier years, "Proskauer Island." Said Michelle Chaffin, the firm's special-events manager, it's "sort of like Gilligan's Island, but you're going to be shipwrecked on Proskauer Island." This year, partygoers can expect to enter the hotel through a sand-filled entranceway and be met by an "eccentric cruise director" (uh-oh). The featured cocktail is a Midori Margarita, and there will Caribbean-themed food, including Jamaican beef patties, conch fritters and blood-orange red snapper. After eating, attendees can get a henna tattoo or their picture taken in front of a tropical backdrop. But be warned, all you Proskauer Rose wannabe gangstas: The D.J. is prohibited from playing rap with profanity.
The New Yorker, Dec. 12, Lure Fishbar, 142 Mercer Street
Last year the staff braved the meatpacking district and packed themselves into Pastis, where, one partygoer remembered with amazement, "It was actually … enjoyable. It was nicer than some of our other parties—it had a really good vibe." After the obligatory grope fest between the camisole-clad "fiction writers" and the men who edit them, the younger members of the staff may continue on to an after-party, like last year's crawl to the Hog Pit. A copy of Ved Mehta's memoirs to the first one who spots Malcolm Gladwell at Milady's!
Condé Nast Portfolio, Dec. 13, Brandy Library, 25 N. Moore Street
It seems like we've been hearing about Portfolio magazine, the newest and shiniest bauble at 4 Times Square, forever, and our first sight of the magazine won't come until next spring. But that hasn't stopped editor in chief Joanne Lipman from swooping through the media world with a big glittery butterfly net, picking up talent and keeping them byline-free for over a year. However, tonight they put all anxiety away as they gather at a hoity-toity drinking spot in Tribeca, Brandy Library. There, staffers can peruse the menu of over 900 different types of liquors—hey, why not try the 1914 Pierre Ferrand? It's all getting charged to Si, right? We're guessing that staffers will huddle in corners over "figs and pigs" (prosciutto-wrapped figs with port reduction and mint) and try to guess whose name will actually make it into the magazine come launch day. Watch for the mag's star hire, Deb Schoeneman, to pop from a cake!
Gawker Media, Dec. 14, venue T.B.D.
Ever wonder what a night out with Nick Denton's merry bunch o' bloggers is like? Said one of the revelers from last year's party in Chelsea, "It was with stupid BlackBook and it was overcrowded, and no one at Gawker was happy that Nick did a joint party. I remember Malcolm Gladwell was there, and the Christmas lights gave the 'fro a very angelic back-glow." Also, apparently last year the drug of choice being passed around was Adderall. Wheeeeee! Here's hoping this year the kids go back to good old-fashioned crank.
Vogue, Men's Vogue and Teen Vogue, Dec. 11, the Grand, 41 East 58th Street
If the sight of all the pretty Vogue-lites celebrating the holidays together doesn't warm your cold olive pit of a New York heart, then nothing will! Last year, kid sister Teen Vogue had to console themselves that at least they made it out of the building (the year before it was chips and salsa in the hallway) and into what was universally declared as the "hot spot" La Esquina (Vogue and Men's Vogue followed suit a couple of days later). To be honest, the idea of Anna Wintour picking her way around a glorified taco stand kinda of bothered us, so we're happy to see that the best-dressed Nasties will be on East 58th Street, where they belong, at new lounge the Grand. Bringing sig others is apparently verboten. Said one insider, "It'll probably be one of those things where editors and high-ups only stay for a bit and then leave—at which point the real party will begin and people will get a little naughty." Aha—binge snacking!
NBC/G.E., Dec. 6, Studio 8H in Rockefeller Plaza
Will they be talking about Studio 60 on the Sunset Strip or 30 Rock? Sure to be gliding through the NBC holiday party—held, appropriately enough, where Saturday Night Live (hey, is that show still on?) is filmed—will be Brian Williams, who seems unable to resist a corporate function, and G.E. president Bob Wright.
Wenner Media (Rolling Stone, Us Weekly, Men's Journal), Dec. 19, Ultra, 37 West 26th Street
Things are humming along nicely for the worker bees at Wenner Media. Us Weekly has become the gossip rag to read on the L train, while Rolling Stone clunkers along gathering moss and the (downright hot) Men's Journal guys pretend they're spelunking in Oregon. Last year, the party held at NA was attended by all the Wenner media brass, including Bonnie Fuller–liberated Janice Minn and a reportedly "incredibly upbeat" Jann Wenner. In fact, as the stories go, Mr. Wenner got hold of a camera and started snapping shots of the festivities (much to boozy workers' horror—first he's cleaning off their desks, now this?). No word if Mr. W will bring his latest enterprise, his 3[1/2]-month-old son, Noah, to this year's festivities, held at the new swank lounge Ultra. The Flatiron space apparently boasts a scent machine, snow machine and an honest-to-God treehouse. Here's hoping Austin Scaggs will help reunite the Wenner band (and Jann-fronted) Rack of Lamb!
Alfred A. Knopf, Dec. 16, King's Carriage House, 251 East 82nd Street
For the most erudite of the Random House imprints, the beloved Sonny Mehta and his soft Belgian slippers hold court over a gaggle of neurotic-sexy women and nervous fellas. Per tradition, expect Mr. Mehta to make a speech about the group's best-sellers and award-winners and to give out gifts to employees celebrating appropriate anniversaries. Ah, but to remember just a few years back, when the tweedy crew headed to a restaurant on the Lower East Side, where formality was tossed aside and famous editors and assistants shook their money-makers with abandon. But be warned: Past attendees have noted that the more stuffy the venue, the more sedate the affair. So enjoy the dry white wine and carrot sticks!
CBS/Viacom, Dec. 11, fifth floor of Black Rock, 51 West 52nd Street
The brassy bigwigs of CBS—Leslie Moonves, wife Julie Chen and all-around silly-man publicist Gil Schwartz—will all be on glad-handing duty. But the real question is: Will perky evening-news gal Katie Couric dig into the canapés that (as the invite noted) have made the holiday party famous since Eisenhower was in office? And will anyone dare mention her abysmal ratings? Saucisson en croute all around!
The Corcoran Group, Feb. 1, venue T.B.D.
Last year the Corcoran Group went nuts in the post-holiday season with a "Gods and Goddesses" bash with a Roman theme—we're talking torches, harp players and boozed-up real-estate agents in togas. How to top that? This year the brokerage behemoth has deemed its theme "Oscars." Whoo, boy.
Cravath, Swaine & Moore, Dec. 14, the Rainbow Room, 30 Rockefeller Plaza, 65th floor
The Rainbow Room seems right for this white-shoe firm, despite the revolving dance floor. Last year's party had a station with a guy slicing meat and a caricature artist! The big mystery is what the gift's going to be: Last year it was a Swatch-like plastic watch, and the previous year it was a blue garment bag—both duly emblazoned with the firm's name. Hot.
The Morning News, Dec. 14, Brass Monkey, 55 Little West 12th Street
Last year, The Morning News—the daily Web paper published out of Brooklyn—held their holiday party at Thady Con's bar in midtown, a fine Irish bar at Second Avenue and 48th Street. The artist Danny Gregory left his backpack there, with volume 46 of his journal and his pens and some Venetian ink, and so he came back the next morning to retrieve it. (He—shockingly—blogged the story on his eponymous Web site.) He was about to stumble into the bar, iPod on full volume, and suddenly realized he was surrounded by yellow tape and screaming people and fire engines. Apparently, the staff had just realized that construction on a nearby building had just opened a giant crack in the kitchen floor. A fireman went in and retrieved his backpack, but the bar has apparently never reopened. Consider yourself warned, Brass Monkey!
New York magazine, Dec. 14, the Back Room, 102 Norfolk Street
New York editor in chief Adam Moss apparently doesn't get drunk at these parties (yaaaaaawn), but that didn't stop the gang last year from gamely going all karaoke in a bar covered with Guns N' Roses and Mötley Crüe posters. This year, party planners are clearly going for hip rather than ironic, and have booked the Tim Robbins–owned Back Room on the Lower East Side. There, staffers will drink libations out of teacups and nervously try to impress the boss man. Good luck!
Fox Searchlight, Dec. 14, Brasserie Ruhlmann, 45 Rockfeller Plaza
The Fox Searchlight crew tends to boast surprisingly chipper employees—and why not? The smaller branch of the Fox arm gets to break off from the News Corp. monster and host its very own shindig, so fun that even celebrities from that year's slate show up to show the love. With movies like Little Miss Sunshine, The Last King of Scotland and Notes on a Scandal all in good Oscar shape, the party should be good times indeed.
Gourmet magazine: Dec. 14, Ruth Reichl's apartment, Upper West Side
It's gotta be nice to work at Gourmet—aside from the food, there never seems to be too much drama coming out of this Nastie book, and can you imagine Linda Wells inviting her Allure staff over to her house for some food and music? Last year it was a "chorino ensemble" salsa band; this year will feature a "folk music group, including a famous woman fiddler, and three other musicians." Uh-oh …. On this year's menu: smoke-salted pretzels stuffed with smoked Vermont cheddar, individual caviar pies, panko-fried mac-and-cheese bites and—hooray!—pigs in blankets. The publishing side of things has to make do the day before at the renewed Russian Tea Room.
BlackBook, Dec. 4, the Beatrice Inn, 285 West 12th Street
It's a whole new BlackBook and a whole new holiday party! Held this year at hipster haunt Beatrice Inn, new editor in chief Steve Garbarino was apparently looking rather outré in a tight black suit and a Russian fur hat for a party packed to the smoky gills with wannabe media types (continually asked to put out their cigarettes, to no avail). In attendance was what one called "the entire Radar staff," and ousted Postie Jared Paul Stern in full three-piece-suit regalia. "I just talked to a director about optioning my book," he told a spy. Who? "Well, he's here, but it's a little premature to talk about." Ya think?
The Nation, Dec. 14, Telephone Bar & Grill, 149 Second Avenue
Who knows why The Nation continues to hunker down at the festively red East Village Telephone Bar, but this year the fragrance-strip-hating staff will be celebrating the turnabout of the midterm elections. Expect the talk to be all about '08, with lots of "Obama" and "Clintons" thrown in.
Salon, Dec. 18, CamaJe, 85 MacDougal Street
Last year the Salon-ites celebrated their 10th-year anniversary with a massive blowout at the unexpected venue choice, Crobar. Jann Wenner was inexplicably a co-host, and much fuss was made over party guest Camille Paglia. (Huh?!) This year a more sedate affair is the plan, with a dinner at CamaJe Bistro on MacDougal—an island of crepes and hanger steaks—in a sea of white-baseball-hat-wearing N.Y.U. students.
Star magazine, Dec. 18, Dirty Disco, 248 West 14th Street
You have to sort of admire a magazine that puts the wacked-out Janice Dickinson in a Santa hat on their party invitation, but that's just the sort of publication Star is. The staffers—who no doubt suffer terribly under much-maligned editor in chief Joe Dolce—will gamely try to hoof it up at the Dirty Disco, which somehow just sounds so B&T.
ABC, Nov. 30, Good Morning America studio, 1500 Broadway
They may have come for the mini-tacos, but they stayed for the extra-strong drinks from Jake the bartender! At last week's post-Thanksgiving shindig, Disney entertainment president Anne Sweeney was in the Mouse House, as was ABC News president David Westin. Barbara Walters, in a reportedly "heavenly" pea-colored skirt suit, regaled guests with stories of her recent interview with Jay-Z for her annual "Ten Most Interesting People" special. "You'll never believe this," Ms. Walters said. "I asked Jay if he found Beyoncé bodalicious." After the interview rapped, Ms. Walter's producer Bill Geddie corrected her pronunciation to the correct "bootylicious." And then, unsurprisingly, they re-filmed. "You know it's a problem when I'm the hippest one in the room," Mr. Geddie said. Uh, yeah.
Vanity Fair, January, P.J. Clarke's, 915 Third Avenue
You didn't think that the silver fox and his shiny acolytes would do something as bourgeois as having a holiday party around the holidays, did you? Away from the grimy masses, the editorial staff will celebrate at a favorite hangout—no, not the small and smoky Graydon Carter–owned Waverly Inn, but at their other favorite haunt, P.J. Clarke's upstairs at the Sidecar. The publishing side will celebrate more traditionally on Dec. 15 at the Gramercy Park Hotel.
Domino, Dec. 20, Deborah Needleman's loft, Tribeca
Taking a page from Gourmet's cookbook, Domino magazine—which has propelled itself into the top tier of Condé publications in the last year—celebrates itself and the holidays at editor in chief's Deborah Needleman's loft in Tribeca. These are the folks who know how to gift-wrap, O.K.! Adam Moss, are you getting any ideas yet?
Prudential Douglas Elliman, Dec. 13, Cipriani 42nd Street, 110 East 42nd Street
The housing market was wonderful in 2005 for some of us (cough, cough), wasn't it? And who was more joyful last holiday season than the brokers at Manhattan's biggest real-estate firm, Prudential Douglas Elliman? Last year, guests were at the Four Seasons during a boozy, crunchy, crowded affair reminiscent of a poorly planned collegiate kegger—but with incessant bragging about commissions. And there's more to come! Expect doomsday chatter to be about the 2006 housing slump.
Radar, Thanksgiving Party, Il Buco, 47 Bond Street
The hard-to-squash Radar (like a well-dressed cockroach!) got into the holiday sauce waaay early at a Yusef Jackson–hosted private dinner in the wine cellar of Il Buco. It was "straight out of a Meatloaf video," according to one staffer. Not content to rest on their laurels, there's talk still of a small "keepin' it real" dinner at editor in chief Maer Roshan's crib.
Christie's auction house, Dec. 15, Studio 450, 450 West 31st Street
The co-premier auction house likes to party it up just like the rest of us. "We have themes to our parties—they like to keep it a surprise!" said a staffer. Intriguing! What will they have? A source said they expected a buffet dinner and a band—and "alcohol." Madness!
Hearst publications, Dec. 11, Hearst Tower, 300 West 57th Street
The poor, twinkly Tavern on the Green must be feeling so lonely this holiday season! The annual Hearst 1,100-person fête is being held in their new death-star tower instead, much to employee dismay—and grumbling. Will dearly departed Atoosa Rubenstein show up anyway in a reindeer sweater?
Ken Sunshine Media Consultants Holiday Party, Dec. 11, Room Service, 35 East 21st Street
It's been a good year for the Ken Sunshine Media Consultant Group, and happily they'll party within a stone's throw of their office! In past years, loyal and famous clients have shown up—fingers crossed that this year, golden boy (destined for another golden boy) Leonardo DiCaprio puts in some face time.
Allure magazine, Dec. 12, the Double Seven, 418 West 14th Street
Linda Wells' well-moisturized, -waxed and -glossed bunch eschew the Lower East Side digs they've been slumming in for the last couple of years and pick their stilettos over cobblestone streets, uncomfortably close to where the Village Idiot used to be. Chatter will no doubt revolve around the firing of assistant editor Molly Friedman, who sold beauty products over eBay (a major no-no). Meanwhile, the managing editor will helpfully remind the ladies just how many calories there are in their gin gimlet. Watch out for the boys from GQ to iron their best jeans and follow suit in the same space a couple of nights later.
Cushman & Wakefield, Dec. 14, Gotham Hall, 1356 Broadway
Partying beside Corinthian columns at the epically sized Gotham Hall, brokers at Cushman & Wakefield will toast to the additional two and a half million of commercial square feet that came under their control in 2006. If you listen closely enough, you might hear Bruce Mosler and Joseph Harbert devising new ways to stave off future raids from Mary Ann Tighe. Then, after a few cocktails, don't be surprised if you hear brokers gossiping about Mitsubishi's bigger plans and whether next year's holiday party will serve ham, antipasto and anisette and become, well, just a little more Italian.
The Village Voice, Dec. 6, S.O.B.'s, 204 Varick Street
Watch the quickly diminishing staff of The Village Voice nervously drink with one eye on the door. It's been quite a year for the independent weekly, hasn't it? How many publications can boast of an editor in chief who couldn't even make it through a full work day? Don't worry, at least they've gone back to their old S.O.B.'s haunt, and perennial favorite Michael Musto will be spreading his own special cheer—he's got a book coming out—and will no doubt remind guests of the beauty of a La Dolce Musto stocking stuffer.
Halstead Property, Dec. 20, Guastavino's, 409 East 59th Street
Halstead will return to the site of its rebranding party, which took place on April 5. That little soirée drew more than 700 people to the 25,000-square-foot space (real-estate folk love to talk square footage!). Here's hoping they'll be able to spill out to the garden!
MTV Networks, Dec. 7, Hammerstein Ballroom, 311 West 34th Street
To sum out the fate of the more recent MTV parties of late: no star power, no cell reception and no penguins—oh, how the mighty have fallen! To think that just a few years back, this was the party to crash—and now workers can expect to crowd in with the 4,000 other employees while the executives stick near the exits. "You can't wear nice shoes," warned one partygoer. "People spill drinks and it's sludgy on the floor."
Artforum/Bookforum, Dec. 19, Pravda, 281 Lafayette Street
Much like their friends over at The Nation, the Artforum crew has found their spot—that late-90's fave, the cavernous Pravda bar—and they're sticking to it! Anyone who has ever been at all associated with either publication gets an invite, so expect the bar to be packed—but remember to watch out for those candles!
Out/The Advocate/Planet Out, Dec. 6, One, 1 Little West 12th Street
You got to love when a holiday invitation goes out with a subject line reading "Holi-gay Soiree." What else do you need to get in the spirit of things?
Matador Records, Dec. 7, Turks & Frogs Tribeca, 458 Greenwich Street
The indie punk-alt-pop-etc. label does not, surprisingly, have a MisShapes-style blowout—just a civilized staff dinner, followed by drinks with guests and, of course, oodles of musicians. This year, the gang will be lathering themselves in holiday cheer at Turks & Frogs Tribeca. But there'll be no Cat Power, a.k.a. Chan Marshall, this year: "Chan, unfortunately, will be performing in Rennes, France, that night," said a Matadorian. Fight the power!
The Daily News, Dec. 18, Copacabana, 560 West 34th Street
Why does the Daily News continue to go to Copacabana year after year? Music and fashion hasn't been the passion there in quite some time. But, said one staffer, "the entertainment generally comes from staffers who have had too much to drink and suddenly feel Latin, regardless of their birthplace, and really embarrass themselves." At the Copa ….
Stonewall Democratic Club, Dec. 7, LGBT Center, 208 West 13th Street
Where else would you expect the Stonewall Democratic Club to celebrate than near the site of the famed 1969 riot? Expect power tops—and bottoms—to flock to the LGBT Center tonight (the Monster is just round the corner).
Darren Sukenik, Dec. 14, West Village
Mr. Sukenik, who has anointed himself the No. 1 broker at Prudential Douglas Elliman, participates in the company-wide bash, but also likes to throw his own more private affair. "It's my signature holiday party," he said. Mr. Sukenik said the guest list is "A-list clients" and neighbors too: "Everybody that touches my life I consider family."
News Corp., Dec. 15, Hilton New York, 1335 Avenue of Americas
Last year Rupert Murdoch's vast empire—New York Post, Fox Broadcasting, TV Guide, etc.—trooped the couple of blocks down to the Hilton for a "Future of Fun" party. This year's theme is the worrisome-sounding invite that instructs partygoers to "prepare to take a trip around the News Corp. world without leaving New York City" (uh-oh). "It's on a Friday, which means even less people are going to go," said one staffer. "Who throws a party on a fucking Friday night?" Cheers!
Paramount Vantage, Nov. 30, Hotel Gansevoort Rooftop Loft, 18 Ninth Avenue
Paramount Vantage, a more art-housey division inside of Paramount (who is busy with their monster, Dreamgirls, at the moment), celebrated their brand-spanking-new division at a dignified fête at the Gansevoort Rooftop Lounge. In attendance was the director from the film that launched Paramount Vantage, Babel's Alejandro Gonzáles Iñárritu. Sadly, there was no sign of Brad Pitt.
Harrison & Shriftman, Dec. 20, Hawaiian Tropic Zone, 729 Seventh Avenue
What's more terrifying than a bunch of boozy flacks? Having 'em do karaoke at the Hawaiian Tropic Zone. So many elements coming together in a perfect storm of terror that it probably means it will be rip-roaring fun for the wunderkinds over at Harrison & Shriftman.
—additional reporting by the Observer staff