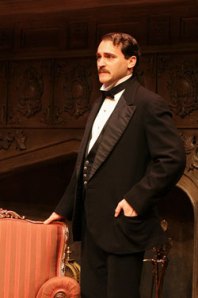 May I point out a small error that David Mamet—and practically everyone else in the country—is making with his excellent adaptation of The Voysey Inheritance at the Atlantic Theater Company? They're misspelling the name of the play's British author. It isn't Harley Granville Barker.
The distinguished Edwardian playwright ought to have a hyphen, thus: Harley Granville-Barker. As I say, it's a small mistake to make, for it's a small hyphen. But the pretensions and little lies of the British class system are boundless, as The Voysey Inheritance itself makes clear. Mr. Granville-Barker, however, didn't always have a hyphen. He was plain Harley Granville Barker until his socially ambitious wife persuaded him to add a hyphen to his name in the belief that it would make him seem more important. She was right.
Granville-Barker became the first modern director and theorist in British theater. A founder of the original Royal Court Theatre in London at the turn of the 20th century, when it was known as The Court, he also produced and acted in George Bernard Shaw's plays. In many ways, Granville-Barker was a Shavian playwright. The theme of financial corruption and hypocrisy in The Voysey Inheritance (1905) is the equivalent to Shaw on the prostitution of the capitalist system in Mrs. Warren's Profession, minus the wit.
Mr. Mamet is surprisingly attracted to superior British melodramas. His 1999 film of Terence Rattigan's classic play about a wrongfully accused schoolboy and his father's unyielding pursuit of justice, The Winslow Boy, proved self-consciously out of key with both the understated Rattigan and Mr. Mamet's work as a whole. (The original film version of The Winslow Boy, made in 1948 with Robert Donat, remains just about perfect). The moral corruption at the heart of The Voysey Inheritance is better suited to the dramatist of Glengarry Glen Ross and his enduring fascination with the art of the con.
"Con" isn't a refined enough word, of course, for the upper-class form of looting practiced by the genteel, distinguished family law firm in The Voysey Inheritance. Everything in the luxuriously pampered way of life of the Voyseys has been paid for over two generations by the family paterfamilias quietly swindling his customers and friends of their investments. Granville-Barker's pretext for the play comes in the riveting opening scene, when the tormented, dutiful son, Edward, confronts his apparently respectable father with the truth.
"How long has it been going on?" he demands to know.
"I'm sorry to involve you in it," his father replies, quite decently.
"Involve me? I'm your partner," Edward protests. "I'm responsible too …. You, we have defrauded everyone who has trusted us. How can you simply sit there? Father. What is the extent of the, the …. What made you begin it?"
"I didn't begin it."
"You didn't. Who, then?"
"My father before me," he calmly explains.
The son is incredulous. But his father insists with perverse righteousness, "We do what we must do in this world, Edward. I have done what I had to do …. " In order to save the Voysey family from bankruptcy and jail, Edward inherits the curse of cooking the books as his own father inherited it from his father before him. The absorbing morality play that follows is about a good son either saving the family name and fortune by continuing a crime, or coming clean and bringing ruination and disgrace on them all.
The relevance of The Voysey Inheritance to our greedy times is apparent: The Mint Theater Company revived it here in 1999, and just this year the Royal National Theatre in London staged a warmly received production. Mr. Mamet's new adaptation doesn't impose his style on the Edwardian Granville-Barker (by jove it doesn't!). It cuts an unmanageable five acts down to two and improves on the original in the later scenes involving the godly sense of entitlement of thieving Christian buffoons.
The uncluttered directness of Mr. Mamet's version is also telling. "You're worse than a thief," Edward admonishes the Voyseys' oily accountant, who's after more hush money. "You're content that others should steal for you."
"And who isn't?" he replies.
The compromised Edward, unraveled by his own priggish virtue and honor, is played by the brilliant Michael Stuhlbarg. In his controlled fury and thoughtfulness, he lifts everything in the production to the highest level. In his quiet, unshowy way, he's a character actor who can bring an entire world with him onstage. Playing someone who's blamed for telling the truth, he succeeds in conveying both strength and weakness, a burning resolve and softness. Mr. Stuhlbarg's performance in The Voysey Inheritance confirms that he's among the finest actors in America.
The excellent Fritz Weaver plays Mr. Voysey. The handsome production, with its inviting drawing room and inherited floor-to-ceiling Gainsboroughs, is designed by Derek McLaine and directed by David Warren.
Simply Adorable
In the same week that brought us the joyful shock of the new—Spring Awakening opened on Broadway—I saw the revival of a mostly forgotten musical, The Apple Tree. The coincidence only emphasized how musty Jerry Bock and Sheldon Harnick's 40-year-old musical is. Was it ever thus?
Conceived as a vehicle for Barbara Harris—and restaged by the Roundabout Theater for the simply adorable Kristin Chenoweth—The Apple Tree's three awesomely whimsical one-acters about female stereotypes could never have been timely, not even in 1966, when women's lib was catching fire.
The show's mythic women are, firstly, an adorable stay-at-home Eve in the Garden of Eden who ends up knitting in a rocker. (This part is based on Mark Twain's "The Diary of Adam and Eve," if you please.) Then comes "The Lady or the Tiger?"—some kind of comic pantomime about an adorable medieval temptress with a whip. And finally, there's a musical adaptation of Jules Feiffer's "Passionella," a Cinderella fable about an adorable Chaplinesque chimney sweep who morphs into a Marilyn Monroe sex goddess and falls in love with a parody rock star with a Liverpool accent.
Dear oh dear. Not to be a Debbie Downer during the season of goodwill, but even the biggest fans of the diminutive Ms. Chenoweth have found The Apple Tree a bit of a bummer. Gary Griffith's lame production at the converted Studio 54 began a year ago as one of City Center's jolly "Encores!" But the novelty and improvisatory, campy fun of these concert versions of old musicals are wearing thin, and very few of them make it as full productions on Broadway. (Chicago is the obvious exception.)
The Roundabout transfer of The Apple Tree badly needs the backdrop of the "Encores!" orchestra onstage. Rob Fisher's musicians are very awkwardly separated in two boxes overlooking the action, stage left and right. The production is underpopulated and threadbare, not plentiful and generous.
It does have Ms. Chenoweth, of course, and two accomplished performers, Brian d'Arcy James and Marc Kudisch. Ms. Chenoweth rose to stardom in the musical version of You're a Good Man, Charlie Brown, and I enjoyed her Galinda/Glinda in Wicked. "It's all about popular!" she sang happily in "Popular," and she's adored for playing cartoon characters come to life. But her performances can be too calculated, and cartoons lack a certain mystery.
Still, without Ms. Chenoweth, there would be little to celebrate in The Apple Tree.
High/Low
The New York Theatre Workshop downtown has two innovatory pieces currently on its stages: Martha Clarke's uncannily atmospheric and beautiful Kaos, set in Sicily at the turn of the century and inspired by the Taviani Brothers film of Pirandello's short stories, is on the main stage until Dec. 31; Les Freres Corbusier's signature holiday piece, A Very Merry Unauthorized Children's Scientology Pageant, runs in the small theater until Jan. 7.
A favorite avant-garde troupe of mine, Les Freres Corbusier make sublime sense of the nuttiest choices, and Children's Scientology Pageant, conceived and directed by Alex Timbers, is no exception. Based on the principles of L. Ron Hubbard, the hour-long show tells Hubbard's inspirational life-story with a cast of grade-school children portraying Tom Cruise, John Travolta and Kirstie Alley, among other Scientologists. They've invented a bizarre music-theater piece, a creepy Christmas pageant performed with almost straight faces by brainwashed children.
Martha Clarke's Kaos, performed in Italian with surtitles, is of a different, higher order. The experimental piece in words, music, song, dance and rhythmic silence is set in Scott Pask's modest and staggering re-creation of the brutal Sicilian landscape. Ms. Clarke's arresting turn-of-the-century tableaux sometimes appear too painterly. But a vast, evocative simplicity is the production's major achievement. It tells peasant stories of fated, dismaying tragedy on a parched, unforgiving earth.
James Nicola's New York Theatre Workshop has taken its knocks from me in the past year for the Rachel Corrie affair. It's a pleasure to report the daring contribution of these two new productions. In theater, it's always possible to wipe the slate clean, and every New Year brings with it a welcome new beginning.
Happy holidays, everyone.