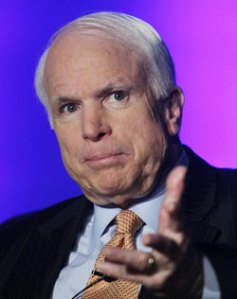 It's not that John McCain's call for more U.S. troops to be dispatched to Iraq—in the face of the Iraq Study Group's unanimous recommendation that just the opposite take place—is disingenuous.
He is, after all, a confirmed believer in the democratizing doctrine of American neo­con­servatism, a proponent of the overthrow of Saddam Hussein back when even George W. Bush was pooh-poohing the concept of "nation-building."
But it's not a stretch to see political motives in the former prisoner of war's positioning on Iraq.
Consider the chief lesson that Mr. McCain seems to have learned from his 2000 White House bid, when his maverick credentials certified him as the most popular politician in the United States but doomed him in the primary.
He responded to his loss first by further distancing himself from the Bush G.O.P., voting against the new President's tax cut program and stoking chatter that a third-party Presidential campaign was in his future—a path once chosen by his hero, Theodore Roosevelt.
Then Mr. McCain abruptly shifted gears, throwing himself into Mr. Bush's 2004 re-election effort and serving notice that he would run as a Republican in 2008. Hence this spring's previously unthinkable pilgrimage to Jerry Falwell's Liberty University, or Mr. McCain's straight-faced endorsement of the teaching of "intelligent design."
"Are you freaking out on us?" an incredulous Jon Stewart asked Mr. McCain when he appeared on The Daily Show in April, the kind of exercised inquiry—"Wait a minute. You're really a conservative?!"—for which Mr. McCain was no doubt secretly thankful.
For all of his awkward bridgework, though, the right remains staunchly unwilling to brook many more of Mr. McCain's famous apostasies, a reality of which the Arizonan was reminded this past September, when he and two other Republican Senators objected to the Bush administration's bid to redefine the Geneva Conventions to allow for coercive interrogations of suspected terrorists.
The impasse reunited Mr. McCain with his 2000 cheering section: moderate Republicans, independent pundits, editorial boards and basically the majority of the American public. But it ran flatly counter to his base-centric '08 game plan, creating an opening to his right into which Massachusetts Governor W. (Mitt) Romney was only too happy to step.
And so, as the editorially conservative Manchester Union-Leader—the largest newspaper in the first-in-the-nation primary state—pilloried Mr. McCain on its front page three months ago, Mr. Romney inserted himself into the debate, suggesting that the Arizonan was soft on terrorists and had made "a big mistake." The dust-up served as a watershed for Mr. Romney's upstart effort.
Ironically, Mr. Romney's own conservative credentials—he used to present himself as pro-choice and unafraid of promoting gay rights—are probably more suspect than Mr. McCain's. But for now at least, he has emerged as the chief beneficiary of the considerable distrust that lingers between the Republican base and Mr. McCain. Simply put, then, Mr. McCain's ability to keep Mr. Romney in check is directly related to his ability to prevent flare-ups like September's.
Which brings us to the present debate over Iraq, its parameters redefined by the bipartisan study group's suggestion that it's time to begin bringing our combat forces home.
For Mr. McCain, the fault lines are eerily familiar. His old allies—again, the majority of Americans—have their fingers crossed, hoping the President's obstinacy will at last wilt. But a shrill minority of voices on the right—the Rush Limbaughs and Sean Hannitys who led the intra-party assault on Mr. McCain in 2000—feel threatened by the commission and have viciously turned their guns on its members and their proposals.
This time, Mr. McCain is standing squarely with the Limbaugh crowd. Maybe it's because he genuinely agrees with them. Or maybe it's just that he has learned a political lesson about what happens when you don't.