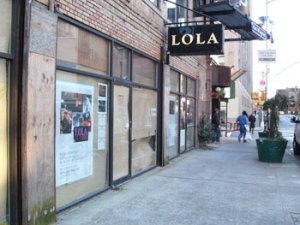 "We don't want to appear to be antagonistic to anyone," said restaurateur Gayle Patrick-Odeen, after deleting some triumphant rhe-toric from her Web site and yanking letters of support from her storefront windows, on advice of counsel.
"We don't want to rub anything in anybody's face," Ms. Patrick-Odeen said. "We just want to get on with the business."
She and her husband, Tom Patrick-Odeen, are reluctant to boast about their latest court victory in front of the neighbors—even though they believe the ruling might finally allow them to reopen their embattled and long-shuttered soul-food eatery and live jazz venue, Lola, in Soho.
"The only thing that's really left to do, at this point, is to pick up our liquor license," she said.
Granted, that's all the foodie duo has been trying to do for nearly two years now, while their leased 3,500-square-foot retail space at the corner of Watts and Thompson streets sat empty.
Well-funded neighborhood activists aligned with the bar-scrutinous Soho Alliance have been relentless in blocking that license through the legal system—rendering the spacious ground-floor unit virtually useless for the Jersey City–based restaurateurs' purposes.
In fact, the last time Lola's owners openly declared victory—following a favorable August appellate ruling overturning the Supreme Court's earlier nixing of their precious liquor license—the restaurant's undaunted opponents fired back with more court papers.
The highly contentious case has since dragged on for another three months, touching on issues of sound (court document: "Noise reverberates off Soho's cast-iron buildings"); race (Ms. Patrick-Odeen: "They tried to portray us as a hip-hop club"); and Zagat's reviews (court document: "I would hate to live above this place").
Along the way, the imbroglio has devolved into dirty tactics. Lola charged its opponents with beefing up petitions with the names of unwitting participants. The Soho Alliance charged Lola with hiring private eyes to bully opponents into withdrawing.
Still, no license.
The couple's previously planned Thanksgiving opening is now looking more like Valentine's Day. Or later, if ever.
On Nov. 21, however, a panel of judges rejected the latest legal salvo of Lola's adversaries—a decision that the couple desperately hopes will pave the way for brunches of fried chicken and gospel music once and for all. They're now quietly moving forward with construction of a 130-seat dining area and a 22-foot bar.
Yet they're hesitant to say anything that might further incite an already galvanized opposition and lead to additional delays. (The couple's attorney, Eric Sherman, politely asked Counter Espionage not to pursue this article at the present time—a reversal in strategy, of sorts, for Mr. Sherman's firm, Pryor Cashman Sherman & Flynn, which previously enlisted a P.R. outfit to spread the word about its prior court win.)
Perhaps that's because they're not quite sure exactly who the opposition includes these days.
The position of the Soho Alliance, of course, has never been in question. The activist group, which prides itself on combating bar sprawl in the nabe, has vehemently protested the restaurant since first finding out about the couple's plans to pour drinks on Watts Street.
It's the State Liquor Authority that can't seem to pick a side and stick with it.
Although the S.L.A. originally approved Lola's license over activists' objections in 2005—and subsequently got sued right alongside the restaurant—the agency's recent actions suggest a drastic policy shift on the controversial Soho eatery.
The bureaucracy that initially stood by its Lola decision as "the result of careful and thorough consideration," according to court papers, recently claimed that it couldn't comply with a court order to better explain its reasons for that very approval.
In a motion filed jointly with the Soho Alliance, the S.L.A. this past September asked a panel of appellate judges to allow the agency to conduct a de novo review of Lola's two-year-old application for a liquor license—or, in layman's terms, a do-over.
After all, a whole lot has changed at the S.L.A. in the year and a half since Lola first got the green light, including two of the three commissioners who previously supported the restaurant: Former S.L.A. chairman Ed Kelly and Joseph Zariello both resigned.
The S.L.A.'s sudden jump onto the activists' bandwagon seemed to come as a complete surprise to Lola's attorney, Mr. Sherman, who blasted the agency's action in his own subsequent filings.
"[A]fter sitting for months and watching this appeal from the sidelines, [the S.L.A.] has made it devastatingly clear that the outcome of this appeal isn't what it wanted or expected," Mr. Sherman wrote. "Yet, not once did anyone from the authority—and this is even after the change of commissioners—pick up a telephone, send a letter or an e-mail, or in any other way communicate to Lola or its counsel that the license Lola was frantically attempting to salvage might be called into question by the very entity that had issued and defended it months before."
If Mr. Sherman was looking for some type of message about the S.L.A.'s present thinking on the matter, he could've harked back to this past summer, when the agency's newer membership flat-out rejected the restaurant's fallback plan to serve only beer and wine.
Lola and its attorney now expect to get a full liquor license, following the court's recent rejection of the S.L.A.'s whole do-over idea. But don't make those Valentine's Day reservations just yet.
If the agency, in fact, forks over that license, both the S.L.A. and the restaurant face the prospect of yet another Supreme Court challenge from the ever-litigant Soho Alliance. "We have the money all ready," said Sean Sweeney, the group's chief anti-barfly. "We're just waiting to go."