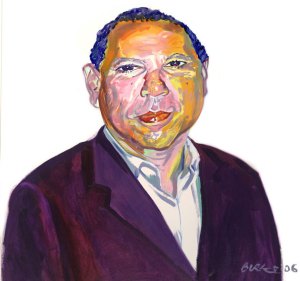 Oh, what a year for newspapers! They're dying! They're keeling. They're ghosts! They're di-no-saurs! They're mice! Eeeek!
And that's just from the publishers. This is the first business in the history of capitalism where the owners are trying to terrify themselves out of business. Newspapers. Ohhh … the kids don't read 'em. Ohhh … the Internet. Ohhh … shit.
So in a year of panic in the newspaper business, the crisis of the press came to this: The most inspiring media hero this year was the guy who quit.
Well, he didn't quite quit. Dean Baquet spit into the eye of the hurricane. In September, the editor of the Los Angeles Times let it be known that he would not be making any new cuts in his newsroom budget, even if the owners at the Chicago Tribune Company asked. He then gave a speech on Oct. 26 to Associated Press managing editors in New Orleans about an "irrational era of cost-cutting." He said that editors should "put up a little bit more of a fight than we have put up in the past." He told editors, "Don't be shy about making the public-service argument." And he said, "We need to be a feistier bunch."
By Nov. 7, he had resigned "under pressure." Mr. Baquet—a handsome 50-year-old man with a little bit of a middle-age potbelly—was walking out of his office at the Los Angeles Times on Election Day, climbing up on a desk and giving his teary staff a Braveheart goodbye. Some thought it had ended a distressing chapter in journalism—the Chicago Tribune Company's latest news-icide. As editor, Mr. Baquet had battled his bosses at the Tribune Company—as had his predecessor as editor, good gray John Carroll—over their endless demands for budget cuts. First it was private, kind of, or at least as private as Jennifer Aniston's domestic grief. Then it was public.
Now that battle, between man and media corporation, is done. "I don't think it's as clear-cut as public versus private," Mr. Baquet said to The New York Observer Dec. 19. "It's does the owner understand that a newspaper is not just a business?"
Mr. Baquet is no longer editor of the Los Angeles Times, although the fantasy around the former Chandlerite newsroom is that he'll be back! As Dean the Dream, working for DreamWorks executive and Dreamgirls producer David Geffen. Or there will be the restoration of the bronzed, surfing Chandler family. For the moment, he is the martyred press guy of a bloody business. The new editor will make the cuts Mr. Baquet refused to, or he'll either walk the plank or bat third for the Cubs.
But in the greater struggle over the purpose and value of newspapering, Mr. Baquet made his point. The danger facing the news industry is not defeat. The danger facing the news industry is surrender. Newspaper people have learned to be good boys and girls, trying to prove they're really good business people like the power moguls they cover. But that's not their business. They are there partly for their bosses, but first for their readers. Mr. Baquet remembered that. That's called courage.
Sometimes a little courage costs you and there's no cutting.
In September, when the news of Mr. Baquet's standoff with Tribune got out, his predecessor John Carroll, told The Observer that the real fear was of "cutting and cutting and not knowing precisely how far you're willing to go."
How far is the newspaper industry willing to cut itself? The conventional wisdom among conventional media-business types in the print-journalism business is that print journalism is a wasteful, foolish, antique business. Veronis Suhler Stevenson's giant media forecast showed that readers are spending 7.3 days a year reading newspapers, down from 8.4 days in 2000, and 8.1 days on the Web, up from 4.3. Big deal? Yes. But those numbers tell you less than you'd think: What is the quality of that time? How much of the information is distilled down to the Internet? And not to be like this, but: What is the metaphysical value of the print page in the life of the American?
But marketers say that readers and advertisers are fleeing to the Web. And in reaction, newspapers are carving away at themselves: at staff, at ambition, at physical size. This year, 2007, will be the year that even The New York Times and The Wall Street Journal join in the self-mutilation, trimming back their beautiful broadsheet sails to proportions that are trimmer, handier, friendlier. Cheaper.
Remember radio? Television was supposed to have killed it. Remember the movies? Likewise. Newspapers are getting chipped and chopped away not because the public is being lured away by moving pictures or virtual-reality headsets, but supposedly because the demand for the written word is booming. There has never been a greater hunger for information than there is at the moment. The media business is anything but a dinosaur; it's a hungry monster.
But a paradox is a paradox only if you think about it. And the hive-mind of the industry has not been thinking—it's been reacting. Money-making newspapers still make a lot of money by most business standards. But newspaper companies take that as a signal that they ought to squeeze as much foie gras as possible out of their properties before they starve the ink-stained goose to death.
Mr. Baquet had gone west to the Los Angeles Times—from the safety and respectability of The New York Times, where he had been national editor—because he had a more optimistic view of what newspapers could do. He believed there was room in this country for more than the great newspaper on which he had trained. As managing editor under Mr. Carroll, and then as editor, Mr. Baquet saw the L.A. Times rise up and roil his old bosses—in hiring, in breaking news and in Pulitzer Prizes. In a field where authority easily breeds resentment, he became Lancelot to his staff.
To stay a hero, Mr. Baquet had to ride into the sunset—always a problem in Los Angeles, where it means the Pacific Ocean. He refused to manage the Tribunization of the L.A. Times—take a look at what they did to the Baltimore Sun!—and certainly not when a new owner might make it possible to manage its revival.
The New York Times would like him back. Executive editor Bill Keller has taken him to lunch; managing editor Jill Abramson has been lobbying him. Mr. Baquet may have to listen—when he staked his job on his showdown with Tribune, it was no idle bet. He had no fallback in place. Last time a high-profile daily editor bucked a bad owner, Pete Hamill ended up editing in Mexico.
By defying the company, Mr. Baquet turned a fiscal cry over budget targets into a public emergency about journalism leadership. If the Tribune Company could not be happy with Dean Baquet running a paper—a money-making paper—then perhaps the Tribune Company was the one that needed to get out. Dean Baquet may not be a martyr, but his ordeal inspired an unrest that spread through other Tribune properties. In Los Angeles and Baltimore, would-be buyers began making offers to free Tribune of the terrible burden of journalism.
"I got tons of mail from editors at newspapers, reporters at newspapers," Mr. Baquet told The Observer. "They were glad to see this debate"
Now David Geffen has reportedly put $2 billion on the table in a bid for the Los Angeles Times, with other billionaires following with stacks of cash. If the right owner comes through—and comes through fast enough—there ought to be no problem in rehiring the right editor.
Dean Baquet! You are The New York Observer's Fourth Annual Media Mensch of the Year, for the year 2006. We congratulate you and thank you. There is a $100 cash award. If you pick it up, you would be the first. But it might show those guys you are a new breed of media executive.