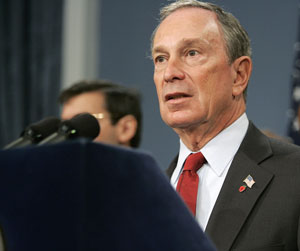 Mayor Bloomberg came into office vowing to end corporate welfare as we know it. And he did.
Unless your name is George Steinbrenner, Hank Paulson or Hank McKinnell.
On his first day as Mayor-elect, Mr. Bloomberg renounced the property- and sales-tax breaks that his own media company received for its 59th Street headquarters. "Any company that makes a decision as to where they are going to be based on the tax rate," he said, "is a company that won't be around very long."
The message, according to city officials and lobbyists, has caught on: Many businesses are now afraid to ask for tax breaks. But you can still get one from Mr. Bloomberg. You might have to call it an "infrastructure improvement" or an "investment," and you might have to promise to increase the number of people you employ.
Mr. Bloomberg's aides consider the cases where they did give discretionary tax breaks to be minor exceptions, compelled by draconian necessity or deserving of special attention. But other observers suggest that the onetime stoic Mayor has buckled under pressure—or, to put it generously, has come to see flexibility as the price of leadership.
And now that large businesses have finally slept off the incentive deals hatched during the Giuliani and Dinkins eras, they are out and about, prowling around for new leases. The Mayor's vision of the city as a premium brand worth its price will be put to the test, as will his promise to hold the line on corporate handouts.
"We are not in the business of paying corporations to stay in New York City," Deputy Mayor Dan Doctoroff told The Observer. "We have said that, and we have been pretty consistent—the only exception being lower Manhattan. We will provide incentives for companies to grow in the city, for the building of a new building or for taking up additional space in certain circumstances."
But it's not just lower Manhattan: Mr. Bloomberg has sunk money into the Bronx, Brooklyn and even midtown for stadiums, retail malls and office buildings that may promise—but do not guarantee—job growth. All told, according to an analysis by Good Jobs New York, a nonprofit that monitors economic-development policies, the Mayor has awarded more than $900 million in tax breaks, infrastructure commitments and other discretionary subsidies for commercial projects in his five years in office. That is on top of about $400 million a year that the city pays out for an as-of-right commercial and industrial incentive program.
Goldman Sachs is the Bloomberg-era incentives deal that sticks out the most. Two years after the Sept. 11 attacks, Goldman Sachs decided to build a $2 billion headquarters in Battery Park City. Then, in early 2005, Governor George Pataki resisted scrapping a tunnel planned for West Street that the investment bank said would pose a safety hazard.
Then–chief executive Hank Paulson put the project on ice; downtown business leaders freaked out; and the state and the city put out, offering about $60 million more in incentives, and $650 million more in triple tax-free Liberty Bonds (which Goldman Sachs then was able to issue itself) than were part of the pre-tunnel deal.
"I think it's fair to say that there were a lot of complex political dynamics in that decision-making process," Mr. Doctoroff told The Observer. "We played a critical role in reducing the amount of incentives or subsidies that were originally offered. They were substantially less than they otherwise would have been. The fact was, Goldman was building a new $2 billion headquarters. If you look at it from the city's perspective, we will be paid back many, many times that in terms of the revenues that this investment will generate."
City and state leaders had already thought of the immense necessity of rebuilding lower Manhattan: They persuaded Congress to appropriate $956 million in business-recovery and job-retention grants and another $8 billion to stimulate new construction. That, apparently, wasn't enough: The city also started handing out sales-tax exemptions and property-tax breaks to companies that said they would not only stay in New York but would expand, including Aon Service Corporation and Brown Brothers Harriman & Co.
That wasn't enough, either. Earlier this year, upon Mr. Doctoroff's insistence, the Port Authority of New York and New Jersey agreed to "invest" $250 million into the World Trade Center site (which only five years earlier it had tried to privatize) and take ownership of—and the risk of leasing—the Freedom Tower.
These are extraordinary measures for extraordinary times—but then, that was how past Mayors thought of it when they institutionalized the practice of handing out tax breaks to companies to keep them here.
Michael Bailkin, a consultant who represents businesses in negotiations over tax incentives, argues that Mr. Bloomberg is not necessarily any more or less profligate than his immediate predecessor.
"He has made a reasoned judgment as a businessman about how attractive a city it is. The times have proven his judgment to be a very reasoned judgment," Mr. Bailkin told The Observer. "When Giuliani was Mayor, the city was not as strong an attractor to businesses as it is today. The real difference is that New York is a growing market."
Mr. Bloomberg's critics praise the Mayor for what they consider the smart investments that have improved education and public safety. But, over time, they suspect that the once-stalwart businessman has slowly loosened his principles.
"It seems that the power of the real-estate industry was more than what the administration anticipated," said Bettina Damiani, the project director of Good Jobs New York. "Ideally, the Mayor says, 'Look, I'm a successful business guy; we are going to make the investments we need to make the city attractive in terms of police and affordable housing and education.' To the extent that the real-estate industry is the big dog in the room, I imagine it was awfully difficult to hold the line."
One of the rules that Mr. Bloomberg has set up for himself is not to award tax breaks unless the company promises to create jobs or to put money into a building, or both. His critics wonder why, if the Mayor is unwilling to give handouts to keep jobs in the city, he is willing to do so for new ones? Business leaders agree that factors like the quality of the workforce generally matter more for companies scouting locations, and that New York is indeed becoming the type of headquarters city that it should be. But they say that the city, while attractive, isn't always attractive enough.
"Property-tax breaks are on the margins as a single factor," said Kathy Wylde, the chief executive and president of the Partnership for New York City. But, she added, "We have no place where somebody can put a trading floor. It has to be built new. That means construction costs that are significantly higher and that will require rents in excess of $80 a square foot. If you can get the same trading floor for $40 a square foot elsewhere and you are a public company, you have to defend that decision."
A city economic-development official said that capital subsidies—or, rather, investments—serve another purpose. "It provides the type of upfront capital funding that is needed in the early stages of the project, when it might be hard to get that money from other sources," the official said.
Thus, the city is pitching in $100 million for Atlantic Yards, even though that project is so gargantuan—$4.2 billion—that it's hard to believe it will make a difference. Opponents of the project argue that the public could end up paying much more, through indirect subsidies and also because the memorandum of understanding calls on the city and state to "consider making additional contributions for extraordinary infrastructure costs."
Another example of helping out a private enterprise that had no intention of leaving is the new Yankee Stadium, a project for which the city is donating about 25 acres of parkland and spending another $150 million in today's dollars to recreate that open space elsewhere after the new stadium is finished. The Mayor's aides argue that the upkeep on the current stadium—which, according to the current lease, the city is responsible for—would have become increasingly expensive. That lease will run out in a few years, but Mr. Doctoroff said that the city wouldn't have gained much ground through negotiating a new one. "It would have taken the two sides to change the terms and, in terms of our calculations, we would not have been successful."
Mr. Doctoroff argues that the new stadium, though smaller, is supposed to bring more jobs for the Bronx, though the parks rearrangement is not predicated on that happening.
The Yankees deal had the advantage of appearing not to be a subsidy, allowing the Mayor to claim another victory just days after losing the West Side Stadium, which would have counted as Mr. Bloomberg's largest subsidy deal ever at $300 million. Still, that number doesn't come close to the $650.5 million that the city expects to forgo in property taxes over 30 years in order to stimulate construction in the area around the former stadium site, Hudson Yards. City officials say the massive up-zoning of 45 blocks just west of midtown will, by adding 24 million square feet of office space, control, if not depress, Manhattan's office rents. But because the city says the rents there will be lower than in core midtown, a city board this fall approved property-tax discounts of up to 40 percent to encourage developers to build there.
The logic has puzzled liberal policy wonks, who argue that the tax discounts will only increase the price of land by making it more attractive.
"The city rezoned the land—that adds value. You build the No. 7 [subway] line—that adds value," said James Parrott, the deputy director of the Fiscal Policy Institute. "Now they say it is so costly to build on the West Side? Why not let the market adjust a little bit?"
Even Senator Charles Schumer, whose Group of 35 report five years ago presaged the Hudson Yards rezoning, said that tax incentives were unnecessary, stressing that the city's investment in extending the No.7 subway to 11th Avenue would provide an adequate incentive for builders.
That argument has failed to convince the Mayor, however.
"This tax structure is in place to induce people to move into an area that is not developed currently, and which requires a leap of imagination in order to relocate their businesses there," Mr. Doctoroff said. "We obviously have a tax policy in place that we think is necessary. That speaks for itself."