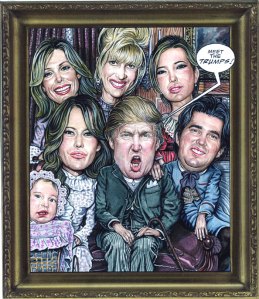 Welcome! Wipe your feet! This is the family issue of The New York Observer.
We are a city of families, functional and dys-. Tolstoy would have been stumped here: The happy families bear no more resemblance to each other than the unhappy ones. We are the city of the Roosevelts, the Vanderbilts, the Tisches, the Sarnoffs, the Wagners, the Hearsts, the Mortimers, the Rockefellers, the Sulzbergers. They each have their sagas, the usual heartbreaks and triumphs. But they all share one other thing: They have used the passion and strength of family life to perpetuate themselves in the life in this city.
We are a city of paters, maters and brats. This continues to be a city where the big families make money—and more delightful, nutty, well-dressed progeny. The unhappy families make the news. The happy families make a nice Sunday dinner.
We have our fictional families: the Sycamores; Mia Farrow's family in Hannah and Her Sisters; the Corleones. And the Glass family-J.D. Salinger's New York bunch of screwball mystics were the inner life of a city that loved the inner life. By the time Wes Anderson made his jolly ceramic reproductions of them in The Royal Tenenbaums, they were a distant memory of a city that was.
Then there were our great nonfiction families. And of all of them, there was none greater than the Astors, and no saga greater than Brooke Astor's. The story of Brooke Astor and her son, Anthony Marshall, isn't a Christmas story—not this year—but it's a New York story. It doesn't have a happy ending, but rather a family continuation.
The Astors churned up through German fur traders and New York slumlords, low-circulation newspapermen and British barons, hotel magnates and Titanic victims. John Jacob, William Backhouse, William Waldorf, just plain Waldorf, and Vincent. Emperors in the guilty age of Lily Barts and Diamond Jims, schemers and tyrannical dreamers, sipping Rob Roys in drawing rooms.
Then came Brooke—a lady, not a lily—who embodied in her tiny frame everything that it meant to be a real New Yorker. Beautiful, delightful, classy, triumphant over adversity and scoundrels, responsive to delight and wit, bridger of centuries, a breath of fresh air who knew what to do with money and life. She was the mom of the city. As Vincent Astor's third wife, she funneled her husband's $60 million toward Library lions, Metropolitan paintings, leopards in the Zoo. She had manners and acknowledged doormen. She told wonderful stories and entranced everybody.
She was mother to a city. Men sat at her feet, laughed at her jokes. She famously engaged a mugger in polite conversation and held court with a beloved gravity that the head of a family is given. She published poetry in The New Yorker magazine and threw swell parties. One minute she was a miraculously lucid 90, the next she was 104 years old, with all the weight of time beating upon her.
So when her grandson and house staff started whispering the tales that Mrs. Astor's beloved Boysie and Girlsie had been locked away, that she'd been forced to use Vaseline rather than Estée Lauder, that she hadn't seen the sidewalk on Park Avenue since 102, the city reacted for the Mommy of us all.
What man wants to be defined as a rotten son at 82? Anthony D. Marshall was accused of elder abuse. Henry Kissinger, 83, and David Rockefeller, 91, stepped up, righteous knights to lay into Mr. Marshall, who might have been centrally cast as the rascal scion of a P.G. Wodehouse story: He had invested her money in Broadway theater! Anthony's very own son, a reclusive academic from Massachusetts, sued his papa. "I love my mother," said Anthony Marshall. But the city, and the tabloids, rose up and snarled.
Somewhere between the Astors and 2006, it seemed as though the city had lost its class, to put it mildly. But Mrs. Astor—even in her ancient, faded, painted and chipped state, worn down by a century and four years and more of a great life—had saved it once more. She had once more reasserted the importance of life, reminded us that we are a city in which family trumps all. It may have been that the ghosts of Four Hundred society wafted from the vents at Delmonico's and possessed vengeful Post and Daily News reporters who slashed and whacked at poor Anthony Marshall, who eventually was vindicated by the judge.
But something more important happened, once more, in a city where it has rarely failed to happen: Mother had won. And New York is a town that is defined by families. We have chosen 29 of them, and the power of family defines each, a power that supersedes any other consideration, and that is at once the clearest thing in life, and the most mysterious.
Families
The Abrams Family
The Boies Family
The Clarke Family
The Cuomo Family
The Foer Family
The Gelb Family
The Jong-Fast Family
The Hammerstein Family
The Hearst Family
The Lauren Family
The Leibner Family
The LeRoy Family
The Marden Family
The Mortimer Family
The Newhouse Family and the Sulzberger Family
The Picket Family
The Rivera Family
The Rose Family
The Rubenstein Family
The Schnabel Family
The Steinbrenner Family and the Wilpon Family
The Tisch Family
The Tishman Speyer Family
The Trump Family
The Walentas Family
The Warburg Peters Family
The Zeckendorf Family