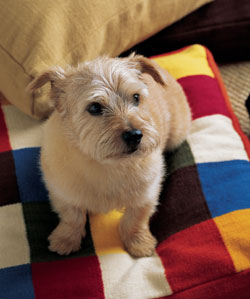 If one more person asks me if I'm "headed down to Art Basel" this week, I'm going to scream—which, of course, I will videotape and then take to next year's Art Basel and sell to Charles Saatchi for as much money as can be extorted out of him.
I'm sure my video scream—entitled The Scream, in a meaningless yet thought-provoking homage to Edvard Munch's masterpiece—will be the talk of next year's A.B., especially if I accompany it with a long screed about "what it all means." As to "what it all means" and why I am screaming, I will have to make something up. The truth would be too painful: If the art-erati found out I was screaming in horror at the super-pretensions of Art Basel itself, they would throw things at me and tell Mr. Saatchi not to buy my piece.
Don't get me wrong: It's not that I'm anti-art. It's just that, when confronted by the unquestioning, slavish, masochistic fervor of the typical Art Basel attendee, I turn into Ted Nugent. I want to buy a gun, closely followed by a Thomas Kinkade painting.
Seriously, though, I am starting to wonder if art—as in the contemporary scene salivated over by my Basel-bound brethren—is not some kind of mysterious cult. Just look into their eyes: Art Basel–cheviks all have the same otherworldly Heaven's Gate expression. Are they embarking on an extraterrestrial journey? (See the photo of art collector Mera Rubell in last Sunday's New York Times Magazine.) Baseloids would appear to have found the perfect substitute for the organized religion they all disdain.
Early reports on this year's Art Basel have suggested that moneylenders may have snuck into the temple and the whole art-commerce thing may be getting a little out of hand. I see this as an entirely positive thing: By shilling for art-world synergy, MAC, Banana Republic et al. are adding a much-needed dollop of superficiality, sizzle and fun.
I personally am jonesing for an Alex Katz for Target beach towel. Mr. Katz's paintings—I like them because they are always pictures of his missus, and therefore require no dreary theoretical screed to explain them—look so excellent when rendered on terrycloth, I cannot help wondering if the artist might not have found his ultimate medium (worksonwhatever.com, $50).
Regarding shilling: Last Thursday, I had tea with Fergie—O.K., so it wasn't just me; there were about 30 magazine beauty editors in the room as well. But the tea part is true. Sarah, Duchess of York, was launching her new tea-themed home-fragrance collection, which she created in partnership with Harry Slatkin of Bath & Body Works. It debuts next year.
I am wildly enthusiastic about Fergie's new endeavor. Yes, the batty aristocrat seems an amiable lass; and yes, she's philanthropically minded. (A portion of her product's proceeds will help kids via the Sarah Ferguson Foundation.) But the real reason I feel so supportive of Fergie's gorgeous candles is more personal: You see, the mother of my Norwich terrier is also named Fergie.
Fergie the Norwich, like Fergie the Royal, is a scandalous figure. Fergie the Norwich gave birth to my Liberace after a torrid affair with an agility-champion stud named Desmond (a shockingly plebian name, I think you will agree). And what age was that little strumpet at the time? Little Fergie was one year old! Naughty Desmond! Naughty Fergie, you underage baby-mama Norwich, you! If there were a Jerry Springer show for Norwich terriers, Fergie and Desmond and Liberace would be star performers, barking and hurling accusations—and their own furry bodies—at each other.
As I watched Fergie make her heartfelt-but-slightly-Ab-Fab speech about the Sarah Ferguson Foundation—"so then we went underground to fight the Taliban"—while her auburn hair got snarled up in a chandelier sconce, I couldn't help noticing a physical resemblance between the duchess and her Norwich namesake. It's the russet coloring: Fergie and the Norwich terriers of the world are what Carole Jackson—she wrote my favorite early-1980's style bible, Color Me Beautiful—would call "low-contrast Autumns."
While art-world people make me want to scream, aristocrats (autumnal and otherwise) provoke a different reaction. When I'm enjoying high tea with toffs, I am invariably overcome by a juvenile impulse to say inappropriate, shocking things. My audience with the duchess was no exception. Mr. Slatkin should probably have gagged me upon entry or stuffed a scone in my mouth. It was nothing short of a miracle that I got out of the Lowell Hotel without saying, "Sarah Ferguson is a fire-crotch."
Oh, bugger, now look—I went and said it anyway!