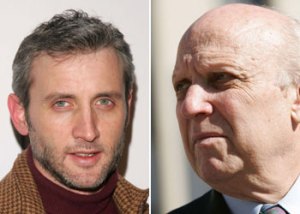 Back in the 1970's, when Floyd Abrams was co-counsel for The New York Times on the Pentagon Papers case, his son Dan would occasionally accompany him to work.
"We had a little song we sang," said the younger Mr. Abrams, now 40, who in the intervening years has attended law school, earned a living as a television legal correspondent and, as of six months ago, served as the general manager of MSNBC. Dan claimed no memory of most of the words. Floyd remembered it perfectly and happily sang a verse. (The song goes to the tune of "Frère Jacques.")
"Going to the o-ffice. / Going to the o-ffice. Yes, we are. / Yes, we are. / Daddy will read a bookie. / Daniel will eat a cookie. / Yes, we are."
The elder Mr. Abrams, 70, is a leading First Amendment attorney and a partner at Cahill, Gordon & Reindel. He said that he raised his two children—Dan and his sister, chief of the general-crimes bureau at the U.S. Attorney's office Ronnie Abrams, 38—just as he had been raised: "with the air of the law in my own home." At night, instead of bedtime stories, he told legal morality tales: for example, one about a 19th-century Kentucky schoolteacher who bought coal to heat her classroom and sued the school district after it declined to reimburse her. Earlier in the evenings, he would try out closing arguments on the children.
"There was a time, when Ronnie was around 11, when I used to use her in particular as a sounding board for oral arguments," said Mr. Abrams père. "I found that she had about the same level of patience as most judges. She would say, 'What are your cases about?' She'd listen for a minute or two. She'd ask, 'What do you say? And what do they say?' Then she would rule."
Efrat, Mr. Abrams' wife—a former Hebrew-school teacher and Guggenheim docent—is the only non-J.D. in the immediate family. (The extended Abramses include some non-lawyers—and Floyd's first cousin Elliott, President Bush's deputy national-security advisor, with whom the New York Abramses maintain distant, if not chilly, relations.)
Dinner-table conversations can get wonky. "There are definitely times when my mother feels left out," said her son.
Mr. Abrams senior grew up in New York, first in the Bronx, then in Queens. His father manufactured artificial flowers; his mother stayed home. He considered becoming an academic, but chose Yale Law School when he realized that he couldn't satisfy the two-language requirement of the Graduate Record Exams. His children trained as lawyers because what else were they going to become?
Ronnie was bound for the bar at an early age. Dan followed the same track, but spent much of his youth aspiring to be the next Ted Koppel. Not till he had his law degree in hand and a clerkship beckoning, though, did he veer off into television.
"If my dad had been a real legal purist," said the son, "he would've said, 'Come on—you can't give up a prestigious clerkship.' He was very encouraging of my taking a $22,000-a-year job at Court TV."
While the Abrams lawyers consult each other frequently on legal matters, father and son claim not to have run into any serious conflicts of interest.
"There have been some amusing moments," said Floyd. The elder Mr. Abrams made a number of television appearances during the 2000 Presidential-election dispute. "I was on Dan's show when he had a program together with Geraldo, and I was on and Dan was doing the interviewing on it. They had one of these boxes where you have four people on screen at once; it looks like you're on Hollywood Squares or something. Anyway, he asked the first person for his views, then the second, then the third, then he came to me. I realized he didn't know what to call me."
During the first exchange, Dan called his father "Mr. Abrams."
"Apparently, there was laughter in his ear from his studio," Floyd Abrams said. "So the next time, he said, 'Floyd, what do you think about that?' Apparently, there was louder laughter. The last time he called on me, he said, 'Well, I now call on the chief justice in our home.'"