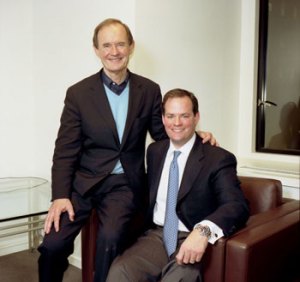 On a recent afternoon, David Boies, 65, and his son Christopher, 38, pulled up chairs for an interview in the firm's glossy new Manhattan offices on Lexington Avenue. "DB," as he is known in the office, was adrift in a baggy navy suit and suede walking shoes. Christopher, who shares his father's sharp turquoise eyes and ruddy cheeks, looked like the banker he once was, in gleaming penny loafers, cuffed gray slacks and a delicate silk tie.
When Mr. Boies left his gilded partnership at Cravath, Swaine & Moore in 1997, the news made the front page of The New York Times. Since then, he's founded Boies, Schiller & Flexner, where two of his six children, Caryl and Christopher, are partners. The firm has 195 lawyers spread from Fort Lauderdale, Fla., to Armonk, N.Y., where Mr. Boies has lived for 25 years. Another child, David Boies III, is a lawyer in Fairfax, Va.
"It's nice when your children really understand what you do," said Mr. Boies, who has a calm Midwestern demeanor, "and it's hard to really understand what you do unless you also do it. And it's nice when I understand what they do."
Mr. Boies' father was a history teacher, who moved the family from Illinois to California when Mr. Boies was 13. Though young David was a successful high-school debater, rather than attend college—he spurned offers from Antioch and Stanford—he married his high-school sweetheart Caryl on a trip to Mexico. She encouraged him to go back to school, so he attended the then Baptist-affiliated University of Redlands in California on a scholarship, then Northwestern Law School. The couple had two young children, David Boies III and Caryl, but the marriage ended. Mr. Boies struck up a relationship with a fellow student named Judith, who was married to his corporate-law professor.
When the newly divorced Judith transferred to Columbia Law School, Mr. Boies followed her east, to Yale Law School. Upon graduation, he joined the litigation department at Cravath, Swaine & Moore. The couple married and had twins, Jonathan and Christopher, but divorced when the boys were about 4.
Mr. Boies' profile grew steadily, with big clients such as Texaco, I.B.M. and CBS in the infamous libel suit brought by Gen. William Westmoreland. He became known for his humble attire and not-so-humble wine collection, as well as his photographic memory and love of gambling. He met his third and current wife, Mary, while working as counsel to the Senate Antitrust Subcommittee. They have two children, Mary Regency, now 23, and Alexander, 21.
In a biography of Mr. Boies, v. Goliath, Karen Donovan reported that some Cravath partners remember Mr. Boies taking a lot of family vacations, although his children recall having to squeeze in time with their father. One tradition was a cross-country trip in a topless, doorless Jeep. His son Jonathan accompanied him in the summer of 1985, when Mr. Boies was preparing for the Westmoreland trial, and they stopped to interview several Vietnam vets, including one Colonel Hawkins, who served them lemonade and gave them a tour of his vegetable garden, Jonathan recalled.
Mr. Boies brought his kids into the family business. Christopher set up the firm's corporate practice, as opposed to following his dad in the litigation arena. His father points out that his son's clients include Goldman Sachs, the Weinstein Company and Wynn Resorts.
"Nobody is going to pay me my billable rate, just because my father is David Boies, to do a corporate transaction," said Christopher.
"But if it doesn't work out well, it's going to help that your last name is Boies," his father said with a smirk.
"That is one of the advantages, but that's an advantage of the practice itself," said Christopher. "I can always say, 'My father would be happy to carry on this conversation.' I don't often say it."
Mr. Boies was asked if he considered the firm a family business.
"In a way, sure, it's a family business—in the sense that two of the very early lawyers in the firm were Christopher and Caryl. And the three of us have played an important role in building the firm. On the other hand, this is a partnership with many, many outstanding lawyers. It's not a family business in the sense that somebody like the New York Yankees may be a family business, in which you have a single principal owner and that principal ownership is going to be passed down within the family."
Last year, The Wall Street Journal reported that the firm had been dismissed by a client, the cable company Adelphia, because Adelphia hadn't been informed that four of Mr. Boies' children held indirect stakes in a document-processing company that the firm had recommended.
Mr. Boies noted that legal-ethics authorities had concluded that his firm had done nothing wrong, and that the investments were made independently by his son, DB III.
Three Boies spawn have attended the University of Redlands, like their father, and DB IV is now a student there as well. Mr. Boies has endowed chairs there, as well as at the University of Pennsylvania. His friends and partners established one in his name in 2003 at Yale Law School. He's a trustee of St. Luke's–Roosevelt Hospital, and he and his wife recently gave $5 million to Northern Westchester Hospital.
On Dec. 26, almost 40 members of the Boies clan will decamp to Cabo San Lucas, Mexico, for a week-long post-Christmas gathering, a tradition since 1987. Mr. Boies' first wife and her extended family will be there, along with Mr. Boies' six children and eight grandchildren. (His second wife, Judith, spent Thanksgiving with the family in Katonah, N.Y. She's counsel to the Boies law firm.)
The annual trip has one condition: that the destination be within striking distance of a casino. The Boies children grew up playing card games and "competitive Battleship," then moved on to more serious games like poker and tennis, said Christopher.
"One of the very great things that David offers anybody is that he is so smart and so secure that you can actually compete with him," said Judith Boies.
"We were probably the only family to have a game called Anti-Monopoly," said Christopher.
"My philosophy was always to let them win," said Mr. Boies.
"That's a joke," added Christopher.