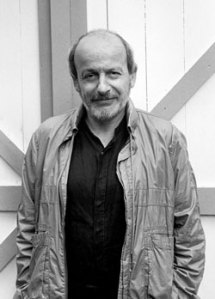 Compiled as testament to the "belief in the story as a system of knowledge," E.L. Doctorow's book of essays provides a superb overview both of American literature and of the themes the author has taken up over his long and prolific career. Like his earlier collection, Jack London, Hemingway, and the Constitution (1993), this gathering reveals "a kind of presumptive nationalism" in Mr. Doctorow's literary interests, but one suffused with a "collegial homage, a sympathy" for other great writers he has read and learned from. Creationists includes fewer essays that speak to the contemporary political moment—a surprising change from his previous omnibus, especially given Mr. Doctorow's passionate engagement with what Daniel Isaacson rails against in The Book of Daniel: "History, that pig, biting into the heart's secrets."
The title of the collection is, of course, a shot across the bow of cultural conservatives. Though no single essay takes up the debate on evolution, Mr. Doctorow is clearly ready to pit the imaginative power of artistic "creationists" against scriptural literalists. The book's opening essay does take up the case for "Genesis," but primarily for the "staying power" of its stories and the way that, when reading them, "in reverence or in ethical action do our troubled conflicted minds find holiness." Meanwhile, in the essay on Poe that follows, it would seem no accident that Mr. Doctorow embraces "the metaphysical disquiet that comes with a secular democracy, a country written down on paper, a country in a covenant not with God but with itself."
Most of the pieces in Creationists were originally commissioned as lectures, reviews or introductions, and in this they share a kind of generalist gestalt. What lifts them above mere appreciation is the view from the writer's desk, what Mr. Doctorow describes in his fascinating speculations on the composition of Moby-Dick as "a parable of the grubbiness and glory of the writer's mind."
Like most writers writing on other writers, Mr. Doctorow is at his best when touching upon concerns he has taken up in his own work. In reading about "the world of two distinct and, for the most part, irreconcilable life forms, the Child and the Adult" in The Adventures of Tom Sawyer, we're reminded of the child's view of complex historical events so prevalent in Mr. Doctorow's own novels. Similarly, his observation that Sinclair Lewis' "satiric impulse … prevails, sometimes at the expense of the credibility of the work" only underscores the way in which Mr. Doctorow's fiction presses the envelope of historical credibility in the pursuit of mythic truth.
A somewhat odd manifestation of Mr. Doctorow's "presumptive nationalism" is his seeming ambivalence towards European writers. After dissecting Kafka's "mordant metaphysics of the emptiness of human striving," he asks: "Why, for instance, can there not be consolation in the however imperfect American pursuit of a just social order?" The question would seem misplaced, if not mistaken. Also, his observation that the continent depicted in W.G. Sebald's The Emigrants seems "used up—used up by all the living that has been done on it, all the armies that have trod upon it, all the blood that has poured into it" disingenuously ignores the original way in which Sebald came to write about it.
E.L. Doctorow is an American writer through and through. In arguing that "Dos Passos' self-effacement … masks an imperial intelligence, an acerbic wit, a great anger," the author touches upon a lineage that runs from Harriet Beecher Stowe to Melville to Twain and right on down to himself. And yet he's no apologist. He's quick to criticize Hemingway as "morally speaking, an isolationist," or even to diss Poe's most famous poem: "'The Raven' is to poetry as Ravel's Boléro is to music: rhythmic and hypnotic on first hearing, a mere novelty everafter."
Quips aside, the predominant means of engagement in Creationists is sympathy in its truest sense. When employing it, Mr. Doctorow raises his subjects to a higher plane, such as when writing on F. Scott Fitzgerald's early demise: "We have to smile in our sadness for our graying Jazz Age kid. Such bitter resolution is not characteristic of the psychological breakdown, the depleted vitality of the depressive. It is more the angry romantic's expression of inconsolability—in having had an innocence and, having lost it, having to mourn it. That progression of states of the American mind was prevalent once upon a time, but now, after a century of industrialized war and genocide, is itself to be mourned."
This last turn marks Mr. Doctorow at his best: sympathetic towards the life, insightful on the literature, incisive on its place in the American story. His essay on "The Bomb" reaches further abroad to muse trenchantly that "this blood-besotted century, having with its technology erased the distinction between combatants and noncombatants, will continue, as in the Cold War, to erase the distinction between wartime and peacetime."
But there's far more devotion than doomsday in these essays. As Mr. Doctorow says of Einstein's genius, "Acts of mind always come without a rating," and in both the genuineness and generosity of his thought, E.L. Doctorow reveals himself to be wholly taken over by his passionate engagement with the writers that have meant most to him. We as readers are the direct beneficiaries, for through his intelligence and discernment, the heart and soul of these "creationists" is revealed on every page.
Peter Filkins teaches writing and literature at Simon's Rock College of Bard.