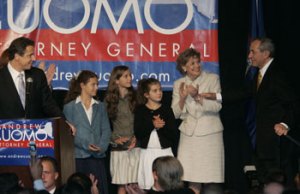 On the night of Sept. 12, 2006, Mario Cuomo returned from years of self-imposed political exile to a crowded Sheraton Hotel ballroom. With glassy eyes and a beaming smile, he accepted handshakes and kisses from the donors and political allies of yesteryear. Jumbo screens overhead declared that the former Governor's first son, Andrew Cuomo, 49, had just won the Democratic primary for State Attorney General, making him a shoo-in to become the second member of the family to win statewide office.
A few moments later, Andrew bounded to the podium to roaring applause.
"Tonight," he said, "you made me the comeback candidate."
He was referring to the contrast between the night's festivities and the scene four years ago, when he made himself a virtual pariah in the state party in the course of a spectacularly unsuccessful bid for Governor.
Now, by succeeding Eliot Spitzer as State Attorney General, Andrew Cuomo seems set on a path that follows his father's footsteps to the Governor's mansion. His supporters started charting the way for him a decade ago and, barring any monumental mistakes, Mr. Cuomo—the grandson of a Queens grocer who was raised in the hills outside of Naples—looks to be the Democratic gubernatorial nominee-in-waiting for whenever it is that Mr. Spitzer leaves office.
"Andrew is a force to be dealt with in this state, and even in this nation," said William O'Shaughnessy, a longtime friend of the Cuomo family. "Andrew can go as far as he wants."
This year was a significant one for the entire Cuomo clan.
Andrew's telegenic younger brother Christopher, 36, who paid his dues for years as a puffy-news correspondent, won a coveted seat on the couch of ABC's Good Morning America. Like a true Cuomo, he campaigned for the slot: Shortly before being awarded the job in September, he sent a plaintive e-mail to colleagues that included the line "I think I (though allegedly testing the best) am not under serious consideration, which I accept, but do not completely understand."
More recently, Christopher narrated a segment tracing his roots back to Italy, where a stone monument honors Immaculata Giordano, his grandmother, "who gave birth to Mario Cuomo."
And Andrew's 44-year-old sister Maria, the wife of designer Kenneth Cole, formalized her philanthropic niche by leading a homeless-advocacy group, HELP USA, to a 20th-anniversary expansion in Las Vegas.
Since 1994, when George Pataki and the Republican revolution removed Mario Cuomo from power, the Cuomos were like a dynasty in exile. Andrew, who had served as his father's loyal aide and enforcer, eventually went to the capital to serve under President Bill Clinton as the Secretary of Housing and Urban Development. But given his habit of ostentatiously seeking publicity in New York for his every action in Washington, Andrew made it clear to the political world that he had his eye on something bigger.
He finally made his electoral debut in New York politics with an unsuccessful insurgent campaign in 2002 against the party's chosen candidate, Carl McCall, that was marked by so much rancor that many considered his political career over. And the next year, his personal life took a grim turn as well: His marriage to Kerry Kennedy, the daughter of Bobby Kennedy, ended in an ugly divorce. With it went dreams of a Northeastern Italo-Irish political dynasty. (The couple had three daughters, who often visited churches and parade routes with Mr. Cuomo on the campaign trail.)
Mr. Cuomo returned from a restorative stint in the private sector—and an exhausting schedule of one-on-one political fence-mending and alliance-building—with a newly modest public persona and, almost unthinkably, the wholehearted backing of most of the state Democratic Party establishment.
He went on to beat Mark Green for the nomination before handily defeating Jeanine Pirro in a one-sided general election.
On primary night, before Andrew spoke, family members and supporters gestured for Mario to come to the podium and say a few words. But the elder Cuomo, one of the great orators of his generation, refused, remaining by the side of his wife Matilda. The future of the family rested with his son, and he didn't want to be a distraction.