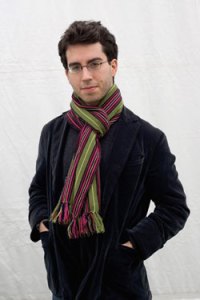 Screams could be heard echoing across Brooklyn on a clear day this past November, when news of 24-year-old Joshua Foer's book deal made its way around town. It wasn't just the ungodly advance Mr. Foer received—an eye-popping $1.25 million—for his first-ever literary venture. Nor was it the fact that the proposal and its celebrity author had inspired a bidding war. It was simply the foregone nature of it all. For a particular breed of literary and journalistically minded New Yorker, the trio of bespectacled Foer brothers seems to hog a disproportionate share of the career breaks.
It's a Foerocracy!
Certainly no one could accuse them of being unmotivated. The eldest Foer, Franklin, 31, is the editor of The New Republic; Jonathan Safran Foer, 29, is the author of the literary novels Everything Is Illuminated and Extremely Loud and Incredibly Close; and Joshua, after interning at Slate and dabbling in freelance journalism, is at work on his book, titled Moonwalking with Einstein, about his descent into the world of memory competitions (the book was already optioned for film).
The intrigue that surrounds the Foers in New York literary circles is such that one editor who considered Joshua's book proposal whispered a piece of Foer lore: the rumor that when they were growing up, the three boys were required to make presentations to their parents during dinner each evening as a sort of training for the public stage.
"Family dinners were a big thing," Franklin Foer, who lives in Washington, D.C., said by phone. "You'd turn off the nightly news and then sit down and eat." Franklin described his father as a highly experimental cook, and mentioned his dad's "falafel spaghetti sauce" as one particular dish that left an imprint on his palate.
"Dinner-table conversation had its share of current events and historical discussion, and, you know, analysis of French symbolism … but also its share of fart jokes," he said.
Regarding the story about the mealtime pageants, Franklin said: "I think that was only me, 'cause I was shy." He explained that he was an "extremely" timid child, and so to encourage him to break out of his shell, his parents gave him historical, philosophical and other kinds of topics to research and present.
The family is based in Washington, where the Foer brothers were born to Esther and Albert Foer. Esther is the founder and president of a public-relations firm called FM Strategic Communications and a former press secretary in Illinois for George McGovern, the onetime Democratic Senator and Presidential candidate. Born in Poland after World War II, Esther spent her early childhood in a displaced-persons camp in Germany. Her parents were Holocaust survivors; later, they immigrated to the United States and opened a small grocery store on North Capitol Street in D.C.
Albert (Bert) Foer is characterized as the voracious reader in the family. A lawyer by training, he now runs a public-interest think tank called the American Antitrust Institute, which seeks to increase antitrust enforcement. He was born in Norfolk, Va., and grew up in D.C. His father ran jewelry shops. His father's father was born in Bialystok; he was a wallpaper hanger.
According to Franklin, it was all "pretty darn normal," and—shockingly—the kids were allowed to watch television. Franklin also maintained a collection of political-campaign buttons. All three attended public school until junior high, when they switched to tony-liberal Georgetown Day School. They scattered for college (Frank attended Columbia; Jonathan, Princeton; and Joshua, Yale.)
Now, two of the three live in New York. The semi-reclusive Jonathan is ensconced in the multimillion-dollar townhouse he bought in Park Slope with his wife, the novelist Nicole Krauss (they just had their first child, Sasha, who may or may not be permitted to watch TV). Joshua moved to the city this past summer. That leaves Franklin in D.C.; he has a wife and a 2-year-old girl, whom he described proudly as a "fifth-generation Washingtonian."
So are the brothers competitive with one another?
"I would say not," Franklin said. "It's more like, I like to think of Jonathan as my protégé, and he likes to think of Joshua as his protégé. I would try to foist all my interests on Jonathan, which in turn he rejected."