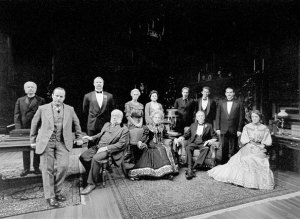 I spoke to Ivan Rezki, who still lives in the house where he grew up, in Bayside, Queens.
SPARROW: I understand your mother, Sarah, invented human topiary.
MR. REZKI: Yes, she did.
Sparrow: Can you explain?
Mr. Rezki: Topiary, of course, is the art of trimming trees and bushes into amusing shapes. My mother was always fascinated with such gardens. One day, she noticed that our backyard contained a large number of overgrown vines. By draping them over herself, she could become topiary.
Sparrow: But couldn't you see her beneath the vines?
Mr. Rezki: No, for she wore a dark netting which was opaque.
Sparrow: How long would she stand in one place?
Mr. Rezki: Usually for just an hour, two at the most.
Sparrow: And how did guests react?
Mr. Rezki: Some were delighted, until they realized my mother was inside. Most everyone was distressed, at that point—except my uncle Max. He felt she was a "true artist," and took many photographs, for which I am now eternally in his debt.
Sparrow: What kind of shapes did your mother assume?
Mr. Rezki: Generally, she would appear as a person. Her strangest role, I thought, was Joe Louis, the fighter. She had a large pair of plastic wings, so she could become an angel. Mom was most successful as the Statue of Liberty.
Sparrow: Did you become human topiary, also?
Mr. Rezki: When I was 10, she convinced me to go on all fours, in the role of a dog. But after five minutes, I begged her to escape.
Sparrow: Why?
Mr. Rezki: I felt like a corpse.
—Sparrow
Letters of Steve, Part the First
Dearest Mother,
I have failed thus far to conquer the city of New York, but please allow me a little more time. I have been here but two weeks.
Ever mindful of, and thankful for, the financial assistance you and Aunt Dotty have given me, I have heartily enjoyed my post-college spree. When last I wrote you, I believe I was in Seattle, headed toward San Francisco. Do you know, Mother, that once a week an inhabitant of that hilly city hurls himself, or herself, as the case may be, into the bay's chilly waters? What must go through the mind, when one sees the shimmering surface approaching one's face? Unlike some cartoon character, one cannot, even for the briefest of moments, scratch at the air as a means toward lengthening one's stay among the living … and so one hits the water … smash! … and dies.
As difficult as something like that may be for you to imagine, Mother, given your cheerful nature, it is all too easy for me to contemplate such dire things. For I am a poet at heart, gloomy, sick at heart, and sympathetic to all those who suffer, which reminds me: please send more cash by the usual method.
Now my travels have come to an end: After some six months of making peripatetic merry, I have settled down at last in the city where I shall leave my mark. Yesterday I was to have an interview at the publishing house of Farrar, Straus & Giroux. The offices were hushed and not a little dull. "This will suit me," I said to myself. A lady told me to wait in a certain chair. There I sat for a full half-hour, anticipating a meeting that seemed less likely to transpire with each tick of the clock.
The lady told me to wait just a bit longer, mentioning that the editor with whom I had my appointment was "busy on a call," but I refuse to be insulted, Mother. I thanked the lady for her trouble, piddling as it was, and made my exit.
When my manuscript is completed at last, I will instruct my agent, whoever that may be, not to allow Messrs. Farrar, Straus, and Giroux to have even a glimpse of it.
I am lately residing at the apartment of the adjunct professor, Ella Feinman, whose mother Aunt Dotty knew at Smith College. Ella is a kind lady, roughly 45 years old. She smokes Merit cigarettes, drinks the rankest of teas, practices the hoary yogic poses of colonial India, and finds herself between teaching jobs at the moment. Her field is hermeneutics, or semiotics, or some such claptrap. I am ignorant of what benefits her specialty has afforded her, aside from the skill to fill in every last square of The Times' daily crossword. She lives not in the city proper but just across the broad Hudson, in a town the very name of which bears the sad weight of history: Hackensack. When I look out upon its boulevards, I see not the decay of an industrial burg gone to seed, but boggy fields resplendent with ducks and geese, wherein the Red Man busies himself on the stealthy hunt!
Last night, as I smoked one of Ella's Merits while gazing through the raindropleted windowpane at the procession of smoke-belching trucks, I was seeing the most delightful scenes of prehistory in my mind's eye—when my roommate sneaked up behind me, catching me unawares, and laid a hand on the back of my neck. I shivered and said, "You surprised me." What surprised me further was that dear Ella was wearing not a stitch of clothing. Before I knew it, I had slipped my penis into her vagina. I experienced the most agreeable sensations, Mother, as I thrust it to and fro; and, to judge from the twitches and moans of my partner in this most ancient dance, I believe Ella was likewise in the throes of love's sweet agonies.
Tomorrow, at 10 a.m., I am to interview at the house of Scribner. Let us hope they know better than to keep me waiting. Send my love to Aunt Dotty. Thank her for me, concerning her referral of roommate. Don't forget to send the cash.
Your ever loving,
Steve