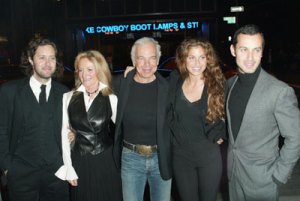 On Wednesday, Dec. 6, David Lauren was in Miami for Art Basel Miami Beach. Polo Ralph Lauren, the company that his father founded almost 40 years ago from his own spit and polish, was throwing a party. Mr. Lauren, the middle child of Ralph's three, sported a wide spectrum of colors, from the navy blazer, to the near lavender pants, to a pair of lace-ups in warm-weather mother-of-pearl.
There were Bob Colacello and Dennis Hopper and Victoria Duffy and, oh, Renée and Robert Belfer, a former Enron board member, and their daughter Elizabeth.
All in the line of duty for Mr. Lauren. While his older brother and younger sister, Andrew and Dylan, have started businesses of their own, David is senior V.P. for advertising, marketing and communications at Polo. In these days of speculation about succession at so many legendary American fashion establishments whose founding fathers are ascending in years, he is seen, rather clearly, as an heir apparent.
Polo, however, is a public company. The board of directors—including Terry Semel, C.E.O. of Yahoo, and Joyce Brown, president of F.I.T.—will decide succession. Mix that boardroom intrigue with family secrecy and a company whose foundation is one family's highly cultivated image— Ralph's two brothers are also paid executives—and bet-taking about the changing of the guard has been inevitable.
"They keep a lower profile," said Wendy Smith, communications director at Polo. Many members of the Lauren family, both in and out of the company, declined interviews.
David's main squeeze is Lauren Bush, and even that association doesn't put him in the gossips too often. (One prays she never has the chance to take his name: Lauren Lauren!?)
"David is being positioned to be the resident Lauren, whether he has the skill set that his father does or not," said Michael Gross, author of Genuine Authentic: The Real Life of Ralph Lauren. "But if any one of the kids inherited the marketing gene, I think it's Dylan."
Ms. Lauren's Upper East Side sweets emporium, Dylan's Candy Bar, is a novel attraction. She is said to be branching out into candy-inspired accessories, like umbrellas and purses in fun patterns.
"Whether or not it was done with her father's money, it was done independent of her father's business," Mr. Gross said. "Dylan was the apple that didn't fall far from the tree—the one who's good at selling old wine in new bottles."
The older generation of Laurens may be known primarily as good in business, but according to Mr. Gross, who devoted hundreds of pages in his book to the Lifshitz family (Ralph's brother Jerry suggested changing the surname when Ralph was in high school), there's a whole lot more.
"His forbears had married into, practically speaking, the royal line of Judaism, a line of descent of rabbis that went back to 16th-century Poland and Yom-Tov Lipmann Heller. He was the great rabbinical scholar," Mr. Gross said. "It was through Ralph's mother, the maternal side of the family." Ralph, by descent or marriage, is related to "bankers and lawyers and Helena Rubinstein and Mendelssohn, the composer—and, of course, there's Elizabeth Berkley."
Ralph was always enamored of Hollywood, and it is to filmmaking that not only his son Andrew has turned, but also a nephew, Greg, son of brother Jerry. Greg has been out in L.A. for years, acting and painting—he played "Cute Guy" on Melrose Place and "Young Stud" in Boogie Nights. After a long courtship, he's now married to Ms. Berkley, of Showgirls fame.
(There's more sorority there, too: Ms. Berkley and Lauren Bush have both been represented by Elite's Celebrities–Monique Pillard division.)
With a head full of dark hair, strong jaw and cheekbones, Greg is an eerie doppelgänger of Ignacio (Nacho) Figueras, the polo-player-cum-Polo model, who is the face of Black, the company's fragrance for men.
His paintings have been bought by Renée Zellweger, Cuba Gooding Jr., Demi Moore. Tracee Ross, an old friend, has a stash of them.
At a show in N.Y.C. in 2001, Greg told New York magazine that his mother, Susan, was working the family Rolodex to fill the room. "'Remember your dad's cousin? Well, I've invited him too,'" he said she said to him. "I was like, 'Mom, it's an art show, not a bar mitzvah.'" Prices ranged from $1,500 to $20,000.
Two years ago, Art Basel Miami Beach was a high-water mark for Greg. He attracted some big names to his show Hero, which featured giant postmodern etchings and paintings of superheroes. Among the pieces were portraits of a forlorn Batman alone in a diner propping sorrowfully over his coffee cup, and Wonder Woman as a gamine gracing the cover of Vogue. Michael Ovitz, Tobey Maguire and Tony Shafrazi all showed up, as did Scream 3 alum Scott Foley, Page Six reported. The column was also quick to point out that Greg turned a nice profit on a painting called Page Six, snapped up by über-collector Michael Lynne, head of New Line Cinema.
(His new work will be shown at the Neuhoff Gallery, on 57th Street, opening Feb. 15. The show is called I do…)
That same year, Greg's younger sister Jenny turned a page in her life after years of battling anorexia and bulimia. She published Homesick: A Memoir of Family, Food, and Finding Hope. The 300-page screed opens with the arresting first line "This twitch is driving me crazy," and goes on to hint at a connection between the family's image trade and the author's eating disorders.
" … [M]y father told me that Uncle Ralph thought I was the most beautiful creature he had ever laid eyes on," she wrote. "I cannot blame anyone for my own destruction, but those words were intoxicating. I craved the admiration; it felt like a prize."
The New York Times didn't review Homesick, save for a mention in an essay by TV critic Virginia Heffernan on "fat books," but The Jerusalem Post did. "According to Jenny, her grandmother was 'the epitome of the Jewish mother, short, stout, and buxomy,'" it read—"not a fate she intended to share."