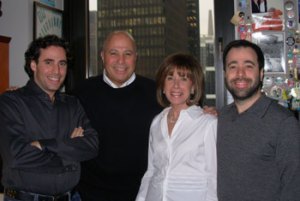 Leibner's the kind of guy who wants to engulf you," said Regis Philbin. "He's a huggie."
Mr. Philbin was speaking on Dec. 5, on live television, during a taping of his early-a.m. Metamucil chug-down with Kelly Ripa. The "huggie" he described is Richard Leibner, the baby-faced paterfamilias of television's most powerful talent agency, N.S. Bienstock, which Mr. Leibner, in his late 60's, runs with his wife, Carole Cooper, who declined to give her age, and their two sons, Jonathan and Adam, both in their late 30's, and a couple dozen or so employees who feel like extended family.
Bienstock represents many of the top producers, correspondents and anchors in the TV news business, including Bill O'Reilly, Anderson Cooper, Dan Rather, Chris Matthews, Jim Rosenfield, Liz Cho, Paula Zahn, James Goldston, John Roberts, Byron Pitts and Michael Gelman, the executive producer of Live with Regis and Kelly. Carole and Richard had bumped into Reege and his wife Joy at dinner the previous night, and as the talk-show king told of the encounter that morning, all of N.S. Bienstock sat rapt before their computers.
The elder Leibner was in Jonathan's office as Mr. Philbin described how the agent "swooped down" on them during the meal. "Did you use your pepper spray?" Ms. Ripa asked.
Richard let out a heavy laugh. "Gelman loved it," he bellowed. "I just talked to him. He loved it."
Jonathan smiled. His office, like all the offices on the 24th floor of 1740 Broadway, has an entire partition devoted to family photos. The hallways here are adorned with framed newspaper clippings featuring members of the Leibner family, as well as random pictures into which Richard's head has been Photoshopped for comedic effect. The Leibner voices ring through the corridors at all times. Their smiling visages radiate from the walls. Jonathon and Adam commute from estates in Chappaqua—they are neighbors—and relax in adjoining weekend houses on Fire Island.
Their legacy begins one generation back, with Richard's father Sol, a "Tin Pan Alley C.P.A.," as Richard put it. Besides musicians, Sol's clients included many prominent journalists and writers, including John Steinbeck. Somewhere along the line, he partnered with Nate Bienstock, a insurance man to New York creative types. Richard also trained as an accountant. But in November of 1965, recently married, he was on the verge of leaving the business to drive a cab. Sol convinced him to stay, and the father-and-son duo arranged to buy Nate's share of the company over the next decade.
"We never thought to change the name," said Ms. Cooper, who was producing television commercials at the time. She also has an entertainment pedigree: Her father was the lead alto saxophonist in Tommy Dorsey's band, making frequent guest television appearances with Steve Allen, Jackie Gleason and Perry Como. "I was worried about it, to be honest with you," Ms. Cooper said of inheriting the business. "I was scared to be leaving producing and working with my husband all the time."
"At first," Richard Leibner interjected, "it was a lot like Network," the 1976 Paddy Chayefsky–Sidney Lumet film about self-obsessed television executives. "We would lie in bed at night and talk about phone calls we took that day."
"It was horrible," Ms. Cooper said.
They raised their sons in Great Neck. Both went to law school, then out to big firms—and then it was back to Bienstock, where Adam is a talent agent and Jonathan is general counsel. They have two daughters apiece (all under 10, none of whom are being encouraged to join the agenting business). They refer to their parents as Carole and Richard in the office and Mom and Dad outside of it.
"It's almost a schizophrenic thing," Adam said.
"We have a rule when we're out of the office that we don't talk about the business," Richard said. "There's a total separation."
"Not total," Adam said.
The Leibners claim to enjoy almost perfect professional harmony. They don't fight, but rather "talk an issue to death." The agents at William Morris or Creative Artists compete against each other, but the Bienstock clan shares information. One ongoing internecine dispute has to do with Richard's professed Army service during the Berlin Crisis, which Adam points out involved his father being stationed in Indiana. Family chuckle. There are no succession issues.
"Our goal is to turn this into a place that could easily survive without them," Jonathan said. "Not that we plan on that any time soon."