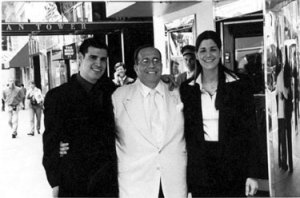 My dream is to make a rhinestone-studded ceiling," said Jennifer Oz LeRoy, owner of Tavern on the Green.
"I think that it would be fantastic and definitely one-of-a-kind," she said. "I would just have to make sure that the glue was really good so that there weren't rhinestones falling into people's lobster bisque."
Ms. LeRoy, 28, has a taste for glitz that stretches back at least two generations. Her father, the flamboyant restaurateur Warner LeRoy, first outfitted the sprawling 27,000-square-foot Central Park eatery she now runs with crystal chandeliers and antique artifacts; later, he capped off a reported $20 million renovation of his ritzy Russian Tea Room with a ceiling of priceless Tiffany stained glass. (His daughter's proposed rhinestone version "sort of would be my Tiffany stained-glass ceiling," she said.)
When Mr. LeRoy died of complications from lymphoma in 2001 at the age of 65, he left it to "Jenny," then 22, the youngest of his four offspring, to carry on with the family business—and its hefty debts—confident she would not stint on the LeRoy style.
That, in turn, had been established earlier. Ms. LeRoy's middle name pays tribute to her grandfather, Mervyn LeRoy, the Hollywood producer and director of the 20's and 30's, whose numerous credits include The Wizard of Oz—and who, at the time of that classic 1939 production, was married to Doris Warner, daughter of the Warner Brothers studio founder Harry Warner.
"Do you like my ruby slippers?" asked the youthful C.E.O. of LeRoy Adventures Inc., clicking the heels of her sparkly Marc Jacobses, which were admittedly more gold than red. She said that she can't find a pair to match Dorothy's in The Wizard of Oz—"I might just have to make my own," she said. Why not? She also has an apparel line of her own called "Jenny Oz."
The company specializes in personalizing accessories with sparkly stones.
"You send me your phone or … we'll buy the phone and stud it and send it to you," she explained. "We also do iPods and PSP's and laptops."
In her Spring Street office, with its pink walls and pink chandeliers, there's a glass case full of the glimmering gadgets.
"My dad loved it," Ms. LeRoy said of her sideline. "I remember I made a belt, and he was like, 'That is so cool.' And he said to me, 'Jenny, you should call Judith Leiber and tell her that you should take over her company.'"
Instead, Mr. LeRoy groomed her to take over his own company—a somewhat hypocritical position for a guy who reportedly snubbed his own grandfather's invitation to take over the family movie studio. Mr. LeRoy told People magazine in 1982: "I didn't want to be in the shadow of my family."
"He was constantly pushing me about working at the restaurant," said Ms. LeRoy, whose childhood ambition was—what else?—to be a champion horseback rider.
At the age of 19, however, Ms. LeRoy caved to papa's prodding and agreed to work for him—though not as a pretty-faced hostess. She washed dishes and cut lemons at Tavern on the Green, eventually working her way up to the daunting position of expediter, overseeing the kitchen's preparation of between 2,000 to 4,000 daily meals. Within two years, she was promoted to manager of her father's other Manhattan landmark, the Russian Tea Room.
Ms. LeRoy's older brother, Maximilian, also helped manage the Tea Room, but later moved to Los Angeles to pursue the family's other historic passion: film.
"My brother and sisters had other things they wanted to do," she said, explaining that Mr. LeRoy's older daughters, Bridget and Carolyn, had both moved away at the time. "I think after he saw how much I loved it, he sort of backed off pressuring them."
The timing of her father's bequest was not ideal. A post–Sept. 11 economic downturn only compounded the Tea Room's hefty financial burden—forcing Ms. LeRoy to sell her father's most ambitious eatery and renege on her 2000 pledge to The Observer: "There will definitely never be anyone but a LeRoy owning Tavern or the Russian Tea Room."
Now that the Tea Room has reopened under new ownership, Ms. LeRoy said she has no regrets. "It was the most expensive restaurant ever built," she said. "It just was the right time and the right thing to do. It wasn't fair to Tavern. I didn't want to sacrifice anything at Tavern."
Last year, Mr. LeRoy's only son and Ms. Leroy's brother, Max, was killed in a motorcycle accident—an event that continues to attract media attention due to a reputed love triangle between him, his childhood friend, musician Sean Lennon, and Mr. Lennon's ex-girlfriend, actress Bijou Phillips. Mr. Lennon's 2006 album, Friendly Fire, is dedicated to Max LeRoy.
"I get at least two questions a day about it," said Ms. LeRoy, who keeps a picture of her brother in a locket around her neck. "I know Sean very well, and I love him like a brother—I really do."
On the one-year anniversary of her brother's death, Ms. LeRoy occupied her mind with a slew of projects, including two books—one about Tavern, the other about her own life—and the construction of a new restaurant in the equestrian enclave of Wellington, Fla., located outside West Palm Beach. She described the place, called Equestrian Club by Tavern on the Green, as "a merger of my two passions of riding and the restaurant."
Ms. LeRoy also spoke of someday bringing the Tavern brand to—supermarkets! Keep an eye out for the Tavern on the Green New York City Classic Meal: sirloin steak or filet, mashed potatoes, Caesar salad and cheesecake.
"I would definitely rather grab that than a DiGiorno frozen pizza," Ms. LeRoy said.
Ms. LeRoy recalled the time that her father assigned her the seemingly impossible task of switching two glass ceilings at the Tea Room. "I'm like, 'Dad, how are we gonna do that?' He's like, 'That's not my problem.'"
Now the company is considering opening a restaurant and a possible hotel in Las Vegas.
"My idea is to have moving topiaries," Ms. LeRoy said. "My C.O.O. is like, 'Boss, how are we gonna do that?' And I'm like, 'That's not my problem anymore. That would be your problem.' All I know is that I want them done. I wanna have chandeliers hanging in the trees and really amazing stuff."