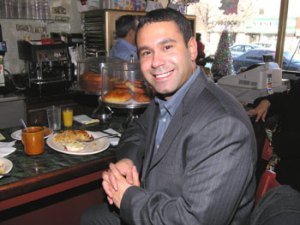 In his sophomore year at the New York Military Academy near West Point, Joel Rivera and his friends noticed something that made for an unusual sight at the campus: a limousine.
"We're like, 'What is this?' and keep watching—a princess from one of the countries in the Middle East or whatever. This is a girl that never had to do anything in her life for herself," said Mr. Rivera, the baby-faced 28-year-old son of the Bronx Democratic Party leader who is now the No. 2–ranking member of the New York City Council.
"So we made this girl, who never saw a kitchen in her entire life, do kitchen duty. It was the most hilarious thing in the world," he said. "Then her family came up and she no longer had kitchen duty."
Actually, that last part—about the parents weighing in on behalf of the children—isn't so foreign to Mr. Rivera.
Sitting at the counter inside the Allerton Restaurant in the Bronx, down the street from where his 43-year-old half-sister, Assemblywoman Naomi Rivera, has a campaign office, the youngest elected Rivera talked about the family business.
"To set the record straight, I am here because of my father," he said. "Without my father, I wouldn't be born. I wouldn't have an upbringing. I wouldn't have an education. I wouldn't be where I'm at. And I'm proud of it. My father laid the foundation."
If anything, that's an understatement. His father Jose—now the 72-year-old patriarch of an outer-borough political machine—succeeded his ally, Roberto Ramirez, first in the State Assembly and then as the Bronx County Democratic leader. Now, the elder Rivera is eyeing a position as the City Clerk, a coveted six-figure job that doesn't require a commute to Albany.
Joel used his leverage as Bronx County's favorite son as a bargaining chip to get himself elected to the City Council at age 22, and to the position of the Council's majority leader at age 23. Now he's considering a run for Bronx Borough President, one of the way stations en route to citywide office. Naomi, a late-comer to politics, won election to the Assembly in 2005; she'll be able to stay for as long as she likes and will presumably have first dibs on her brother's Council seat—if she wants it—when he leaves.
The family's roots go back to Jose's childhood in Puerto Rico's notorious La Perla area, which Joel described as "probably one of the poorest neighborhoods of the island."
"To this day," he said, "it's just a bunch of shacks and broken-down houses that people actually live in. It's beachfront property, but not the kind of beachfront you want to grow up on."
Jose moved to the Bronx at 13, arriving, according to family legend, in a T-shirt and shorts in the middle of a winter snowstorm. While working as a carpenter and a taxi driver in the late 60's and early 70's, when the Bronx was decaying, Mr. Rivera began organizing his fellow workers.
In 1978, the year Joel was born, Jose made his first run for office, and lost.
In 1982, the elder Mr. Rivera was better positioned. Demographics were changing in his favor, and he had a more mature organization behind him, with allies like Roberto Ramirez, a former janitor and future political powerbroker, and Fernando Ferrer, who would become the face of the city's emerging Hispanic electorate.
But it was still the Bronx.
While campaigning with his dad, Joel recalls, "they start throwing eggs at us. That's how bad politics used to be. Throwing eggs at the caravan. Like a natural father—like any father—he jumps off the caravan because one of them almost hit me. He jumps off the van and is about to go over to the man, and everyone was like, 'No, no, no—you can't do that!' Politics was bad."
Years later, having faced the Bronx electorate on his own, Joel is relieved. "At least nowadays, you only have to worry about chads. You don't have to worry about eggs."
Today, the elder Mr. Rivera seems immune to fear. At a Columbus Day parade in the Bronx, he told parade-goers: "A hundred years ago, the Italians did not do it by themselves. They needed Queen Isabella and her treasurer, all right?"
Judging by both political influence and material possessions, the family has come a long way. Jose now drives a white, four-door Cadillac Escalade with a tan leather interior and plasma screens in the headrest. Expensive electronic equipment allows him to indulge in a neurotic tendency to record even the most insignificant events on a camcorder.
As for his children getting into the family business, the elder Mr. Rivera said pointedly, "I don't think there is anything wrong. A hundred years ago"—he likes that phrase—"they wanted to follow in their father's footsteps."
When Joel ran for his father's City Council seat after Jose was elected to the State Assembly, he treated his family ties as an unalloyed asset.
"My experience has been growing up in rallies, demonstrations, protests, meetings—organizing with my father down in City Hall when he was a City Councilman, up in Albany when he was an Assemblyman. So the ongoing statement was, I have 22 years of experience in government and politics."
As for Naomi (whose age both she and her brother shied away from discussing), she has campaigned even more explicitly on the family theme. Before touting herself as "a neighbor" and "a leader," she listed as her first credential her experience as "a mother." (She has two children: GianCarlo, 23 and Daniel, 6.)
A local paper, the Norwood News, quoted her as follows: "It's not about a dynasty. The Riveras are people who believe in struggle. We are the underdogs."