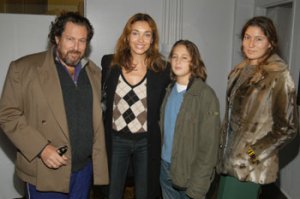 This Thanksgiving, paterfamilias Julian Schnabel gathered the clan to his Montauk home for the feast. That would be his three children—Vito Maria, 20, Stella Madrid, 22, Lola Montes, 25—from his first marriage to clothing designer Jacqueline Beaurang, and his twin boys, Cy and Olmo, 13, from his current wife, Olatz Lopez Garmendia.
"My dad will cook a ham and Oltaz will make the chickens—this year, she also made some delicious risotto. My dad doesn't eat birds," said Vito Schnabel by phone on Dec. 11. The budding art dealer-curator was in Miami, where he had spent a week at Art Basel Miami Beach in search of the "next young artist." "We enjoyed some wine and then jumped in the pool," he said. "Later, we sat by the fire."
"We talk about all kinds of things. Art, movies, people, family, everything …. I don't know—what do you talk about with your family?" said the young Mr. Schnabel.
"There are a lot of strong personalities in the family," he said. His sister Stella is a poet and an actress. Lola is a painter and filmmaker. The twins, well, they're 13—but no harm in prospecting.
"My little brother Cy loves to paint. He did a great painting of his dogs that hangs about his bed," said Vito. "Olmo is a film nut. We'll be watching The Deer Hunter, and he'll be able to recite the whole cast and knows the movie backwards and forwards."
"They also like soccer," he said.
Julian Schnabel himself came into the world—he was born in Brooklyn in 1951—wanting to play with oil paints, according to Susan Orlean's 1995 interview with Julian's father, Jack Schnabel. Mr. Schnabel the elder migrated to New York from Czechoslovakia at the age of 15. He was not of the art world.
"My grandpa Jack was in the meat business, but he was very supportive of my father's art. They had very a special relationship," said Vito of his grandfather, who died in 2004. He said that he and his dad enjoy a similar relationship today. "We're best friends; we travel the world looking at art and buying art. I help him and he helps me."
Mr. Schnabel splashed onto the art scene in the early 70's with his "plate paintings"—painting on large-scale, broken porcelain plates attached to wood paneling. He has also directed films, including the critically acclaimed Before Night Falls.
"Basically, I'm an artist. Whatever tool it is, whether it's a camera or it's a paintbrush, I'm kind of, I guess, expressing something and trying to find the right tool," Mr. Schnabel told the press at a screening for the film.
Trend-forecaster Ian Schrager tapped Mr. Schnabel to handle the interior for his $200 million sprucing-up of the Gramercy Park Hotel. The hotel is now lathered in Schnabel originals: paintings, sculptures and furniture.
"I think my father taught me to not be influenced by other people," said Stella Schnabel, who described herself as the "loner" of the family. She has had minor roles in her dad's films—Basquiat as well as Before Night Falls.
Stella is taking acting classes and helping her father with the music for his new film, The Diving Bell and the Butterfly. Mr. Schnabel's oldest, Lola, has published a book of her drawings and photographs, Remember Me. She has also designed a high-end T-shirt line. Currently, she's working on putting together her first gallery show, and she recently directed a "fashion video" featuring her friend Zac Posen's resort line for Style.com.
And Vito has curated several well-received shows, including a retrospective of Ron Gorchov—an artist he's credited with resurrecting—last June at P.S. 1.
The fashion-plate Schnabel sisters, who have long since outgrown being compared to the Hiltons, have dated in a certain demimonde. (Chalk up a Viggo Mortensen for Lola and a Red Hot Chili Peppers guitarist, John Frusciante, for Stella.) Vito, for his part, has been photographed lately with models dripping off each shoulder.
"There is no downside to being a Schnabel," he said.