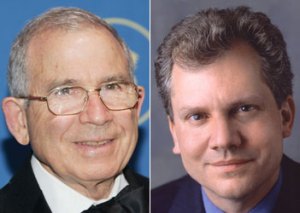 In September, New York Times publisher Arthur O. Sulzberger Jr. embraced self-sacrifice. He and company vice chairman Michael Golden would renounce stock compensation this year and the next, he announced in a staff memo, with the savings (some $4 million, by Mr. Sulzberger's estimate) to go into a pool for employee bonuses.
Was it a gesture of responsible corporate governance at the Wall Street-battered media company, or of noblesse oblige? And how to tell the difference when the Sulzbergers are involved?
Such questions became more pressing as a bad year for The Times went on. Mr. Sulzberger, 55, and Mr. Golden, 57, are great-grandchildren of Adolph Ochs, the self-made publisher of the Chattanooga Times, who took over a near-defunct third-rate New York broadsheet in 1896 and built it into the nation's pre-eminent newspaper. "Our decision as family members is a purely personal one," Mr. Sulzberger wrote.
Mr. Sulzberger's father and predecessor as publisher, Arthur O. Sulzberger Sr., built that benign aristocracy into the corporate structure when he took The Times public in 1969. The Ochs/Sulzberger family controls nine of the 13 seats on the company's board, through its ownership of separate voting-class stock.
But investors in the other portion of the stock, led by Morgan Stanley, are now agitating to change those rules so that Wall Street can steer the company. Private control is ineffective and unaccountable, the brief goes, and with the stock price down from $47.40 in early 2004 to $23.68 as of Dec. 11, it's time for The Times to enter the market age. On Dec. 6, Citigroup analyst William Bird listed the Times stock as a "sell" in a report called "NYT: Trying Times."
Yet if family control of a major media corporation leads to failure, it's hard to account for what's happening on the other side of Times Square. There, the Newhouse family's offices in the Condé Nast tower stand as an outpost of free-spending optimism in an industry besieged by fear and austerity. Under 79-year-old S.I. Newhouse, the privately held magazine group—a division of the Newhouses' Advance Publications—this year set out on a leisurely, big-ticket launch plan for a major new business magazine, Condé Nast Portfolio, and pressed on with its 2005-born titles Cookie, Domino and Men's Vogue. (Cargo, the runt of that lifestyle-and-consumption litter, was terminated, however.)
"A private company doesn't have to worry about Wall Street's demands," said independent media analyst John Morgan. "It does free them up to make long-term investments that might not have profitability in the short term."
A private company also doesn't have to tell anyone how it's doing. The Newhouses consistently decline to discuss their companies' financial data, but according to a Hoover's report, in 2005 Advance Publications registered an estimated $7 billion in sales, with a 5.9 percent growth in employees.
The Newhouse family's media business got started a few decades later than the Ochses', but it grew more aggressively. Founder Samuel I. Newhouse began his career by turning around the struggling Bayonne Times, then in 1922 purchased the Staten Island Advance. Two years later, he created the Staten Island Advance Group, which eventually would become the largest privately held chain in the country. In 1959, as a gift to his wife Mitzi, who desired her own fashion magazine, Newhouse purchased Condé Nast—home to Vogue, Glamour and other stylish titles.
The Newhouses raised their sons, Samuel Irving Jr. (or Si) and Donald, at 730 Park Avenue. The boys were educated at Horace Mann—as were Arthur Hays Sulzberger (Ochs' son-in-law and successor as publisher) and Cyrus Sulzberger (Arthur Hays Sulzberger's nephew and a Times columnist).
After Newhouse's death in 1979, the two sons took joint control of Advance, with Donald, now 77, overseeing the newspapers—still the largest private chain in the nation, and the fifth-largest overall—and cable systems, while Si took over the magazines.
"The Newhouses have a very strong presence and a strong sense of who they are in magazines," said media analyst Barry Parr, of Jupiter Research. Mr. Parr said that the newspapers—including the Newark Star-Ledger, New Orleans Times-Picayune and Cleveland Plain Dealer—get less attention, but turn a profit.
That sure-handedness—or imperiousness—is what's missing from Arthur O. Sulzberger Jr.'s reign. Instead, Mr. Sulzberger ascended to his birthright with an almost apologetic air. He officially broke into the journalism business in 1974, as a reporter with the Raleigh Times, outside the family company. After four years of outside apprenticeship, though, he moved to The Times, where his father was publisher, rising through the editorial and business ranks till he took the top job in 1992.
The awkward dance between authority and accountability has emboldened investors into demanding control of The Times, even as other newspaper chains flirt with the idea of going private to escape the abuses of the market. The dual-stock structure itself is a half-gesture toward democracy that calls attention to its undemocratic terms. And when Mr. Sulzberger lets himself be seen floundering around—on Howell Raines, on television strategy, on his Judith Miller crusade—foes take heart.
Still, the rules are with the Sulzbergers, as surely as they are with the Newhouses. "I really don't think Arthur Sulzberger Jr. is terribly concerned that Morgan Stanley is upset with the stock prices," said media analyst Edward Atorino, of the Benchmark Company.
Mr. Atorino noted that The Times is "financially healthy," with a cash flow of roughly $500 million in a struggling industry. He estimated 2006 net income at roughly $176 million—far down from $288 million in 2005, but still in the black. Nevertheless, Mr. Atorino said, "Wall Street really doesn't care if you're doing a good job or bad job—if your stock goes down, you're doing a bad job."
If investors don't like the Sulzberger way, though, they can go buy Tribune Company stock instead. Family control can go on as long as families do.
Among the Newhouses, Donald's son Steven Newhouse, 49, the chairman of Web arm Advance.net, is widely presumed to be the heir. Another possibility is Jonathan Newhouse, 54, Donald and Si's first cousin, who is chairman of Condé Nast International.
At The Times, meanwhile, the succession is harder to plot out. Mr. Golden, who serves as publisher of the International Herald Tribune as well as company vice chairman, is unlikely to take over for his younger cousin, barring tragedy.
Alex Jones, who co-wrote the definitive Sulzberger family biography, The Trust, declined to comment on who might come next, but said, "I assume it will continue after Arthur."
Depending on how long it continues, that would lead to Arthur Gregg Sulzberger, the current publisher's 26-year-old son. Like his father, he is working as a cub reporter, covering local-government issues far from home. He is employed by The Oregonian, a Newhouse newspaper.