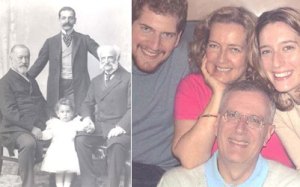 Upper East Side real-estate brokers like to speculate about the future of Frederick Warburg Peters. His exclusive and independent little brokerage, the storyline goes, may be fated for what so many exclusive firms have embraced: a buyout from a national real-estate conglomerate like Reology.
That would end the firm's 110-year reign as one of Manhattan's most discerning firms. But it would hardly close the door on Mr. Peters' family history—which (and this is what many brokers do not realize) had little to do with real estate.
Mr. Peters is the son of New York Times reporter C. Brooks Peters, whose writing from Berlin at the outbreak of the Second World War included coverage of the events of Kristallnacht in November 1938, and The Times has credited Peters with helping the paper win a 1941 Pulitzer Prize for foreign reporting before he left to serve in the Marines.
Mr. Peters' mother, Phyllis Rothschild, was the daughter of Walter Rothschild, the chairman of Abraham & Straus and Federated Department Stores, and of Carola Warburg, the daughter of renowned Jewish philanthropists Frieda and Felix Warburg; Frieda was the daughter of the legendary German-born banker Jacob Schiff.
Banking, retail, philanthropy … and real estate.
"The dynasty [has] nothing to do with me," Mr. Peters said. "I'm incredibly proud of my family; I just feel like, you know … the stuff they did, they did—I didn't do it. I only did the stuff I did, which I also feel good about."
He'd had other plans. When Frederick Warburg Peters was in his 20's, studying for his master's degree in classical-music composition, he spent his Sundays obsessing over beautiful Manhattan real estate.
"I became completely fascinated by floor plans, the aesthetics of floor plans," said Mr. Peters, who was sipping tea and eating a toasted blueberry muffin in a coffee shop near his Upper West Side apartment.
He got his degree, but dropped out of a high-pressure music-theory doctorate program at the City University.
"I had a kid, which created some economic incentive to make a living," he said. "I decided that if I was going to get screwed"—by cutthroat composers—"I'd at least as soon get screwed for money."
The oldest profession!
In 1980, he became a full-time real-estate broker, and in the late 1980's he became a manager of Albert B. Ashforth, which had been founded in 1896 by Albert Blackhurst Ashforth. In 1991, despite the city's real-estate boom, Ashforth's Manhattan branch was suffering, while business was picking up steadily in Connecticut and elsewhere.
"They proposed to me that I could buy my department," Mr. Peters said, "or they could sell it to someone else."
"It was a relatively small upfront payment and then a percentage of profits for a 10-year period. We were going to have our celebratory dinner about being done on Sept. 12, 2001."
(Ashforth, meanwhile, is still in the family with East and West Coast real-estate development firms.)
But the original office was renamed Ashforth Warburg Associates by Mr. Peters after the sale, and in 2003 he finally dropped the Ashforth. "Warburg has a good ring to it," he said, "and it has a lot of resonance in this town."
He expanded the brokerage from 60 to 150 brokers and from one to five branches. Like its competitor Stribling, Warburg is one of the few midsize luxury Manhattan brokerages that haven't been bought up by a conglomerate. (New Jersey–based NRT, for example, owns Sotheby's International Realty and the Corcoran Group.)
"I've been approached by the big guys," he said. "Who knows? Never say never …. It's still fun, so assuming that neither of the kids is interested in the business, I'll sell it when it isn't fun anymore."
Mr. Peters and his wife Alexandra have two children. Their 25-year-old son, Jack, who graduated with a degree in classics, is teaching middle school in Colorado. Jack's older sister, Clelia (named after the heroine in Stendhal's The Charterhouse of Parma), spent the last few years as a human-rights monitor.
They don't sound like the types to take over Dad's real-estate business. But Mr. Peters hasn't given up on the idea.
According to him, Clelia's interested in becoming a "green" consultant.
"As she moves along, I am planning to deploy her," he said. "Because it's something I'm increasingly interested in doing with the company—developing a green focus."
"I would love to have one of the kids join me, if that was something they wanted to do," Mr. Peters said later. "At the moment, it's not."
If Mr. Peters can't find a family member to hand the company off to, he said, he wouldn't stay on as an underling to a new owner.
"I'm a young man," he said. "I like to be on top. So does the idea of once again working for someone else appeal to me? No, it does not."