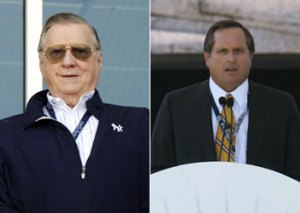 Amid the frustration and heartbreak in the Mets locker room after Game 7 of the National League Championship Series—the end of an illustrious season—the team owner, Fred Wilpon, made the briefest of appearances.
Looking withered and ghostly, he peeked over the shoulder of his general manager, Omar Minaya, saw that all was under control and promptly vanished.
By contrast, his son Jeff—the future owner of the New York Mets—had seemed to be everywhere throughout the series, hanging out before playoff games next to the batting cage, chatting with manager Willie Randolph one moment and a clutch of newspaper columnists the next.
This is all happening by design: Fred slowly fading into the background while his son moves forward into the harsh glare of the New York sports media.
In the Bronx, a similar dynamic is playing out, if in slightly less obvious fashion.
George Steinbrenner, who hogged the spotlight for most of his three decades as owner of the Yankees, suddenly seems much older, and has begun ceding the back page to the next generation: his son-in-law, Stephen Swindal.
Consider, for example, The New York Times' sports section last Wednesday, when a front-page article took the temperature of Mr. Swindal—and not Mr. Steinbrenner—in assessing ownership's feelings about reacquiring former All-Star pitcher Andy Pettitte.
It's a seismic change. Messrs. Steinbrenner and Wilpon, outsized principals in both organizations since 1973 and 1980, respectively, are looking more and more like figureheads.
The shift comes at a time when the notoriously testy relationship between New York baseball fans and the teams' owners is undergoing a rare era of good feelings.
In a way, it's because each of the owner families has, consciously or not, evolved to conform to the idea of what each team's fans expect from them. The Wilpons have temporarily assuaged the inferiority complex of Mets fans by giving their general manager the money necessary to assemble an all-star roster to rival the high-priced talent of the Yankees. And with Mr. Steinbrenner in a less hands-on role than he has ever played before, New York has been spared the ritualistic annual drama of the past, centered on whether or not the Yankees' manager will get the ax after each non-championship season.
"It's not clear what they'll be like in their positions," said Murray Chass, a columnist for The New York Times. "What is clear is that Steve Swindal will not be George Steinbrenner, and whether Jeff will be like Fred remains to be seen."
For Jeff Wilpon, things got off to an ugly start. He first entered the public scene in the late 1990's to head up the effort for a proposed new stadium that included, among other risible features, a movable dome and a retractable grass field.
After 9/11 finally wiped away those hopes and the Wilpons bought out Nelson Doubleday Jr. in 2002, Jeff became the chief operating officer of the team.
Then, for a time, it seemed as though things were getting even worse.
The team traded away golden prospects like Scott Kazmir and signed broken-down malcontents like Jeromy Burnitz.
The press went on the attack and pointed directly to Jeff Wilpon, painting him as a rich kid incapable of managing the franchise that his father was trying to hand off to him.
That's when Fred swooped back in, brought in Mr. Minaya and put him totally in control. The message was clear.
Jeff was left in control of smaller pet projects, like running the minor-league Brooklyn Cyclones and negotiating the terms of the lease for the team's spring-training home in Port St. Lucie.
In a way, Jeff was sent back to get educated and have a managerial style that resembled something more like his father's. But in the process, people near the organization noticed a change for the better: He grew up.
"He's finally getting it," said Bob Klapisch, a columnist for ESPN and The Record of Bergen County. "Four years ago, he just wasn't ready. Now, he's no longer a little kid who's taking over his inheritance."
"Give credit where credit is due—and it's not a coincidence that when this operation changed hands, it's gotten better. And Jeff has got to get credit for it," said Mike Vaccaro, the New York Post columnist who once dubbed him "Paris Wilpon."
While Jeff Wilpon has made some conspicuous footprints, Mr. Swindal, 52, is still somewhat of an unknown.
He has been married to Mr. Steinbrenner's daughter Jennifer for 23 years. He is a University of North Carolina–Chapel Hill graduate who, before joining the Yankees, worked with one of Mr. Steinbrenner's shipping companies.
He works out of the team's second headquarters in Tampa and has been a managing partner with the Yankees for nine years.
Mr. Steinbrenner has two sons, Hal and Hank, who have official titles in the Yankee organization but have never expressed interest in taking over the baseball operations. Mr. Steinbrenner strongly hinted that Mr. Swindal would take over in a news conference last June.
Mr. Swindal's reputation is that he fits perfectly into the Yankees' recent corporate model of efficiency rather than, say, Mr. Steinbrenner's free-styled chaotic control of the 1980's.
"I have a very high opinion of him," said Tyler Kepner, the beat reporter for The Times. "I think he's a good choice, because they're getting a guy who is just as committed to winning, but who also seems to be doing it with a different style that lends itself to a pretty cohesive front office."
Mr. Swindal, like the younger Wilpon, will be taking over at a historic moment: when the Yankees and Mets have their largest-ever fan bases and payrolls, and when both teams have the construction of new stadiums to oversee.
Now, the question is whether the two men will prove themselves capable of doing something that it took their dads several decades to figure out: signing the checks and leaving the rest to the professionals.