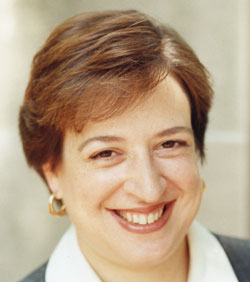 Harvard Law School dean Elena Kagan has a message for New York lawyers.
"Like New York City," she said in an annual state-of-the-school speech in September, "Harvard Law is in large part described by its scale and scope, and the energy and vibrancy that come with them."
Harvard is the New York City of law schools, in other words; and, in fact, the large, diverse faculty is the linchpin of her efforts to recruit top law scholars—away from New York City.
In at least one prominent recent case, the message seems to have sunk in.
On Dec. 7, the school announced that it had successfully extracted Noah Feldman from a comfortable post at New York University Law School. A jovial and popular teacher, a New York Times Magazine contributor, and a scholar of Islamic and American constitutional law, Mr. Feldman is as close as lawyers get to celebrity without being Johnnie Cochran.
Jeannie Suk, a.k.a. Mrs. Noah Feldman, had already gone off to Harvard. Like Mr. Feldman, Ms. Suk has an A-plus résumé, including a Marshall Scholarship and a clerkship on the Supreme Court. She graduated from Harvard Law School in 2002, and according to sources, in her first year, professors were already remarking about her potential to become a Harvard Law professor.
With interests in both family and criminal law, she presented a paper on the "changing legal meaning of the home," created by the use of orders of protection, at N.Y.U. and Harvard. She received offers at both schools. She accepted Harvard's offer in the spring.
"I chose Harvard because of my close intellectual relationships with people there. My decision didn't take Noah into account, because we agreed he would choose where to start his academic career, and I would choose where to start mine," Ms. Suk said in an e-mail. "I really love NYU and [dean] Ricky [Revesz] has been a great mentor to me."
Mr. Feldman had already visited at Harvard from 2004 to 2005, and was given a full-time offer. Those in the academy were watching closely where Ms. Suk would decide to go, as people figured he would follow her.
Still, Mr. Feldman didn't make his announcement right way, a fact that generated some anxiety at Harvard. Sources say Mr. Revezs was trying to come up with creative ways to keep Mr. Feldman at N.Y.U. Mr. Feldman was awarded a chair, a high honor for faculty members, making him the youngest recipient in memory. And this fall, when Ms. Suk was officially at Harvard, N.Y.U. gave her an office to facilitate her working in New York, as it does for other faculty spouses. The couple has a 17-month-old son.
Earlier this fall, Mr. Feldman accepted Harvard's offer, but the school delayed the announcement so as not to be a distraction during the semester.
"When Jeannie chose to start her career at Harvard, I really struggled," Mr. Feldman wrote in an e-mail. "I have really loved NYU. It's a fantastic, energetic place, full of colleagues whom I admire and respect."
The New York City of Law Schools pitch is all part of a larger plan. Ms. Kagan's deanship began in 2003, and one of her first announcements was that she planned to expand the faculty by 15, above and beyond replacing professors who were retiring. Since then, the school has added 15 full-time professors, including 10 who were lured from tenured jobs elsewhere, a number that's notable given the hiring logjam that the school faced for many years when ideological conflicts between faculty factions drove the appointments process to a standstill. Since Ms. Kagan took over, senior faculty from UCLA, the University of Chicago and Georgetown have relocated to Harvard.
Harvard—the third-ranked law school—has also had some success in wooing professors from Columbia, ranked fourth in the most recent US News & World Report. Gerald Neuman and John Manning are now both at Harvard. Legal historian John Witt opted to remain at Columbia.
N.Y.U. has also suffered the loss of two of the school's top constitutional scholars: Mr. Feldman and Daryl Levinson. But the school's faculty have proven to be resistant to Ms. Kagan's advances. Another constitutional scholar, Rick Pildes, declined this year, and legal philosopher Jeremy Waldron rejected an offer from Harvard to take a job at N.Y.U. As N.Y.U. faculty are fond of pointing out, the school successfully lured both Joseph Weiler and Richard Stewart from Harvard in the past.
Said Mr. Revesz, N.Y.U.'s dean: "We've had an even competition on the lateral front."
(Ms. Kagan responded: "I'm not counting that way.")
Still, Harvard's "giant sucking sound"—in the words of one professor—is the talk of the academy. "People see it as quite striking. They're very interested in it. Schools are finding that they're vulnerable to Harvard's depredations," said Mr. Waldron.
As the law school with one of the largest student bodies, Harvard has always invited lots of professors to visit for semesters. According to Ms. Kagan, one difference is that the school is inviting academics they have a sincere interest in hiring full time, not just those who fill a teaching need.
Columbia's eternally optimistic dean, David Schizer, has been bragging that Harvard and Yale have visiting offers out to 22 of the school's faculty members. It's "flattering to us because we have a great faculty," he said. (According to Ms. Kagan, the number of visiting offers to Columbia and N.Y.U. faculty was less than five each.)
But Ms. Kagan's is only an early shot in the firefight between the two schools. Mr. Schizer said that Columbia would be embarking on its own hiring spree in order to fill the 39 offices it is adding in its main law-school building. Last year was a rocky one for the school, which lost three valuable faculty members to its downtown rival, N.Y.U. Still, Mr. Schizer pointed to his recent hires from the University of Virginia and the University of Chicago, and insisted, "We are in a posture of aggressive growth."
"Competition is energizing … ," said Mr. Schizer. "Some people like Cambridge, but a lot of people like New York."
Those who have been on the receiving side of Ms. Kagan's pitch say she has a casual, warm approach—likely to take one up on an offer to cook her dinner, or send to an e-mail in a breezy style. They say she's a dean in the fashion of N.Y.U.'s current president, John Sexton, who took the closeness even further, earning a reputation as "the hugging dean."
"Sometimes when deans call you, you hear the trumpets blaring in the background," said Tim Wu, who has an offer to visit. "With Elena it's more like, 'Hey, what's up?'"
Those approached say Ms. Kagan doesn't single out the school where the faculty member is currently teaching, but talks about the vibrancy of Harvard under her leadership.
"I think that Elena is certainly very high on the quality of the students at the law school there, and she has a very strong sense of the future of the institution, the energy of the institution, the hiring they're doing these days," said Mr. Pildes, who ultimately decided that he was very happy at N.Y.U.
Something that Columbia and N.Y.U. cannot compete on is alumni connection. While the schools lag behind Yale, which is known for producing academics, Harvard is still ahead of other schools in terms of its alumni obtaining elite academic perches.
Proving such a preference is near-impossible, but the faculty do chuckle over moments such as the one during a faculty meeting to vote on an offer to Mr. Neuman, an esteemed constitutional and immigration-law scholar then at Columbia. One faculty member stood up and talked about what a great student he had been in the professor's first-year class. Mr. Neuman graduated from H.L.S. in 1980.
"Harvard has a pathological history of hiring its really good law students," said one faculty member who didn't attend the law school. Ms. Kagan disputed that view, saying that of five recent entry-level hires, two had graduated from Harvard, two from Yale and one from the University of Virginia law school. "We produce incredible people who have incredible academic careers," she said.
But the preference often works in the other direction. "In some ways for me, moving to Cambridge is moving back to Cambridge. I lived here for quite a while," said Mr. Neuman.
"Look, I'm a New Yorker myself, so if I tell you that what I believe about this school is that it's the most exciting place in the universe, the metaphor is a little bit of a natural one," said Ms. Kagan. "I think some people roll their eyes at it: 'We're in Cambridge. What are you talking about?'"
She laughed. "Maybe that metaphor hurts me when it comes to recruiting New Yorkers. I have to think about that. Maybe I'll drop it."
Not so fast! If Mr. Feldman's announcement is only two weeks old, it's not because he's immune to the charms of Harvard Square.
The Middlesex South Registry of Deeds lists Noah Feldman and Jeannie Suk as the buyers of a house in Cambridge for $2.8 million. According to city records, the 1873 Victorian home has a pool, nine bedrooms and five fireplaces.