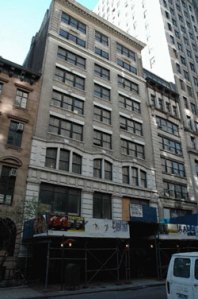 The eastern Upper East Side is probably the only neighborhood that beats the Flatiron district (think of all the jocky bars!) for attracting baseball stars.
And so, in a way, it's not a surprise that All-Star third baseman David Wright, according to a source with knowledge of the deal, has signed a contract for the 4,109-square-foot penthouse at Infinity Flats, a new condo development on 21st Street just east of Broadway.
The full-floor apartment was listed for $6.5 million, but the source said Mr. Wright's purchase price would be somewhat cheaper.
"The space is grandiose," said Infinity project director Sharyn Stuart. "It's large—it's grand space. It's not something you would expect in the middle of Flatiron."
"The living room is 43 feet by 20 feet, and there's a floating staircase that leads up to a glass atrium," listing broker Linda Fenn said. (The outdoor space on the private roof, incidentally, is 710 square feet.)
According to Ms. Fenn's listing, the home-run hitter will be walking on white-oak planking with walnut inlays.
And there's a really fun pantry!
"Another fun feature is a very large pantry area," Ms. Fenn said. "It's twice the size of some bedrooms in New York."
A 2005 Major League Baseball article lists Mr. Wright as a Lower East Side resident. The new Flatiron penthouse is more athletic: For example, there's a media room with a wet bar.
"I think the single guys will have the poker table in there, and the big, huge flat-screen TV, and the big, huge comfortable couch," Ms. Fenn said.
Will the bar come stocked? "Well, if you're a special enough buyer, I'm sure we can find a way to do that."
There may be more special buyers at Infinity. According to another source with knowledge of the building, two-time Super Bowl M.V.P. Tom Brady has taken a look at apartments there. But the quarterback isn't a Manhattanite—he plays for the New England Patriots.
First Thing, Bill the Lawyer!
Marc Bern is a personal-injury lawyer—a very prolific one. So he wanted to avoid lawyer-weary co-op boards when he went apartment-hunting this year.
In November, he closed on an eight-room setup at 944 Park, one of the neighborhood's few prewar condos.
According to city records, he paid $8.75 million to a family trust belonging to music producer Mark Ross.
"His father was Steven Ross, who started Time Warner," said Mr. Bern. (The late Mr. Ross was the head of Warner Communications when it merged with Time Inc. in 1989.)
When they bought the 14th-floor condo, Mr. Bern and his family luckily avoided the Upper East Side gatekeepers. "Co-op boards do have an aversion to attorneys," he said. "And I'm a litigator—I spend my life in court and suing people."
According to its Web site, his firm Napoli Bern Ripka represents plaintiffs in the Fen-Phen and Exxon Mobil Greenpoint oil-spill disasters, as well as the World Trade Center attacks.
Mr. Bern said his new apartment has other perks besides that condo factor. The place "met literally all of our needs: three bedrooms plus a maid's room, four and a half baths, a generous kitchen, family room, and all the space of a home that you might find in one of the suburbs."
Listing broker Michael Kafka (little or no relation to Franz) brought up maids, too.
"It's very rare for a prewar apartment's kitchen to have any kind of light," he said, "because traditionally they were meant for servants, you know."
Cruel times, they were.
Mr. Kafka said the place had been freshly renovated. "A slightly Southwestern palette—but much fitting into the Upper East Side palette as well. A very Zen-like palette."
Mr. Bern's colors are not at all mixed.
"Um? I'm redecorating the apartment," he said.
What colors?
"In Southampton, for instance"—meaning his 15,000-square-foot summer place—"we're looking at a Matisse, yet we have Botero, Dali, Larry Rivers, Auerbach. Very eclectic."
Ah, the color of money.
The Ultimate Buying Machine
This fall, iconic ad man Martin Puris sold his 79th Street duplex to billionaire Christopher Flowers for a reported $19 million. He downsized last month, buying a two-bedroom apartment at the stately brown-brick 160 East 72nd Street co-op. According to city records, he paid $5.8 million.
"It got to be a little big; it got to be a little lonely," Mr. Puris said about his old duplex. "I was sitting there all by myself."
But will his loneliness lessen? His wife and child still live in Sagaponack. "I'm here all week long, and our daughter comes in once in a while. And my wife is out there most of the week," he sighed.
But according to Ann Jeffery's listing at Brown Harris Stevens, the seven-room apartment is "beautifully proportioned [and] designed for elegant entertaining as well as comfortable living." So Mr. Puris can always entertain—or at least be alone comfortably.
Upper East Side luxuries include a mahogany dressing room in the master suite, plus "his and her baths," a wine cellar and a "double maid's room." (Single maid's rooms are for the hoi polloi.)
According to Mr. Puris, John Saladino designed the apartment for its previous owner. (The seller is listed in city records as David C. Clapp, a retired general partner at Goldman Sachs.)
"He's a great decorator, so we won't do all that much to it," Mr. Puris said about the Saladino work. Reportedly, the celebrity interior designer's signature color is periwinkle blue.
The building, between Lexington and Third avenues, is one of five co-ops on East 72nd that made Tom Wolfe's 1985 list of Manhattan's "good buildings." The place was built in 1928 by the robber baron Jay Gould.
"We loved the building—Romanesque, strange and wonderful," Mr. Puris said.
Yet by the New Year, he'll be spending much of his time in the sun-and-horses south. "We have a house in Florida; my daughter is a gifted little show jumper, and my wife and I both ride. So January, February and March, I commute on weekends." Mr. Puris works in Manhattan as the chief executive of a marketing start-up called Not Traditional Media.
Back in 1975, while still a copywriter at his firm Ammirati & Puris, he dubbed BMW's "the ultimate driving machine." That kind of slogan buys good apartments.