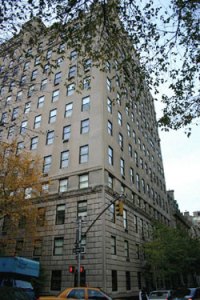 Watch out, Rupert Murdoch! If philanthropist Loida Lewis gets what she's asking for her ninth- and 10th-floor duplex at 834 Fifth Avenue, Mr. Murdoch's record-breaking purchase (right upstairs in the same building!) will be relegated to the celestial dustbin of Manhattan real estate.
Ms. Lewis, widow of the late billionaire C.E.O. of Beatrice Foods, wants $45 million for her 15-room apartment, with a master bedroom and 640-square-foot living room overlooking Central Park; that's a million more than Mr. Murdoch paid in 2005 for the triplex penthouse upstairs.
If the asking price is only just inches above the Murdoch deal, consider that this apartment is one floor shorter and four floors lower than Mr. Murdoch's 2005 purchase.
Considering how ambitious that sounds, could the duplex break Mr. Murdoch's co-op record?
"Sure," said Jonathan Miller, president of the real-estate appraisal firm Miller Samuel. "It's not out in left field."
That's because listings are rare at 834 Fifth, one of the first three super-luxury buildings designed by super-luxurious Rosario Candela.
Ms. Lewis' apartment has seven and a half bathrooms, four wood-burning fireplaces, a "restaurant kitchen" and "breakfast room" and even a one-bedroom "mezzanine" apartment between the ninth and 10th floors.
Exclusive broker A. Larry Kaiser IV, president of Key-Ventures, declined to comment for this story. But he was willing to describe his history with the duplex:
"Years ago, it was the apartment of Melissa Bingham—Mrs. Harry Payne Bingham. I sold it from Mrs. Bingham to Horrace Dodge Jr.'s widow, Gregg Dodge Moran. John DeLorean purchased it from Gregg, and then I sold it from John DeLorean to Mr. and Mrs. Lewis in 1992."
According to Steven Gaines' 2005 book The Sky's the Limit, the African-American mogul and his Filipino-born wife were two of "the few people of color to own an apartment in a 'Good Building' on Fifth Avenue."
Queer Eye for the Brooklyn Brownstone!
A Brooklyn brownstone is about to get a makeover à la Queer Eye for the Straight Guy.
Swishy television foodie Ted Allen, who tells heterosexuals what to eat on the hit Bravo program, has sold his $2.75 million five-room loft at the chic Chelsea Atelier to go renovate a brownstone in Brooklyn.
He would not disclose his new Brooklyn neighborhood, but said he's found "plenty of nice places to eat in Cobble Hill and Carroll Gardens," and that he also likes Fort Greene/Clinton Hill.
In any case, the brownstone is not in shiny-new-condo condition. "The kitchen is going to need a little Barry treatment."
And what will that amount to?
"Coke-palace 70's décor—in this ancient period space," said interior designer Barry Rice, Mr. Allen's partner.
A little bit of Chelsea right in brownstone Brooklyn!
According to broker Ed Hickey's listing at Meisel Real Estate, the 2,258-square-foot apartment Mr. Allen just sold, designed by Mr. Rice, is square-shaped. The kitchen, which sits in the center of the square, is perhaps unsurprisingly Mr. Allen's favorite part of the apartment.
"Barry designed a kitchen that was at once really sleek and gorgeous and well-equipped. It's kind of a Viking-palooza."
The center of the box is the "truly miraculous dream kitchen," according to Mr. Allen, "that you'd be happy to have in Des Moines, let alone in Manhattan."
But Iowans don't have 150-bottle-capacity wine coolers. And sadly, they often lack twin dishwashers. "It's a fantastic thing to have both—if you're ridiculous enough to have two," Mr. Allen said.
His partner designed the space so that a large foyer separates the master bedroom from the suite for guests. "It's really private for them." Mr. Allen said, "They can stay out of our hair."
According to Mr. Hickey, the apartment sale has closed. Why did the couple feel like leaving? "We wanted to have a yard, and a little single-family house, and a place to barbecue and grow plants."
So, naturally, he and Mr. Rice bought a brownstone. "At this stage in the game, the stuff I want to do has less to do with 24-hour craziness and nightclubs than having a great private space."
You Outbidding Me?
For some people over at 88 Central Park West, one apartment just isn't enough.
Last October, Robert De Niro paid $20.9 million for a fourth- and fifth-floor duplex in the building; more recently, he bid on another apartment in the building, which was put on the market by society broker Kirk Henckels and his wife Fernanda Kellogg.
Turns out Mr. De Niro lost to N.J. Nicholas Jr., a director of medical behemoth Boston Scientific who in the early 1990's was ousted as the co-chief of Time Warner. (The New York Post reported on Mr. Henckels' sale but didn't name the buyer—or the losing bidder.)
And like Mr. De Niro, Mr. Nicholas already had a place in the 69th Street co-op building. According to a source familiar with the deal, his original apartment is a duplex on floors eight and nine.
So unlike Mr. De Niro, Mr. Nicholas will be able to knock down the wall and combine the apartment he already had with the one he just bought.
Mr. Henckels, who is the director of Stribling Private Brokerage, would not discuss the deal. But he described his old apartment as "just one of those wonderful, architectural, voluminous spaces that 88 Central Park West is famous for. And bright and open!"
"In spite of all the celebrities," he said, "it has the best karma of any building I've ever been in. Everybody gets along—there's a very egalitarian sentiment in there."
The Highest Penthouse in Soho, for $26.5 M.
Soho has long been the dead zone for hipsters and artists and other tourist-hating types.
But the era of extravagantly high-end real estate is far from over.
The duplex penthouse at the New Museum Building on Mercer Street, all 7,437 square feet of it, was scheduled to hit the market on Jan. 10 for $26.5 million.
Is the penthouse more magnificent than the upcoming Trump Soho tower?
"Trump's is a condo hotel," said Prudential Douglas Elliman executive vice president Leonard Steinberg, who shares the listing with Sotheby's broker Stephen McRae. "This is not about having your breakfast delivered to you. It's about having full-time help, more than likely."
According to public records, William Kriegel owns the penthouse (as the sole member of the limited-liability corporation BKM Associates). Mr. Steinberg said the owner's children have flown the penthouse coop; so it's time to sell.
Mr. Kriegel has deep ties to the New Museum Building.
"He bought the whole building to get the penthouse, and developed the whole building as well," Mr. Steinberg said. "He's not a developer by trade, he just wanted this penthouse so badly."
His purchase year isn't clear from city records, but Mr. Steinberg said it was 1996. Back then, the 1895 Beaux-Arts building was empty, with the exception of Marcia Tucker's New Museum of Contemporary Art on the bottom floor.
Considering his history, Mr. Kriegel will probably move on in style.
"The owner of this apartment developed the penthouse that Rupert Murdoch recently sold on Prince Street," said Mr. Steinberg, referring to the $24.675 million apartment that the media mogul sold to fashion designer Elie Tahari in December 2005.
At its current listing price, the New Museum penthouse costs nearly $2 million more.
Why?
"It's really magnificent," Mr. Steinberg said earlier, "like in the world-class realm of magnificence." As evidence, he pointed to the 12-foot ceilings, which are minute compared to the 2,500 square feet of outdoor terraces (not including planting space).
There are six bedrooms, too, plus two elevator landings.
And:
"This imposing duplex," says the listing, "is located on the highest floor in Soho."