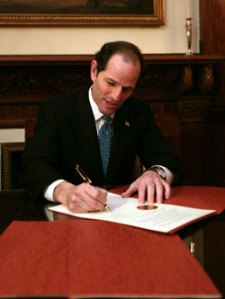 Immediately after climbing the 77 steps of the Albany Capitol for a photo op with his predecessor, a slightly winded Eliot Spitzer told departing Governor George Pataki that he felt like Sylvester Stallone in Rocky.
A few hours later, during his inauguration, Mr. Spitzer displayed his fighting spirit by declaring, in front of the state's incumbent leaders, that New York, like some Rip Van Winkle, had "slept through much of the past decade."
"We chose pragmatism and ethics over partisan politics and dysfunction," he declared, "and we demanded an end to gridlock."
As Mr. Spitzer spoke, the press jostled for every available inch of space on the risers, eventually overwhelming the vain efforts of a young aide to segregate print from video.
The crowd of several thousand cheered behind metal barriers set up at the capitol's first-ever outdoor inauguration of a New York Governor, while an assemblage of city and state dignitaries crowded the stage area. Even the iron-fisted legislative leaders Sheldon Silver and Joe Bruno—the very targets, presumably, of Mr. Spitzer's reformist campaign—strained to seem pleased with the new Governor's message of clean-sweeping reform throughout an address that included a thicket of references to "ethics," "dysfunction" and problems mishandled by the Legislature.
So began the honeymoon period of Mr. Spitzer's Governorship, the first and probably best opportunity for him to put into practice the dramatic ideas for reform that he has preached throughout his long campaign for the state's highest office.
His initial actions as an executive lived up to the promise of his campaign, as he signed a series of executive orders aimed at improving public access to the workings of state government and removing campaign contributions and party affiliation as considerations in who gets jobs with the state.
And Mr. Spitzer is fresh off another victory of sorts in the matter of State Comptroller Alan Hevesi, who acceded to Mr. Spitzer's wishes—just days before the new Governor took office—that he resign his post after being found to have used a state employee to chauffeur his wife around the capital.
In short order, though, it's going to become much more difficult for the former State Attorney General to hold himself so pristinely above the fray.
Mr. Spitzer's honeymoon, as good-government lobbyist Blair Horner put it, "lasts until the first fistfight."
Already, Mr. Spitzer seems to have made concessions to political reality in some of his choices for key posts in his administration.
While their collective professional credentials are generally impressive, Mr. Spitzer has clearly placed a premium on loyalty, filling many of the top jobs with staff members from his campaign and the attorney general's office, or with close associates of important political allies.
Mr. Spitzer's choice, for example, for Secretary of State—a post that regulates a host of licenses issued by the state—was Lorraine Cortés-Vásquez, a former Cablevision lobbyist and ex–chief of staff to former Bronx Democratic chair and Assemblyman Roberto Ramirez.
And Mr. Spitzer installed in an as-yet-unspecified state position former State Senator Carl Andrews, a longtime operative in the Brooklyn Democratic organization under former leader Clarence Norman Jr., who was eventually sent to prison for misappropriating campaign contributions. (Mr. Norman's support was a crucial element of Mr. Spitzer's victory in a four-way primary for attorney general in 1998.)
Even before the transitional hiring process has been completed, Mr. Spitzer is going to have to begin dealing in earnest with Mr. Silver and Mr. Bruno, both of whom have proven more than willing to bring the business of the state to a complete halt in the pursuit of their legislative aims.
Mr. Silver, who as Speaker of the Democratic-controlled State Assembly has arguably been the state's most influential Democrat since 1995, when Mario Cuomo left office, doesn't seem inclined to yield his position of influence to the new Governor.
Outside the Assembly chambers on Inauguration Day, Mr. Silver told reporters that he was thrilled by Mr. Spitzer's speech, and didn't think he or his conference was singled out by the references to ethics.
"I think it was very clear his references were to the prior administration," Mr. Silver said. "I think, correctly so, this Governor very artistically referred to the prior administration—that example of Rip Van Winkle."
Mr. Silver moved on to talk about policy priorities, like pre-kindergarten child care and reduced class sizes, in advance of the policy-laden State of the State address scheduled to be delivered less than 48 hours later by the new Governor.
"The Assembly majority was really in the minority in this government for the last 12 years," Mr. Silver said, "and our job was to make sure that the bad things proposed for good people didn't happen in this state. Now our jobs will be to make sure that the good things proposed for good people happen in this state. That's going to be the difference in all of our roles."
But Mr. Silver seemed somewhat less enthusiastic when it came to some other of Mr. Spitzer's declared legislative priorities.
When asked about one of Mr. Spitzer's calls to require broader disclosure by lawmakers of their outside incomes, Mr. Silver said: "I think we can go and do something to modify the current law, which requires disclosure, and be more specific on it."
(Mr. Silver, it may be worth mentioning, is "of counsel" with the law firm of Weitz & Luxenberg and has declined to state publicly how much he earns in that capacity.)
Mr. Bruno, the majority leader of the Republican-held State Senate, didn't seem anxious to say much at all after the inauguration.
After Mr. Spitzer's speech, he worked his way through the halls of the capitol, greeting passersby, while one of his aides told a reporter that the Senator had no time to comment.
Finally, in response to a shouted question, Mr. Bruno smiled and said, "It was an excellent speech. And it was well delivered."
Then he continued down the hall.
On the second day of the new administration—"Day 2," in Spitzer parlance—good-government groups released a wish list of their own.
In a small room in the basement of the Legislative Office Building, Mr. Horner, a lobbyist for the New York Public Interest Research Group, and Rachel Leon, executive director of Common Cause N.Y., outlined the proposals, which include mandatory ethics training for lobbyists and lawmakers and a ban on lucrative speaking fees for public officials.
When asked about the ironic (and very real) prospect that Mr. Spitzer would have to engage in backroom horse-trading with the leaders of the State Legislature in order to get such reforms passed, Mr. Horner said that, given the reality of what the new Governor is up against, he and his colleagues would be entirely prepared to live with it.
"You have to make a moral judgment," he said. "If the price for getting major reform bills passed was in somehow leading to other people getting hurt, that's a bad deal. If reform somehow gets done and it's linked to legislators, for example, getting member items, it's related.
"The horse trade may be acceptable," he said, "if no one gets hurt."