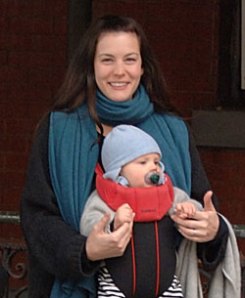 At the Perch Café on Fifth Avenue in Park Slope, where neighborhood parents take their tots for early-morning sing-alongs, Roxanne Jacobson was buckling her son, 17-month-old Geir, into his stroller the other day. "It's Norwegian," she said of his name. "I love the sound of it."
Nearby, nanny Katie MacDonald was attending to a 1-year-old girl named Mitra, and his 3-year-old brother, Sirus (pronounced Zi-roos). Both names are Iranian. "Some people have a hard time pronouncing Sirus' name," Ms. MacDonald said. "They'll call him Cyrus."
Meanwhile, Sonia Murrow shoved mittens on her chilly 2-year-old, Talia. "It could be Hebrew, but it could also be Greek," Ms. Murrow said. "We just liked it. It matches her last name."
Welcome to the latest vogue among well-to-do New York parents: giving babies names that are foreign (never mind if they're from your or your partner's actual country of origin), "unusual" or downright incomprehensible. In a city where you can't control which preschool your kid attends, or even the size of her bedroom, this is one way you can try to influence her destiny—and show how clever you are in the process. Why have a Sophia when you could have a Zosia? A Zeus could take down a Jack in the sandbox, no? And one figures an Aoife might have a better chance of getting into Horace Mann than a Grace—as long as she can spell her own name, that is.
Move over, Milo and Shiloh. In November, Matt Lauer and Annette Roque welcomed their third son, a boy named … Thijs. (Pronounced "Tice," it's an abbreviation of the Dutch variation of Matthew. At least Ms. Roque is Dutch.)
"In New York, it seems that everyone is trying to come up with the most original name—it's almost not original!" said Erica Lumiere, an Upper West Sider and mother to Oliver, 2, and Francesca, 3 months. "You go to the playground, and everyone has names like Atlas and Raphael." Indeed, a recent trip to 85th Street and Fifth Avenue found 4-year-old Lachlan scrambling up a slide, while a nanny cooed to a baby boy named Liv ("Nordic for 'love,'" she said, though further research revealed that it's actually Nordic for "defense"). Meanwhile, Robert Gladding, a bristly, bearded Upper East Side dad, scooped sand with his two daughters, toddler Aimée (pronounced ah-may, not ay-may) and 4-year-old Oona.
"We picked them for the sound," he said. "We almost spelled it Una, but we decided the two o's was prettier just to look at. We're a very vowel-rich family."
Online, meanwhile—where Googling and eponymous Web sites have upped the ante for self-branding—anonymous expectant mothers post name polls every few hours on the popular Web site Urbanbaby.com. "Stuck in a baby name rut with nothing I love," wrote one woman. "Need some inspiration." Respondents offered Narissa, Amira, Mayher and Manelna, just to name a few.
"A general rule of thumb in creating new names today is you can't let any of the consonants touch each other," said Laura Wattenberg, programmer of the Baby Name Wizard Web site, which graphs the popularity of any name you type in over the last 100 years. "There's been a huge shift, where parents are in a desperate hunt for novelty," she said. "Everyone is determined that their children's name should stand out. No one cares about fitting in anymore."
"I was thinking of 'Bookcase' for a girl," said the ditzy secretary character Cerie on a recent episode of 30 Rock, not altogether ridiculously. Literature is a common inspiration for New York parents seeking a name with extra oomph. Brandy Keenan, the former director of the Lennon, Weinberg gallery in Chelsea, named her 3-month-old daughter Eowyn (pronounced ay-oh-winn), after a character in The Lord of the Rings. Her 2-year-old son is named Phineas, after a character in the John Knowles book A Separate Peace. Both names tend to confound new acquaintances. "At the pediatrician's office, when Phin was born, it took them a while not to say 'Fin-ah-us,'" Ms. Keenan said. "Eowyn is a lot harder for people. I get a lot of E-o-win, or they think her name is Edwin and I misspelled it. It's an old English spelling, so I kind of asked for it."
Meanwhile, Michele Barber, an art director for Oxford University Press, named her son Langston Toussaint (after both the African-American poet Langston Hughes and the Haitian revolutionary Toussaint L'Ouverture). "I think it sounded pretty dignified, and I liked the way the names came together," she said. "People like it across the board, but across the board I have to spell it. I'm just hoping it doesn't hold him back."
Not to worry, said Lydon Vonnegut (no relation to Kurt), an elementary-school teacher at Colleg­iate. "I don't see that many kids getting a lot of guff," she said. "There are so many unusual names that the kids don't really notice anymore. We have quite a few kids that have names that aren't derived from English. They're all so unique." Ms. Vonnegut added that she was teased as a kid and wished for a different name. "I wanted to be more like everybody else," she said. "But it wasn't traumatic by any stretch."
Not everyone is hopping onboard the bizarre baby-name bandwagon, of course. At Every Day Athlete Studio in Carroll Gardens the other day, a passel of parents was balancing their little ones' bare feet for Bungee Baby, a variation on the area's ubiquitous mommy-baby yoga classes. "I didn't want one of those odd names," said Sarah Segal, a television reporter turned stay-at-home mom. Ms. Segal and her husband, an associate creative director, opted for the classic Isabel. "It went well with her last name," Ms. Segal said. "It was a visual-design thing."
"A lot of parents are unique with the spelling of their kids' names, like Madison spelled with a 'y,'" said Lauren McBride, a master's candidate and mother of 4-month-old Alexander, with some disgust. "When you hear a name like that, you feel bad for the kid."
And speaking on the phone later, Pilar Guzman, the editor in chief of Cookie magazine, Condé Nast's tot-oriented shopping magazine, recalled with a twinge of pain the difficulty her childhood contemporaries had in pronouncing her seemingly simple name.
"Even though Pilar is a relatively easy two-syllable name, you can't imagine how it was bastardized," she said. "As a kid, instead of having the instinct to say your name more loudly when you hear it mispronounced or misunderstood, your instinct is to retreat into yourself, because it's embarrassing. During those formative years, all you really want to be called is Jenny."