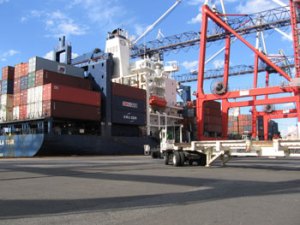 Just a couple of years ago, the container port in Red Hook, Brooklyn, looked doomed.
It was doing less than 1 percent of the Port Authority's business. Deputy Mayor Dan Doctoroff wanted to replace its orange cranes with cruise ships. And real-estate developers were gnawing at the edges, trying to convert onetime warehouses into market-rate condos with splendid views.
But fierce reactions from neighbors and politicians who want to hold tightly to the "working waterfront" of Red Hook's storied past spurred the city's Economic Development Corporation to temper this condos-and-cruise-ship formula.
So the E.D.C. has proposed a little bit of everything in the 150-acre waterfront that's now going through a rezoning. The map that E.D.C. put forth in September of piers 7 through 12 shows a beer garden, restaurants, warehouses, a hotel with a conference center, offices, light industrial buildings, a marina, a boatyard, a hotel, art galleries and artist studios, retail shops, offices and something called a "Dynamic Maritime Marketplace."
Oh, and two piers for break-bulk cargo, container ships and a second cruise-ship terminal. (The first cruise-ship terminal opened last April.)
"The city's plans would effectively preserve the industrial nature of the piers and combine it with recreational and commercial uses as well," said Craig Hammerman, the district manager of Brooklyn's Community Board 6. "I think that it has been quite a challenge to fit all the pieces together."
At first, it looked so simple.
In 2003, the city began planning for the super-huge post-Panamax ships (pop. 4,000) that would need larger berths than those available at the 1970's-era Passenger Ship Terminal on Manhattan's West Side. Before it could announce any plans, Royal Caribbean International decided to start berthing two of its ships in Bayonne, N.J., because the West Side was getting too crowded.
Hell, if a cruise line was willing to move to New Jersey, convincing one to move to Marlon Brando's old turf would be a cinch, wouldn't it? (In fact, around the same time, Carnival approached the city with an offer to build a terminal in Red Hook.)
The E.D.C. commissioned a consulting firm, Bermello, Ajamil & Partners, which predicted 1.5 million passengers sailing into and out of New York each year within a decade—triple the number in 1998. The report, which The Observer obtained through a Freedom of Information Act request, called for three super-sized berths in Red Hook. The piers are owned by the Port Authority and run by a cargo operator, American Stevedoring, that has been doing a respectable business since taking over 13 years ago (even if most of the cargo must be shipped via barge to Newark, where it can be put onto trains).
The only problem with cruise ships is that they don't employ a lot of people on land. What's more, those jobs tend to be weekend jobs. In fact, according to the Bermello report, the main reason why the city needed to build two or three extra cruise-ship berths in Red Hook, in addition to modernizing the ones on the West Side, was because "all of the sought after weekend slots will be committed from 2005 forward."
Carnival said that it would bring the equivalent of 863 full-time jobs, according to a 2004 report by another consultant, HR&A. The city's later estimate of 600 was more modest, although even then it was counting spin-off jobs. Then E.D.C. cut the job number down to 290, but most of those were just porters and others who showed up the 40-odd days a ship called in port. Finally, the E.D.C. coughed up this number: Just eight to 10 people work full-time at the current cruise-ship terminal.
"That's the nature of maritime jobs," said Janel Patterson, an E.D.C. spokeswoman. "They work on berthing days. These include unionized stevedoring jobs as well as ticketing agents and other support staff."
But eight to 10 full-time jobs, or even 53 to 55 full-time-equivalent jobs, on 15 acres of land doesn't look good when one is trying to milk a precious resource like New York real estate.
Even the E.D.C.'s rezoning proposal, relying on Port Authority numbers, counts 330 jobs at the Red Hook cargo and warehousing operation on an average day, which comes to about 5.5 jobs per acre. (The cargo operator, American Stevedoring, says it employs 765 people, including drivers, which puts the yield at 12.75 per acre.) The current cruise-ship terminal yields about 3.7 jobs per acre.
The way the E.D.C. gets its job numbers up has very little to do with cruise terminals, like hosting a beer-distribution company that would move 400 jobs from Queens and hire another 100. Together with the part-time cruise-ship jobs, E.D.C. can boast of creating or retaining 1,300 jobs in its plans for piers 7 through 12, though it's unclear how many are full-time.
What's more, these are "water-dependent uses" that nostalgists and pragmatists alike agree will conform to the essence of Red Hook.
But when it comes right down to it, the future of cargo at Red Hook—specifically containers, those 20-to-40-foot-long train cars that are raised and lowered from ships via 100-foot-tall cranes—is the crux of this debate. And industry leaders, community members and elected officials—particularly Congressman Jerrold Nadler and City Councilman David Yassky—have all come to this shaky future's defense.
"My view is, the container port is an important source for good-paying, blue-collar jobs," Mr. Yassky told The Observer. "My sense is that shipping in Brooklyn could be providing many, many more jobs than what it is today. The policy for the Port Authority, and unfortunately the city, is more directed at getting rid of the container port than expanding it."
When it comes to the E.D.C.'s plan to push the cargo and warehousing operation, now occupying five piers, onto two, Mr. Yassky said: "I don't think anybody thinks that seriously would work. That's just a way of saying that they are maintaining cargo operations without really doing so."
Matt Yates, a spokesman for A.S.I., the private port operator, said that the E.D.C. plan would convert the company's best container berth, Pier 10, into the new cruise-ship terminal. The one pier left for break-bulk and container operations would be too small for many vessels, he added.
All this is not to say that the cargo operator enjoys universal support on the ground. Red Hook is sparsely populated and poorly linked by public transportation, and some residents see more retail and housing as the key to making the neighborhood livelier.
"I think the container ships could in fact operate more efficiently with a smaller site," said John McGettrick, co-chairman of the Red Hook Civic Association. "The cruise ships have not employed as many residents as we would have liked, but they have employed more Red Hook residents than A.S.I. has. Also, the cruise ships are complementary for a commercial and residential revitalization of the area."
But the miniaturized cargo operation would not remain for long. The E.D.C. says it wants a third cruise-ship terminal at Red Hook, but hasn't specified which use outlined in the new plan it would displace. On the other hand, even the port's supporters say that cargo cannot remain in Red Hook forever, but will have to move a couple of miles further south.
"From any long-term perspective, the major port should be in Sunset Park," Mr. Nadler told The Observer. "But you should not shut one and not bother to open another one."
And so the E.D.C. has begun talking up a plan to modernize the South Brooklyn Marine Terminal, a series of underused piers between 25th and 65th streets, expanding the rail system to permit sea-to-land connections. A chart produced by the E.D.C. and distributed to local officials shows this plan costing $100 million, on top of the $330 million that the city would have to invest to make its plans for the Red Hook piers work.
The Sunset Park plan wouldn't entirely replace the space lost in Red Hook, however, but it does call for two cranes (instead of Red Hook's six) that would permit the 39th Street pier to dock 200 vessels annually, according to the chart. And a cement company has begun unloading barges on another pier, with another contract for a similar operation in the works, according to the E.D.C.
Mr. Yassky considers the Sunset Park plan "not for real shipping" and asserts that it came only in the face of fierce opposition to the Red Hook plan. (The E.D.C. spokeswoman said the plan had long been in the works.)
At this point, both he and Mr. Nadler have set their hopes for Red Hook on the Port Authority. So far, of course, the Port Authority has played along with the city's cruise-ship plans, in the name of greater economic development for everyone. (It also pays money to maintain the piers.)
But Mr. Nadler sees a fresh opening: Governor Eliot Spitzer has control over half of the Port Authority's board and the executive director.
"We talked to [Spitzer's] transportation people before they took office, and they said they wanted to review everything," Mr. Nadler said. "One thing they said for sure is that we will have a freight policy. Red Hook is just a small part of that, but that's what we need—some sort of freight policy, whether it be in Red Hook or in Sunset Park. They cannot just look at piers 7 through 12. I understand that."
The lease for the cargo company, American Stevedoring, comes up at the end of March. The city expects to take over all the piers at that point. But, through the E.D.C., it has been negotiating with the Port Authority for more than a year, without reaching—as of yet—an agreement on the takeover.