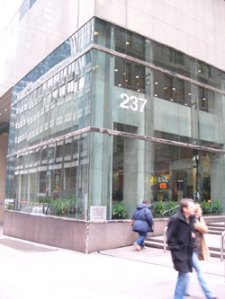 When it comes to the relentless pursuit of prime Manhattan real estate in the last six months, Bear Stearns is unmatched.
After taking 240,000 square feet in two leases last year, the I-bankers are closing in on a 106,000-square-foot expansion at 237 Park Avenue, according to three sources. They said the deal is imminent.
Bear Stearns already has 148,000 square feet at the Park Avenue Atrium at 237 Park, and will expand by taking space once held by Revlon.
While most brokers are still rubbing their eyes in the wake of the New Year, Bear Stearns has smashed through the gates with a lease that's the largest deal of 2007 so far.
And if I-bankers are an aggressive group by nature, then Bear Stearns has used that edge to seek out large blocks of space: Add it up, and the firm will have taken nearly 350,000 feet in midtown north in the last six months.
Last year, Bear Stearns signed a lease for 90,000 square feet at 320 Park Avenue (where it already had significant space), and inked a 15-year-lease at 237 Park for the 148,000 feet.
The rents on the 237 Park deal last year were for $64 per foot for the first five years, $69 for the next five and $74 for the last five, according to a market report. Rents will run somewhere close to those for this latest massive expansion.
It makes sense that Bear Stearns would be eager to strike these deals in the last six months. The investment bank and security-trading company saw its net income rise 40 percent, to $2.1 billion, and its stock swell 41 percent in 2006.
Of course, Bear Stearns' good fortune is every other prospective tenant's bad news.
Those looking at the very tiny number of available subleasing chunks of space in midtown north will now have to scratch another off the list.
The only subleases available now are 156,000 feet from Time Life at 1271 Avenue of the Americas; 166,000 from J.P. Morgan at 277 Park Avenue; 122,000 from Citigroup at 399 Park Avenue; and 115,000 feet from Thelen, Reid, Brown, Raysman & Steiner at 900 Third Avenue, according to a market report from GVA Williams.
Monday Properties and Beacon Capital Partners manage 237 Park Avenue, which is between 45th and 46th streets. David Levinson, formerly of CB Richard Ellis and now a principal at L&L Holding Company, repped Bear Stearns.
Speaking of large leases!
The law firm that has the ear of every major hedge fund in the city, Schulte, Roth & Zabel, has signed a lease for an 88,000-square-foot expansion at its headquarters at 919 Third Avenue.
Just like Bear Stearns, the firm found expansion room right at home by subleasing space from mega Euro bank BNP Paribas.
"We have a lease out, and it's been signed by the party," confirmed Jeffrey Lenobel, a partner at Schulte, Roth & Zabel. "We're just waiting for landlord consent and I think we're basically done."
Mr. Lenobel said he expects the landlord, Reckson Associates, to offer its consent as early as Jan. 16.
The law firm will take the third and fourth floors, with 44,000 square feet on each one. Schulte, Roth & Zabel already has a sizeable presence in the 1.3-million-square-foot building, with 280,000 square feet on floors 19 through 27 and on the 11th, said Mr. Lenobel.
The sublease on the third and fourth floors is a nine-year deal that runs through 2016. Their lease on floors 19 through 27 is good through 2021. The law firm will take possession of the new floors later this year, after they've been refurbished.
Mr. Lenobel wouldn't confirm rent numbers, but indications are that the firm got a pretty good deal. Indeed, he could barely conceal his glee when he said he couldn't spill the figures.
"It's too good a deal," he said. "I don't want to embarrass anybody."
"We locked in the value some time ago," said Scott Pudalov, the broker at CB Richard Ellis who represented Schulte, Ross & Zabel. "Like anybody who locked in a value some time ago, they're very pleased with that rental structure in today's dollar."
Mr. Pudalov said a "handshake" agreement was reached with BNP Paribas several months ago.
For the lawyers at Schulte, Ross & Zabel, they have plenty of reasons to be happy: The expansion of their real estate is just further confirmation of their increasingly strong profile. Partners at the firm average a $1.9 million salary, which ranks 13th in the country for firms, according to American Lawyer magazine.
The firm is the go-to for hedge funds, representing more than 800 firms that control more than 2,000 funds, according to The Wall Street Journal.
Gus Field of Cushman & Wakefield represented BNP Paribas.