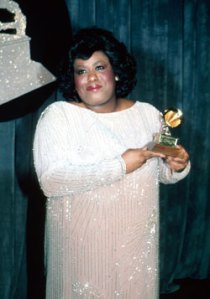 In all the fuss and hype over the film version of Michael Bennett's 1981 Broadway musical Dreamgirls, one big, essential thing has been forgotten—the blazing achievement of the original production. At least for me, no movie could ever capture the excitement of seeing the show: I'd never seen anything like it before (nor since).
Based on the story of the Supremes, Dreamgirls continued Broadway's long love affair with backstage stories and showbiz as a metaphor for America, even its seamier side. (Jersey Boys is its cheap knock-off.) Michael Bennett's spectacular daring expressed itself on many levels—not least in the show's inner dynamic and heat, its mesmerizing sense of movement and quick changes of image, musical styles and fate. There was Henry Krieger's smashing score—36 numbers reflecting the musical fashions of a decade—and lyricist Tom Eyen's surprisingly hard-edged picture of corruption in the music world and what it took for black artists to cross over into the white mainstream.
And there was also the show's now-legendary showstopper, which brought Act I to its unforgettable close when Effie is dropped from the group for a prettier, blander girl. As sung by Jennifer Holliday, "And I Am Telling You I'm Not Going" was a five-minute aria and cry of protest of such anguish and emotional power that the audience was taken to the point of explosion. Some would be so overcome they even called out to the stage, "No more! No more!"
Yet, for all those peaks, when I wrote about the premiere for the London Times all those years ago, this is what I concluded: "The most thrilling breakthrough of the extraordinary show is that whereas in A Chorus Line Michael Bennett choreographed the cast, in Dreamgirls he has choreographed the set."
Four towers with Plexiglas veils and kliegs, enhanced by bridges that descended on the action, amounted to an apparently simple architectural set by its brilliant designer, Robin Wagner. The towers could turn 360 degrees with ease. But it was Bennett's use of them that was revolutionary. The towers moved to create constantly changing perspectives and space, like an automated ballet. They created stages within stages. They energized the action, driving it forcefully along. It's why there were no set-piece dance routines in the show: Dance and movement were organic to the entire action. But Bennett had made the mechanical set his dancers.
It had been over half a century since the great Russian stage director Vsevolod Meyerhold created the first sets to use machines. By extraordinary coincidence, the day after I saw Dreamgirls, I caught a re-creation of Meyerhold's The Magnanimous Cuckold (1922). With its innovative machine imagery, that play became known as the original example of Constructivist theater: It created a kinetic set designed to activate the actors and free the stage.
Within the glittering commercial Dreamgirls could be found the link to Meyerhold's early experiments. Like Bennett, Meyerhold had been a dancer. But whereas Meyerhold's radical departure in design and stage movement seemed to me like man's early attempts to fly, Dreamgirls was like a space rocket. Bennett's musical was the first theater piece to merge technology successfully with art. In its showbiz way, it was a work of genius.
When Michael Bennett—the street kid from Buffalo—read my review of Dreamgirls, he was impressed at being hailed as a genius in The Times of London. He invited me to dinner at his chic penthouse, which looked like a stage set overlooking Central Park. I soon learned that he'd never heard of Meyerhold: "Who's this guy Shmeyerhold?" he asked me happily. Also at the dinner were Donna McKechnie of A Chorus Line, Henry Krieger and Robin Wagner. When I congratulated Mr. Wagner on his amazing Meyerholdian set, this unpretentious man said to me sweetly, "Well, maybe. But have you ever been to Studio 54?"
So much for theater intellectuals. The set was inspired by a Manhattan disco!
At dinner that night, Bennett said that for him the best moment of Dreamgirls came when he first heard Jennifer Holliday sing "And I Am Telling You I'm Not Going." He played a recording of her singing the marathon song in rehearsal—as I recall, she was accompanied only by a piano. Even that rough tape was enough to blow us all away. Bennett said he'd played it often before Dreamgirls opened: It reminded him of the exact moment when he knew he had a show.
He told me, too, that just as he was going into the Dreamgirls opening-night party at Tavern on the Green, his father had said, "It's great, but not as good as A Chorus Line." Those were the devastating words he dreaded hearing for the rest of his short life. Bennett was a man who was destined always to compete with his own shadow.
"Now tell me," he said, changing the subject. "You don't want to be a drama critic, do you?"
For the mischievous, Machiavellian Michael Bennett, nobody in their right mind would want to be a drama critic—and perhaps he had a point. "What do you really want to do?" he asked. Michael was also someone who made anything seem possible.
So I told him I'd like to write the book for a great American musical. "Oh, goody!" he exclaimed, and truly seemed to mean it. He sensed a convert to the cause—for him the only worthy cause, the American musical. But suddenly he expressed an unexpected doubt: "What if Frank Rich tells me he wants to write a musical, too?" he asked. Mr. Rich was then the chief drama critic of The New York Times, and his review of Dreamgirls had also been a rave. "If Frank Rich says he wants to write a musical with you," I advised solemnly, "treat him with utmost respect and then kick him down the stairs."
He laughed so much I thought the tears would roll. Michael offered me a studio at his headquarters at 890 Broadway on the strength of my chutzpah, and I worked there on his next great American musical for several years. He didn't live to make it happen.
It seems to me—as it did 25 years ago—that when Dreamgirls opened, the gypsy-genius of Broadway, Michael Bennett, achieved the miraculous. He followed one musical that showed us the future, A Chorus Line, with another that showed us another future, Dreamgirls. The pity is we'll never know where else he might have taken us.