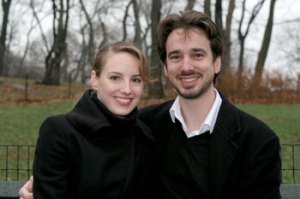 Amanda Hankes and Damion Stodola
Met: Dec. 2003
Engaged: Dec. 10, 2006
Projected Wedding Date: Fall 2007
As a member of the New York City Ballet's corps de ballet, Amanda Hankes never had much time for relationships. When her brother-in-law introduced her to dark, bearded Damion Stodola at a Christmas party, Ms. Hankes thought: No, thanks!
"It was during Nutcracker," she explained. "Those months are absolute chaos." Moreover, Mr. Stodola, though clearly literate and funny, was from Montreal. "I thought his accent was atrocious," she said.
But her sister and brother-in-law persisted in trying to suck them into coupledom, as coupled people will, issuing invitations to everything from summer rides on Coney Island's Cyclone to evening pub crawls on the Lower East Side. "Nobody had to twist my arm to go out," said Mr. Stodola, 33, a corporate-litigation lawyer for Morrison and Foerster who regularly rides a motorcycle (vroom!).
One night at the Old Town Tavern, Ms. Hankes' step-sister observed that the ballerina had blow-dried her blonde hair—the modern Manhattan woman's equivalent of a mating cry—and placed an urgent call to Mr. Stodola. "You'll regret not coming out tonight," she told his voice mail.
Though he had just returned from a vacation in the South of France, Mr. Stodola showed up at the bar, and he and Ms. Hankes talked until 4 in the morning, causing her to almost miss a 6 a.m. flight to Michigan.
Would you like to go on an unchaperoned outing? he inquired by e-mail later that week.
They met for Spanish tapas and a few rounds of Buck Hunter, the video game about the field sport that has become inexplicably popular with urban hipsters. On another occasion, Mr. Stodola whipped up some lemon butter skate, bell-pepper soup and profiteroles in his Gramercy studio. "Contrary to popular belief, the way to a ballet dancer's heart is through her stomach," said Ms. Hankes, a willowy, delicate-featured 31. She was also impressed with his extensive library, which included books in French and English: "I was thinking, 'Here's this guy who I've been playing Buck Hunter with, and he has this whole other side!'"
After almost a year of dating, Mr. Stodola moved into Ms. Hankes' tiny apartment on the Upper West Side, bringing along a couple of seats from the now-defunct Montreal Forum, a stadium he used to frequent with his late grandfather. "Real estate in New York is super-important," he said. "The fact that you're giving up some of your 200 square feet for this chair, this uncomfortable chair, was huge."
One day, Mr. Stodola suggested going for a walk. Gently, he steered his gamine girlfriend toward a bench he'd "adopted" from the Central Park Conservancy, bearing a plaque with a quote from Francis Cabrel, the French Bob Dylan: Une seule pour laquelle je suis fait. Je t'aimais, Je t'aime, et je t'aimerai. And, in English: Will you marry me?
Ms. Hankes practically pirouetted out of the park. "Oui!" she screamed.
Catherine Brown and Robert Gordon
Met: March 2002
Engaged: July 2006
Projected Wedding Date: Sept. 2, 2007
Two weeks after John Kerry and John Edwards conceded the 2004 Presidential election, Catherine Brown, then a legislative assistant for Senator Hillary Clinton, found herself commiserating with Robert Gordon, counsel for Mr. Edwards, at the Capital City Brewing Company in Washington, D.C. "My impression of him was that of a fleeing genius," said Ms. Brown, 32. She'd seen Mr. Gordon around town always dashing off to important policy-wonk things.
"I was such a workaholic, I didn't have an impression of anybody that didn't involve my job," said Mr. Gordon, who is 35, tall and lanky, with a smattering of gray in his sandy hair.
Ms. Brown, a slender, blond outdoorsy type with a warm smile, mentioned that she'd just bought a ski condo in Park City, Utah. "That's very grown-up of you," Mr. Gordon said. "I didn't realize you were that mature."
"Is it that obvious?" Ms. Brown quipped.
"It's a good thing," he said. "Being immature at this stage of life."
A few weeks later, they had their first date at Sette, an Italian restaurant in Dupont Circle, sharing a pizza with anchovies, capers and olives, followed by drinks at the Russia House. "A totally cheesy, ludicrous bar," Mr. Gordon said, "but we had fun watching people much younger than us hook up." Later that night, they enjoyed their first kiss—and with no Binaca!
Two months later, the new couple went hiking in rural West Virginia. "It has these incredible rustic mountains," said Ms. Brown, who hails from New Jersey. "And it's untouched by people like us," said Mr. Gordon, a native New Yorker. The only drawback: The bed-and-breakfast where they were staying was owned by a staunch Republican who disapproved of unwed couples spending the night. "A strange profession for her," Mr. Gordon noted dryly.
After a few years together in D.C., he decided to take a job advising New York City Schools Chancellor Joel Klein, while Ms. Brown began working on an early-childhood initiative for Teach for America. After a day spent selling most of their possessions via Craigslist, the couple moved into a two-bedroom apartment in Brooklyn Heights, which they decorated with wall-to-wall books (his) and plants (hers).
Mr. Gordon proposed atop Mount Overlook in the Catskills, after a day of kayaking and swimming, giving Ms. Brown a modest gold pendant with a halo of pavé diamonds. ("I'm not a jewelry person," she explained.) They are planning a wedding at Peter White Studios in Chelsea, and not worrying in the slightest about who gets the 2008 nomination. "I like Hillary, she likes Edwards," said the groom-to-be. "I don't think it's going to be a problem."