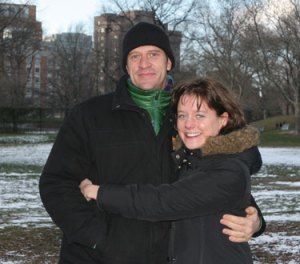 Alfonso Du Toit and Emily Martinez
Met: May 29, 2006
Engaged: Sept. 1, 2006
Projected Wedding Date: May 27, 2007
Alfonso Du Toit, a tanned, blond South African, was enjoying mojitos outside at Madiba in Fort Greene, where a friend was tending bar, when he noticed a striking, petite brunette sitting with friends at a neighboring table and having an uproarious time. "Ladies, come over here," Mr. Du Toit implored. "We're having so much fun!"
He and the beauty, one Emily Martinez from Cleveland, Ohio, began talking—uh-oh—politics. "When you come from South Africa, people always ask you about apartheid, and it upsets me," said Mr. Du Toit, 38, a marketing manager for EA Sports. "People are forever judging, and they don't know the facts. That was one of the big things that we talked about."
Soon, he changed the subject: "I bet I'm a better kisser than you," he said boldly.
"Impossible," said Ms. Martinez, an administrative assistant for Orda Management, which owns two apartment buildings on Park Avenue. They necked tableside and decided they were equally matched. Mr. Du Toit went back to her nearby one-bedroom that night. "I didn't leave for 11 days," he said. "And we never stopped talking." They did, however, find time for dinner at 5 Ninth on Little West 12th Street and for drinks at Bar and Books (one of the city's last smoking venues), as well as for museums, Montauk and snuggling.
"Then I went to the airport," Mr. Du Toit said, "and there were tears." He gave Ms. Martinez a white-gold promissory ring that he'd bought in Chinatown, assuring her they'd meet again.
They planned to reunite three months later in Marrakesh, Morocco. Mr. Du Toit arrived three days ahead of schedule and greeted Ms. Martinez at the airport wearing a white fedora and linen tunic, carrying a dozen red roses. "He befriended everybody before I got here," she said.
"My luggage is missing," she told him, running back through customs. A half-hour later, she emerged, and Mr. Du Toit fell hard on one knee. "Emily, will you marry me?" he asked, presenting her with a white-gold engagement ring with a round-cut sapphire—her birthstone—flanked by small diamonds (not blood ones, we trust). "Yes!" she shrieked, to the delight of passersby.
They spent 10 days joyously riding camels and all that other stuff you do in Morocco. And the next time Mr. Du Toit came to New York, for his fiancée's 36th birthday, he decided to stay. "I needed to go back to South Africa, but I decided, 'Fuck it—I'm just staying, and we're getting married,'" he said.
The whirlwind couple is planning a ceremony at the Prospect Park Boathouse, to be presided over by certified celebrant Kim Kirkley and attended by the groom's 17-year-old daughter from a first marriage, Daisy.
"It was one of the most natural things I've ever slipped into," Ms. Martinez said. "It's such a random story! If you were to tell me a year ago that I was going to meet a gentleman from South Africa and marry him, I would have never believed you. But we cohabitate really well. There's not going to be those questions of, 'Well, why didn't you take the trash out, and put the toilet seat down?' None of that bickering."
Juan Comas and Jessica Sadowski
Met: April 2002
Engaged: Sept. 29, 2006
Projected Wedding Date: October 2007
Jessica Sadowski, 25, a development associate for corporate relations at the Manhattan Theater Club, and Juan Comas, 27, who works in tech support for Viewpoint, a software company, plan to wed at a yet-to-be-determined location in the city. "From the moment I came here, I loved New York," said Ms. Sadow­ski, a native of Montgomery, Ala. "And especially Brooklyn." The couple shares a one-bedroom in Williamsburg.
But Mr. Comas proposed in the Central Park Zoo, after a visit to the penguins. "His face looked funny, like I'd never seen before," said the bride-to-be, who has opted against an engagement ring. "I didn't want any diamonds," she said. "I think about children in Africa in caves."
They met while attending Florida State University. Ms. Sadowski nursed a crush on the blue-eyed, shaggy-haired Mr. Comas for a few months before approaching him at a pig roast (ouch, my arteries!). "He walked with such confidence, and he seemed to know everyone in town, and he played in two bands," she said. "He was just … hot." Mr. Comas, an art student, was intrigued in turn by Ms. Sadowski, an upbeat blonde with a funky fashion sense that recalled Daryl Hannah circa Splash. "I like your glasses," he told her.
Later in the evening, Mr. Comas' roommate encouraged Ms. Sadow­ski to visit their apartment. "No, no, she can't come over," Mr. Comas said, not wanting her to see how messy it was.
Ms. Sadowski was crestfallen. "I thought he didn't like me," she said. Still, she found the courage to call Mr. Comas later that week. "We didn't want to get off the phone," he said. "There were no silences, no uncomfortable moments."
On Cinco de Mayo, they had their first official date, at a Mexican restaurant. "I didn't notice at all what I was eating, or whether I liked it or not, because I was having such a good time," Mr. Comas said. And after a few margaritas, they began to boogie. "That night was the first night in years that I danced in public," he said. "And I got into it!"
Later that week, they sang the entire Abbey Road album together while he played guitar and she washed dishes. And later that year, when her father died of breast cancer, Mr. Comas was there. "He really got me through it," Ms. Sadowski said.
"We fell into the over-comfortableness of a good relationship, where nothing really mattered," Mr. Comas said. "You could look bad and the other person wouldn't really care."